A Great Tool for Checking Insulation in Walls
If you live in an older home, the walls may or may not have insulation in them. After you've tackled all the easier-to-access parts of the building enclosure, namely the floors and ceilings, uninsulated walls would be next on the list. If you're replacing the siding or doing a full gut-rehab, it'll be easy to determine how much insulation, if any, insulation your home has. Otherwise, you'll need to figure out what you've got, and try to do it without having to knock big holes in the wall, although that would certainly work.
Infrared cameras and borescopes allow you to do this, but you're probably not going to rush out and buy one if you're just a inquisitive homeowner and not a home energy pro. You could always pull off some of the switch and receptacles plates and try to look into the gap between the electrical junction box and the drywall or plaster, but often you can't see much. If you like to live dangerously, you could stick a metal coat hanger in that gap and see if you can pull any insulation out. (Don't do this! Also, it's safest to turn off the electricity to the circuit where you're doing your inspection.)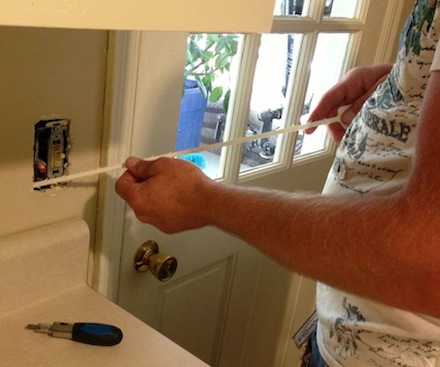 Actually, that last method, with the right tool, is a great way to go. Use a tool that's safer than a coat hanger, however; something nonconductive. Martin Holladay recently wrote an article called Energy Upgrades for Beginners, in which he suggested using wooden chopsticks. It turns out that you can find an even better tool in the plumbing section of your local home improvement store. You can see it in action in the photos above and below.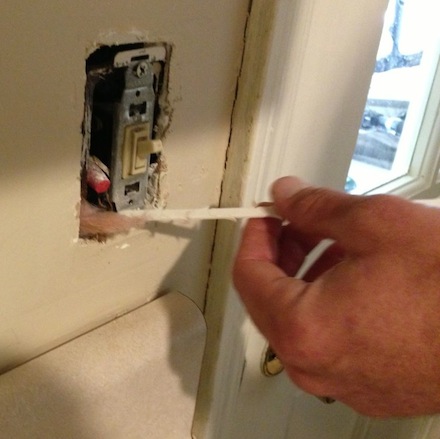 When you stick it through the gap between the electrical junction box and the drywall or plaster and then pull it back, it will snag insulation if there's any in there. The barbs on this tool, which you can see below, are great for this job!

The tool is called the Zip-It, and it's made for unclogging drains. You can get it in home improvement stores for about $2.50.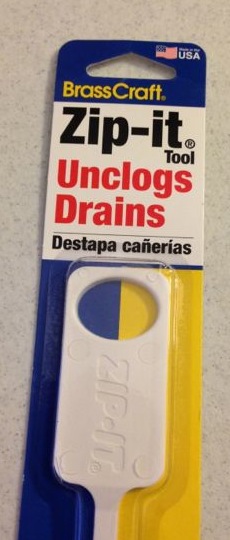 This is a tool that's not only good for homeowners checking their own homes. It belongs in the toolkit of every home energy pro who does energy audits or home performance assessments, even those who own thermal imagers or borescopes.
Related Articles
How to Choose a Company to Do a Home Energy Audit
Cold Interior Walls, Useless Insulation, and Building Science
Subscribe to the Energy Vanguard Blog
The Latest from the Energy Vanguard Blog