Are We Off Track With Combustion Safety Testing?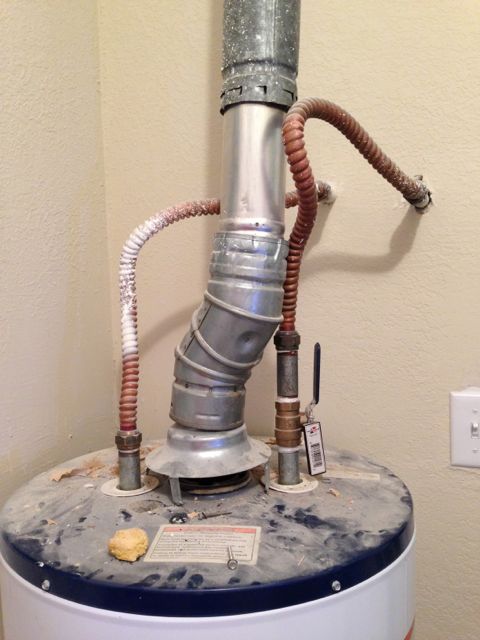 Burning fuels inside a house can lead to serious health and safety problems. Energy auditors do a variety of combustion safety tests to find potential hazards and recommend fixes. A couple of weeks ago at the Dry Climate Forum, I heard Vi Rapp, PhD of Lawrence Berkeley National Lab (LBNL) make an argument for changing the way we do combustion safety testing. It turns out that one of the tests we do may not be as helpful as many people think it is.†
How many people die of carbon monoxide poisoning?
You see the reports on the news, and it seems that lately there have been a bunch of them. But how many people really die of CO poisoning? According to the Center for Disease Control (CDC), 439 per year people died from unintentional, non-fire-related CO poisoning in the period from 1999 to 2004. The Consumer Products Safety Commission has a different number. They say 170 people per year "from CO produced by non-automotive consumer products."
The small number of deaths, however, is not the only metric to look at. A report in The Journal of Emergency Medicine estimated that about 40,000 people get medical attention for CO poisoning. That's a big number and one we should definitely be concerned with in energy audits. The BPI motto, after all, is, 'Do no harm.' So if you look only at deaths, it doesn't seem that significant. If you look at CO poisoning cases, it's something we need to understand. But do we?
What causes CO poisoning?
Energy auditors spend a lot of time testing for backdrafting, which can lead to CO entering a home. When the pressure inside the home is low enough, air can come down the flue of a combustion appliance, preventing the exhaust gases from going up the flue. The main candidate for backdrafting is a natural draft combustion appliance, like the water heater shown above or the furnace below. Other combustion appliances can backdraft, too, but it's less likely.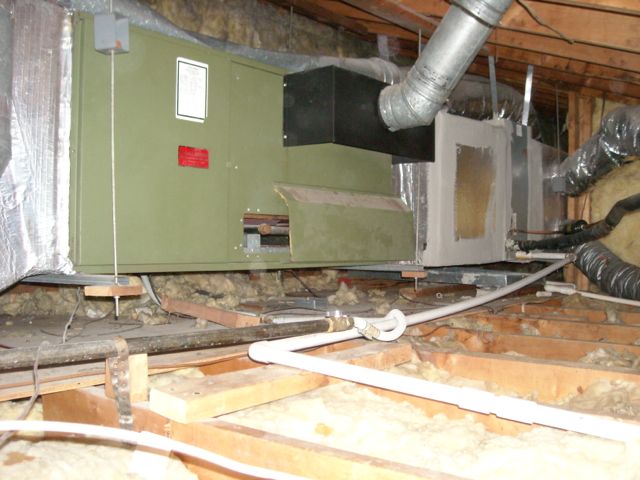 If a natural draft combustion appliance is inside the conditioned space of a home, backdrafting can create serious a health and safety risk. A backdrafting appliance is more likely to create CO than one operating normally. If the exhaust gases, including CO, get into the house, people can breathe them in and get CO poisoning.
And that's the big emphasis for energy auditors: carbon monoxide from backdrafting. But how many of those 170-439 deaths or 40,000 CO poisoning cases each year result from backdrafting? I haven't found statistics on that, but I'd bet the majority of cases are from using unvented space heaters indoors or from running generators, and not from backdrafting.
The problems with the worst-case depressurization test
OK. So the number of deaths seems to be low, the number CO poisoning cases is significant, and the number of backdrafting events leading to CO poisoning is probably a small fraction of all the CO poisoning cases. A big part of the combustion safety testing protocols of both BPI and RESNET is the worst-case depressurization test. It's what takes the most time, and it's the part that Dr. Vi Rapp of LBNL took a close look at last week at the Dry Climate Forum.
Problem #1. How well a combustion appliance drafts depends on three factors, as shown below in the equation from her presentation.

Da is the actual draft of the appliance. Dt is the theoretical draft. ΔpLoss is the pressure loss due to bends, birds nests, weather… Dp is the depressurization
Depressurization, as you can see, is only one factor that affects whether an appliance will backdraft or not. You can have depressurization and still have good draft. The good news here is that the energy auditor measures the draft in the worst-case depressurization state, so we have some idea here about what's going on. Sort of.
One of the factors that affects a combustion appliance's ability to draft normally is the weather, yet that's not included in the test protocols. An appliance may draft poorly when it's tested in the summer but be fine when it's operating in the winter, or vice versa.
Problem #2. BPI and RESNET don't agree on what amount of depressurization is allowable and don't indicate what the real risk is.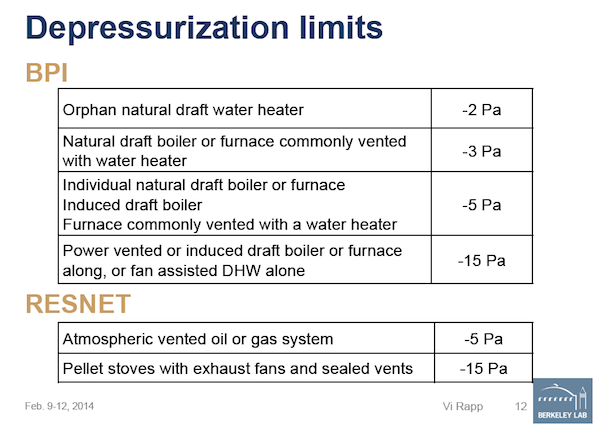 Problem #3. The big issue here is that even if there is enough depressurization to cause backdrafting, there may or may not be a problem. Dr. Rapp had a slide in her presentation showing that the risk associated with depressurization depends on three factors:
The probability that the depressurization leads to backdrafting
The probability that the combustion appliance is operating when the depressurization occurs
The probability that the backdrafting leads to increased pollutants and an indoor air quality problem if 1 and 2 both occur
There's a lot going on in problem #3. How often will worst-case depressurization actually occur in a home? Where are the appliances located? How does weather affect it? How likely is it that the backdraftable combustion appliance will be operating when the house is depressurized sufficiently to cause problems? And even if it backdrafts, might the pollutants be sucked right back out because of the depressurization?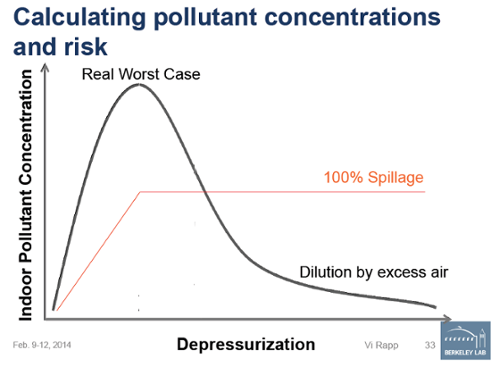 The graph above, from Dr. Rapp's presentation, shows that the most likely 'real worst case' occurs when the appliance first starts to backdraft. The pollutants enter the indoor air and build up to higher concentrations. As the depressurization level increases, more pollutants get pushed out of the house and more outdoor air gets pulled in to dilute the pollutants. So it's not a simple matter of having bad indoor air quality and the potential for CO poisoning anytime the house exceeds the depressurization limit.
So what should we do?
Combustion safety is serious. We absolutely need to address it. Low-level CO exposure can lead to chronic health problems. Higher levels can lead to acute health problems or even death. Although I began this article with a look at the numbers of people dying and seeking medical attention, my point was not to say that those numbers don't matter. My point was to ask that of those, how many result from backdrafting? And for those cases, what's the best way to bring the number down?
We certainly can be smarter about how we do that. If the worst-case depressurization test doesn't help, what should we do? Dr. Rapp concluded her talk with these recommendations:
Remove unvented space heaters; ask above other heaters (i.e., oven)
Check for gas leaks
Visual inspection of appliance and venting for damage or problems
Advise homeowner to install and/or use range hood
Confirm range hood vents air
Just to be clear, Dr. Rapp did not say we shouldn't do combustion safety testing. As John Proctor wrote in the comments below, she did say that testing for draft and for CO are good tests and we should still do them. What she questioned was the effectiveness of the worst-case depressurization test, especially without accounting for variability due to weather and the total risk when you factor in the three probabilities I covered in Problem #3 above.
We need to be asking hard questions and constantly evaluating the protocols we train energy auditors to use in homes. Dr. Rapp's work at LBNL is important, and you can read more about it in her upcoming Home Energy magazine article (online only) on the myths and facts of combustion safety. Look for it on 1 March.
In the meantime, let's all ask the hard questions about what it is we do…and what we're aiming to do.
Allison A. Bailes III, PhD is a speaker, writer, building science consultant, and the founder of Energy Vanguard in Decatur, Georgia. He has a doctorate in physics and writes the Energy Vanguard Blog. He is also writing a book on building science. You can follow him on Twitter at @EnergyVanguard.
Related Articles
A Ventless Gas Fireplace Is a Liability
Unvented Natural Gas Space Heaters Should Be Removed
3 Problems with Atmospheric Combustion Inside the Building Envelope
Footnote
† The original opening paragraph of this article was different. I made the mistake of mentioning a snippet of a conversation I had a year ago without giving the person mentioned, John Krigger a chance to explain his views fully. I have removed the reference to that conversation.