Guardian Building Products Makes the Right Move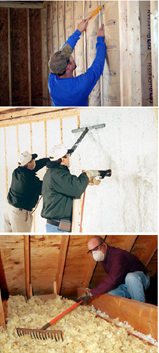 Yesterday I received an email and letter from Steve Ziessler, president and CEO of Guardian Building Products. In it, he apologized for their heavy-handed approach to expressing their displeasure with seeing their fiberglass batts pictured in an article on poor installation. From the email:
" You're right in saying we were over the top in our initial response…We'll keep our lawyers for other matters.  Again, my apologies for coming off so harsh."
The letter was a bit more measured but still made me breathe easier. They're holding out an olive branch, and I accept it gladly. Here are some quotes from Mr. Ziessler's letter:
"Thanks for stimulating some serious soul-searching within our organization over the past few days."
"As the recently appointed President of Guardian Building Products, I am committed to improving Guardian's communication standards at all levels, including to our customers and the building industry. This social media episode gives me the opportunity to put that commitment into action."
"I apologize for our Company having sent a letter that may have gone over the top or that was viewed as improperly harsh."
"…we have no desire to pursue this matter any further – unless it's to engage you and interested folks in the merits of improving energy efficiencies."
"We welcome the opportunity to engage in a broader discussion with you and your readers about how to improve energy efficiency in homes and the quality of installation across the spectrum of building products."
They also put the word out on Twitter:
"You're right of course, our response to your blog was over the top.New & improved letter on its way to you.Then lets talk."
I was happy to hear from him so we can put this whole affair behind us and move forward with the work that both companies want to be doing, they in selling their products and Energy Vanguard in, well, doing all the things we do: blogging, training, design, checking REM/Rate files for our raters…and perhaps working with Guardian on some new training initiatives for their installers.
If Guardian is serious about improving the quality of installation, as Mr. Ziessler wrote, I think I might be able to help with that. I know a thing or two about education and training, and the people I've taught can confirm that. If for no other reason, then I'd have some photos of Guardian fiberglass batt insulation installed well to use here in the Energy Vanguard blog.
Allison Bailes of Atlanta, Georgia, is a speaker, writer, building science consultant, and the founder of Energy Vanguard. He has a PhD in physics and writes the Energy Vanguard Blog. He is also writing a book on building science. You can follow him on Twitter at @EnergyVanguard.
Photo at top from Guardian Building Products website.
Comments are closed.