How I Learned to Count by Building a Green Home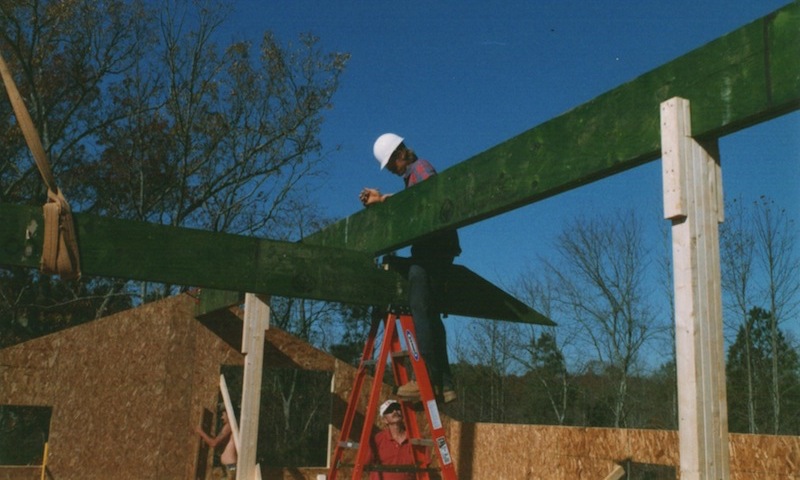 Ten years ago, I was at the front end of building a green, high performance home. (That's me on the ladder connecting the two LVL ridge beams that support the structural insulated panel roof.) It was going to take only about two months from the time we got the foundation until we'd get our certificate of occupancy. And for nearly two years, that finish line stayed two months away, so I like to tell people that I built that house on the power of self-delusion.
But delusion isn't what I want to talk about today. I'd like to tell you about one of the big lessons I learned—over and over, as it turns out—during the process of building that house: Do things in the right order.
I don't remember all the painful ways that I had to learn this lesson, but here are a few:
I wanted to install a piece of plastic pipe beneath the slab for a radon vent, but I forgot to stub it in before they poured the slab. That meant that I had to knock out a chunk of the concrete afterward to put it in place.
I didn't have an electrical plan before we started framing. Turns out this is kind of important, especially when building with structural insulated panels. My friend and electrician Zot suffered a lot for this lack of planning and wound up having to do crazy things to make it work. (Actually, the junction box photo here was a joke, so don't get too alarmed.)
I didn't plan to insulate the basement or the floor above it. (Yeah, go ahead and say it. Dr. Building Science Guy didn't understand the building enclosure.) By the time I got around to working on that—after I moved into the house—it was a lot harder because we had electrical conduit and junction boxes mounted to concrete foundation walls as well as our heat pump air handler and ductwork in the way.
I'm sure I learned to count even before I learned to read, but somehow I had to learn it again when I was building. When you do step 2 before step 1, you've got two options:
Undo step 2 and start over.
Keep what you've got and adapt the process.
The first is usually best if you can do it, but it costs extra in time and money. The second option often leads to changes that compromise the performance.
Thorough planning ahead of time is the key, something I didn't do ten years ago because everything was moving too quickly. Your planning needs to be based on knowledge and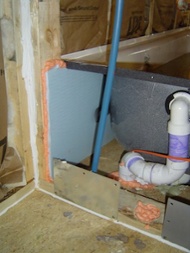 experience of construction practices and building science, more areas that I was deficient in at the time. (I'd never built anything bigger than a bookcase before I took on this project.)
Finally, you have to assign tasks to the proper trade contractors and schedule them at the right time. Sometimes you need to give a particular task to someone who doesn't typically do that job. For example, once the house is framed, the plumber comes out and roughs in the bath tubs and shower units. If they're on an outside wall, someone needs to make sure the wall gets insulated and sheathed before the tub goes in, and having the insulation contractor come out for this small job may not make the most sense. Many homes have cold bathrooms because home builders used to ignore this issue, and there's no insulation at all behind the tub.
Once again, the big lesson here is to plan ahead and do things in the right order. It's easier. It's cheaper. And you'll have a better house when you're done. This rule applies whether you're building a new home or fixing your existing home.
Allison Bailes of Atlanta, Georgia, is a speaker, writer, building science consultant, and the founder of Energy Vanguard. He has a PhD in physics and writes the Energy Vanguard Blog. He is also writing a book on building science. You can follow him on Twitter at @EnergyVanguard.
Related Articles
The Most Important Lesson I Learned in Grad School
How to Install a Branched-Drain Greywater System in a Green Home
November Memories – Building a House with Structural Insulated Panels
Comments are closed.