I DO Need Some Stinkin' Building Science Summer Camp!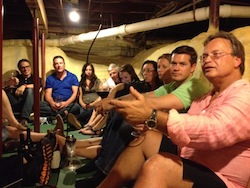 OK, so 2 years ago I wrote that I didn't need no stinkin' Building Science Summer Camp. I lied. Summer Camp doesn't stink at all. In fact, it's a really nice event where I learned a lot and got to hang out with some of the smartest and most experienced people in the business. Since I'm relatively new to the field (only 11 years in, really) and not as smart as some people think I am, that's a pretty good deal.
Here's a little recap of what I learned at the 2012 Building Science Summer Camp.
The formal sessions
The first part of each day was devoted to formal sessions in the hotel conference room. Here are a few tidbits from them:
Emma Cardini spoke about her and other engineers rappelling down the Washington Monument to do an intensive survey of the earthquake damage. Her talk reinforced what I already know: I will never, ever do anything like that. It also taught me that when you pile up a bunch of rocks and call it a building, it behaves pretty much like a mountain, subject to all the same forces of decay and entropy. I learned not to walk too closely to buildings that are piles of rocks because you never know when that 200 pound chunk of loose rock might fall.
The last session of the day was called Relative Humidity Is for Sissies. Two guys who've spent their careers working in buildings that need precise moisture control (e.g., ice rinks) or that need to be dried out discussed what they've learned about controlling vapor pressure, dew point, and temperature to achieve the results they're after.
Joe Lstiburek kicked off day 2 by expressing disappointment in us for not eating or drinking enough Monday night.
Dr. Theresa Weston of DuPont talked about standards and reality, starting with a quote by Einstein: "Reality is merely an illusion, albeit a very persistent one." Other tidbits include:
Building codes have been seen as barriers to innovation.
Performance codes are coming.
We have no idea how much actual compliance there is with building codes.
Joe called building code development "an unbelievably disgusting process that I enjoy immensely."
Quote from Code of Hammurabi: "If a builder build a house for some one, and does not construct it properly, and the house which he built fall in and kill its owner, then that builder shall be put to death."
Joe jumped in towards the end of her talk and called out ASTM, the American Society for Testing and Materials. He said ASTM is only in it for the money.  Very few ASTM standards actually tell you anything about actual performance in the field. They don't care about how meaningful a test is. They care only that the results are repeatable & reproducible.
Michael Lubliner of Washington State University spoke on manufactured housing. He said he's referred to as the "tree hugging trailer trash" member of the standards committee he's on. The really shocking thing he said was that new manufactured homes are candidates for federal weatherization program right out of the factory. Wow!
Katrin Klingenberg spoke on the changes that the Passive House Institute of the US (PHIUS) is looking at making to their standards. Now that they've broken free of the European Passivhaus Institut, they're going their own way. Martin Holladay did a great job writing up what they're doing in last week's Musings of an Energy Nerd at Green Building Advisor.
Henry Gifford ended day 2, and I wrote a bit about his call to separate heating, cooling, and ventilating last week. As I said there, it's the first time I've ever been led in a cheer at a conference.
The last day began with an update on Building Science Corporation's work to understand heat flow through assemblies under different conditions. It's great work, but I'm going to have to wait till they post the presentations online to figure it out because this was the last morning. Here's a link to their 2011 thermal metric research presentation (pdf).
The last session was Joe talking about the re-renovation of his barn last year and the new renovation of his back barn. You can read about the former in his Fine Homebuilding article. The thing I hadn't heard before was that they raised the whole barn an inch off the foundation so they could put in a capillary break. Impressive! (And expensive, too, I'm sure.)
The informal sessions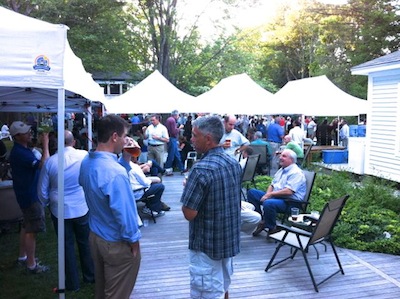 At the end of each day's sessions, Summer Camp moved over to Joe and Betsy's backyard, where there was a lot of food and drink and great company. I got to speak with a lot of people there.
Again, I spent quite a bit of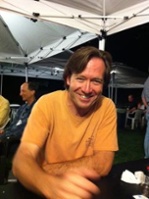 time talking with Gavin Healy and this time I met his business partner, Dan Perunko. These guys have a home performance business in northern California, where they're doing amazing work. I'll probably write a separate article about what they're up to, but one of the things that Dan said (besides that I'm "semi-famous") was, "I never do a system changeout without doing a duct changeout." When you're going for high performance, you pretty much have to do that.
I also got to talk with Gary Klein about water heaters and HVAC, and he mentioned that he'd like to get some people together to see what can be done to get smaller HVAC systems. The manufacturers aren't giving us what we need for high-performance homes, or even normal homes really. Great idea!
The highlight of the informal sessions would have to be the 4th annual twitterview (interview that we put out live on Twitter) with Joe Lstiburek, in his crawl space/wine cellar. (See photo at top of article.) We brought lots of questions and took other questions that people asked on Twitter. Peter Troast of Energy Circle published some of Joe's twitterview last week. Check it out.
One part of the twitterview I wanted to point out was the question I asked Joe about language. Dr. Weston had brought up the debate over retarder versus barrier, so I asked him about that and about building enclosure versus building envelope. Of the latter, he said, "Envelopes are for Fedex; enclosures are for engineers." I'm not settled on that yet, but I think I disagree, as does Martin Holladay. (See his article, Green Building Vocabulary Disputes.)
Building Science Summer Camp in one word
Awesome!
Photo of Joe Lstiburek during crawl space Twitterview by Matt Schwoegler of The Snell Group.