Words That Turn Home Energy Pros Into Building Science Dorks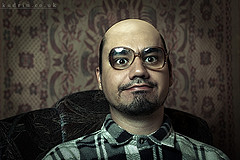 "Ma'am, we've just tested your house and found your infiltration rate to be 16.7 ACH50, your R-values to be only 26% of the IECC limits, your duct Qn to be 0.42, and windows to have improper SHGCs. Furthermore, your drainage plane isn't flashed properly, and the power forwards are crashing the boards with impunity and posting up at will. On top of that, your Turbo-Thermo-Encabulator Max has reached its saturation temperature on numerous occasions because of faulty hydrocoptic marzel vanes. Please sign this contract, and we'll get it all fixed for you."
"Ma'am, we've just tested your house and found your infiltration rate to be 16.7 ACH50, your R-values to be only 26% of the IECC limits, your duct Qn to be 0.42, and windows to have improper SHGCs. Furthermore, your drainage plane isn't flashed properly, and the power forwards are crashing the boards with impunity and posting up at will. On top of that, your Turbo-Thermo-Encabulator Max has reached its saturation temperature on numerous occasions because of faulty hydrocoptic marzel vanes. Please sign this contract, and we'll get it all fixed for you."
Language matters. Home energy pros have to know all the technical terms (well, maybe not everything I mentioned above), but sometimes it's easy to forget who you're talking to and use them in the wrong settings. Talking to a homeowner? Most won't have a clue when you start throwing out the terms we use so often in our field:
ACH50, cfm50, cfm25, Qn
ASHRAE 62.2
RESNET, HERS
HVAC, air handler, plenum, condenser, boot
drainage plane, control layer, flashing
grade, footer/footing, sill plate, CMU
And on and on. If you're talking to other pros, those words are appropriate. If you're talking to homeowners, it's best to assume they know nothing beyond the basics. Here's a good list of words that are safe to use with homeowners:
house, home
floor, walls, ceiling
attic, garage
windows, doors
hot, cold, just right
comfort, health, safety
air, draft
air conditioner, heater, vent, filter, thermostat
energy bill, electricity, gas, oil, propane
hole, leak, inadequate, incomplete
Get the idea? Keep your discussions with homeowners full of terms like these rather than the ones in the first list, and you'll get your message across. I'm not saying this to be condescending. I'm saying it because too often we talk over the heads of our clients. They may be hearing, but they're not always listening. Sometimes they nod their heads and pretend to understand but then don't answer your calls later.
Getting stricken with jargonitis can happen to anyone. Blower Doors and duct leakage testers are tremendously exciting tools that make us feel smart and important. It's natural to want to teach all the building science you learned in your HERS rater or BPI Building Analyst class, but clients don't have the time or interest in that. They hired you to do that for them and tell them what they need to know in language they can understand.
I'm as guilty as anyone in doing this. I constantly have to watch for eyes glazing over and then take a step back. The best thing to do is try to put yourself in the listener's place and remember that they don't use all this jargon every day like you do. Keep it simple! Speak their language, and they're more likely to understand and sign that contract.
This is a great starting point, but effective communication goes a lot deeper than this. If you really want to learn how to talk to homeowners, download and read the report, Driving Demand for Home Energy Improvements, from Lawrence Berkeley National Lab.
Keep it simple!
Related Articles
9 Steps to Becoming a Successful Home Energy Pro
Are You a Building Science Geek, Nerd, Dork, or Dweeb?
Amazing Breakthrough in HVAC System Efficiency and Performance!
The Most Important Lesson I Learned in Grad School
Photo at top by Andrew Kudrin from flickr.com, used under a Creative Commons license.