Air Conditioner Sizing Rules of Thumb Must Die
We design a lot of heating and air conditioning systems at Energy Vanguard.  When I talk to potential clients, a lot of them tell me their contractor wants to size their air conditioner using a rule of thumb. The rule is usually something like this: Install one ton of air conditioning capacity for every 500 (or 600) square feet of conditioned floor area. How far off are they? Let's take a look
As I said, we've done a lot of HVAC designs, which always start with a load calculation. So we can look at the data. The graph below shows data for just a few we've done recently. Forty of them, to be exact.
On the horizontal axis, I plotted the conditioned floor area, in square feet. On the vertical axis, I plotted the cooling load divided by the floor area, or square feet per ton. Remember, when HVAC contractors use rules of thumb to size air conditioners, they usually pick a number between 400 and 600 square feet per ton.
Here's what our data show.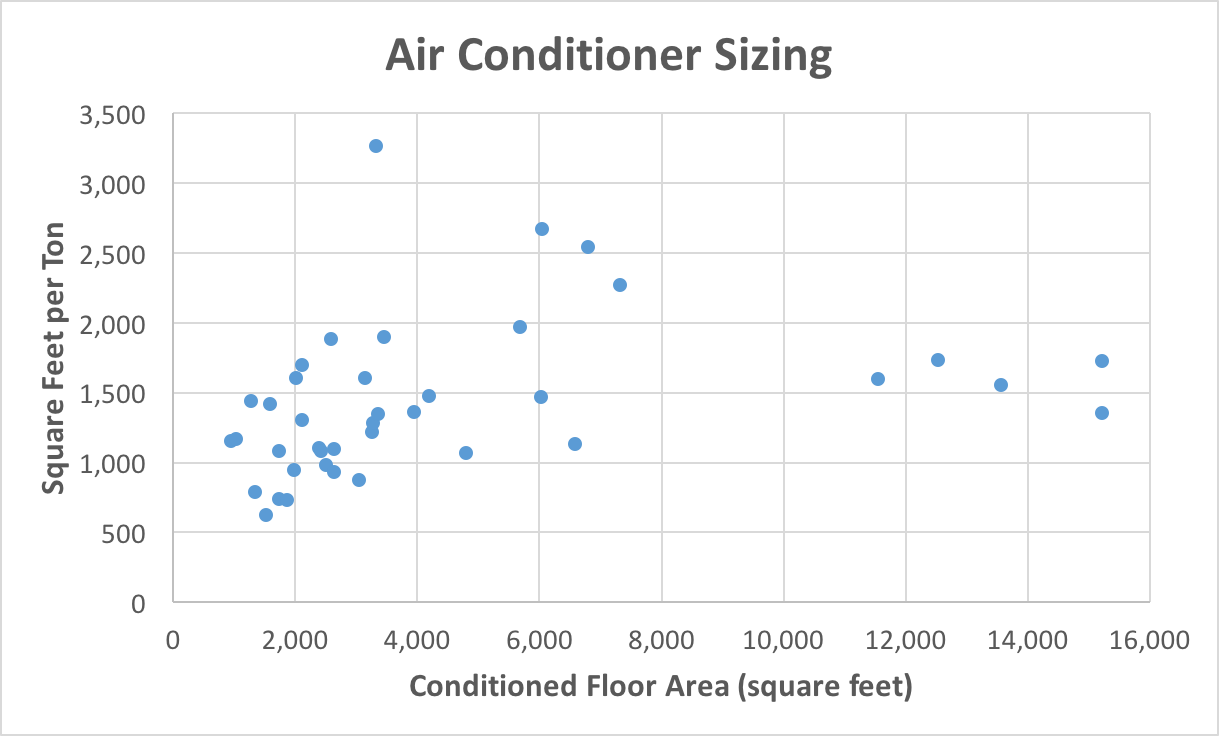 Note that not a single one of our load calculations was as low as the high end of their range. The low number on that graph is 624 square feet per ton. The majority of the cooling loads shown here are above 1,000 sf/ton. Only eight are below 1,000 sf/ton.
In case you're wondering, I threw out the data for cooling loads in cold climates when I plotted this graph. We had one in Maine that was nearly 4,000 sf/ton. Most of the homes in the sample set were in the Southeastern US, including Texas, but we had a couple in California and several in the Midwest as well.
The average of the 40 shown above is 1,431 sf/ton. Yes, that's about a thousand sf/ton higher than the common rule of thumb in use.
"But wait," you say, "cooling load isn't the same as air conditioner size. Didn't you tell us that you have to adjust the air conditioner size when you do Manual S?" Why, yes. Yes, I did. Most of the time, the air conditioner size will be larger than the cooling load.
But we're usually talking maybe 10%. So instead of 1,431 sf/ton based on the load, the actual AC size might give us 1,300 sf/ton.
That's still a lot different from the 500 sf/ton rule of thumb. Oh, and that 10% difference is usually offset by the oversizing inherent in Manual J.
Rules of thumb must die. Start with a real load calculation.
See part 2 of this article:  More on Air Conditioner Sizing Rules of Thumb
Allison A. Bailes III, PhD is a speaker, writer, building science consultant, and the founder of Energy Vanguard in Decatur, Georgia. He has a doctorate in physics and writes the Energy Vanguard Blog. He also has a book on building science coming out in the fall of 2022. You can follow him on Twitter at @EnergyVanguard.
Related Articles
Why Is Air Conditioner Capacity Measured in Tons?
3 Reasons Your 3 Ton Air Conditioner Isn't Really 3 Tons
My Big Fat Oversized Air Conditioner
NOTE: Comments are closed.