Can You Use HVAC Filters in Coronavirus Masks?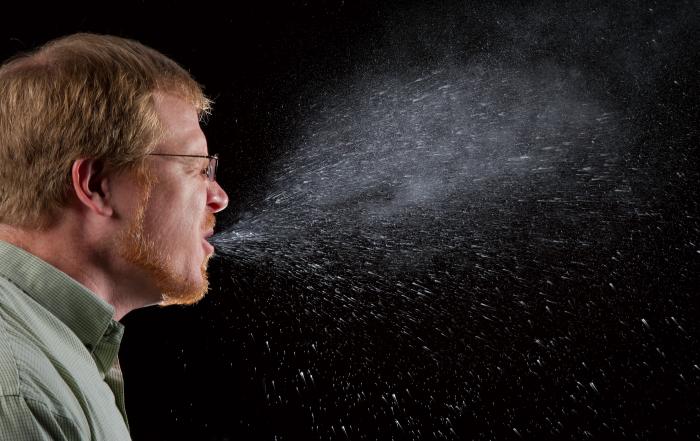 Back in 2018 I wrote a series of articles on indoor air quality and filtration. One of those articles, The Unintended Consequences of High-MERV Filters, has seen a flurry of activity in the comments over the past three weeks. It all started when a reader named Pat wrote:
I have a question about merv 13 filters. People are using them in between fabric on face masks. I saw some are made with fiberglass in them. Is this safe?
That was the first of 33 comments (so far) on the topic of homemade coronavirus masks and HVAC filters. So let's take a deeper look at this subject, including the reasons you should be wearing a mask in public, the issue of what kind of mask will help, and whether or not it's safe to use high-MERV HVAC filters in your mask.
Why you should wear a mask when you go out
The coronavirus, as you may have heard, is wreaking illness and death among humans (and apparently even showing up in tigers and lions, too). For something that is arguably not even alive, this thing is quite adept at reproducing itself, with a little help from the cells in your body. Here's a quick review of what we know:
This new coronavirus (technically, SARS-COV-2) is very infectious.
Researchers haven't figured out all the ways it spreads.
Sneezing and coughing can send droplets across room.
Just breathing also puts droplets into the air when you exhale, but they don't go as far.
Large droplets can transmit the virus from one person to another through the air or when they land on a surface that is later touched by another person.
Small droplets can float around in the air for an extended period of time (hours? days?) and be breathed deep into the lungs.
There's still uncertainty about whether large or small droplets cause more problems, but it seems that maybe it's the larger ones since the infections seem to start in the upper part of the respiratory system. Still, it's best to avoid contact with coronavirus droplets of any size.
There's a difference in how to avoid large and small droplets, though. If you're breathing air without any kind of mask, you're likely to breathe in droplets from other people when you're not alone. You're also likely to put droplets into the air that others could breathe. All it takes is one person infected person in a room to spread the coronavirus to others through those droplets.
Your mask options
When it comes to masks, you have three basic options. You can use:
Homemade mask
Surgical mask
N95 mask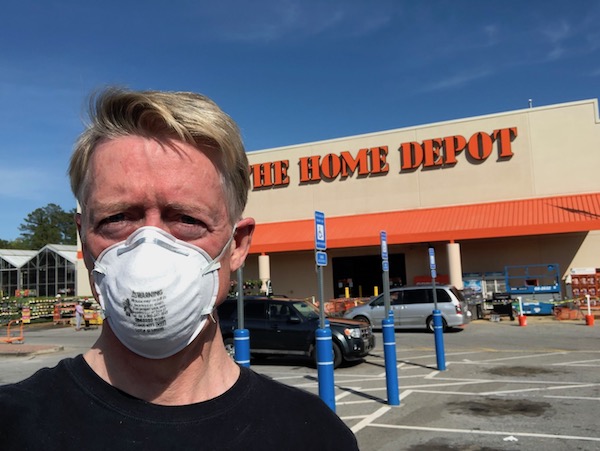 As you move down in that list, the protection you get improves. The best filtration of both large and small droplets comes from an N95 mask, but if you've tried to buy any lately you know they're not available. (The N95 mask I'm wearing above was the last one I had at home, and I just broke it out on Saturday for my first time wearing a mask in public.) Surgical masks are in short supply, too, and you should leave both of those types for medical professionals anyway.
A research paper by van der Sande et al. from 2008 looked at the capabilities of these three types of masks and found:
N95 masks are better than hospital masks.
Surgical masks are better than homemade masks.
Protection for the person wearing the mask (inward protection) is better than protection for others (outward protection). (See Figure 5 in this article for a summary of the van der Sande results on this.)
If you'd like to know more about this aspect of mask-wearing, see the excellent article, COVID-19: Why We Should All Wear Masks — There Is New Scientific Rationale. That article also does a great job explaining the spread of coronavirus through droplets.
Using HVAC filter material in your homemade mask
A homemade mask made of cloth is definitely better than no mask at all. Its outward protection reduces the small droplets that get out by about 10%, but the inward protection is impressive. Only about one third of the small droplets outside the mask will get through when you inhale. They do a good job with the large droplets in both cases.
So if you want to wear a homemade mask and also have it remove the small particles, what can you do? One idea that has occurred to people is to put a piece of HVAC filter fabric between two pieces of cloth in a homemade mask. And that's how the discussion in my article on high-MERV filters began.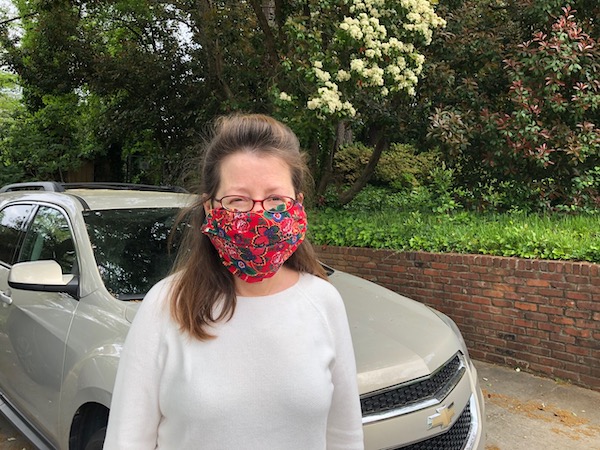 The first question that comes up is about whether using filter material designed for HVAC systems is safe to breathe through when you put it on your face. There are a lot of companies that make HVAC filters and probably different materials used by different manufacturers. What I've found out is that high-MERV filters, like MERV 13, are generally made out of polyester and cotton and do not contain fiberglass.
If you talk to manufacturers, they'll probably warn you not to use them to breathe through directly because that's not what they were designed for. 3M, which makes the Filtrete brand of HVAC filters, has a page on this topic and says:
Our filters are designed to be used in HVAC systems, and the filter media has not been tested to be used as a face mask for respiratory protection. Altering any of our 3M Filtrete™ Air Filters is not recommended or supported by 3M or the Filtrete™ Brand. Customer safety is our number one priority.
It's possible they use some kind of binder or other material that offgases toxic chemicals. If you call them up, they won't tell if they do. They'll just give you a version of the statement above.
The online company Air Filters Delivered, however, is selling MERV-13 filter fabric for use in coronavirus masks. They even have a page with instructions on how to make your own coronavirus mask with a pocket that can hold a tissue or a piece of HVAC filter fabric.
Anthony Grisolia, a friend of mine who works for building science firm Ibacos, and his wife recently posted a video on Youtube showing the homemade mask they made out of MERV-13 filter material. Check it out.
The key points
Stopping the spread of this coronavirus is paramount. As the article I referenced earlier states, we should all wear masks. Assuming you don't have a stash of N95 or surgical masks, you need a homemade mask. If you just wear a plain cloth mask with no extra filter added, you'll be much better protected than you are without a mask, especially from the large droplets. (Of course, there are a lot of caveats about bypass and contaminated masks, too, so be smart about it.)
Going to the next level and adding a piece of MERV-13 HVAC filter fabric to your homemade mask improves its ability to filter out the small droplets. Is it safe to breathe through HVAC filter fabric? You'll have to determine what level of risk you're willing to take in that regard. I personally feel OK with doing that, so once my last N95 mask is kaput, I'll switch to the homemade mask with a piece of MERV-13 fabric for my occasional excursions from home while the coronavirus is still spreading.
This virus is not something to mess around with. John Prine died of COVID-19 yesterday. UK Prime Minister Boris Johnson has spent the past two days in intensive care with it. I've got two friends who are struggling to get over it, one of whom had been hospitalized. It's not something I want to get.
Allison Bailes of Atlanta, Georgia, is a speaker, writer, building science consultant, and founder of Energy Vanguard. He is also the author of the Energy Vanguard Blog. You can follow him on Twitter at @EnergyVanguard and pre-order his upcoming book at Publishizer.
Related Articles
The Unintended Consequences of High-MERV Filters
Which Indoor Air Pollutants Matter Most?
4 Ventilation Quotes That Will Rock Your IAQ World
NOTE: Comments are moderated. Your comment will not appear below until approved.