Can Your HVAC System Filter Out Coronavirus?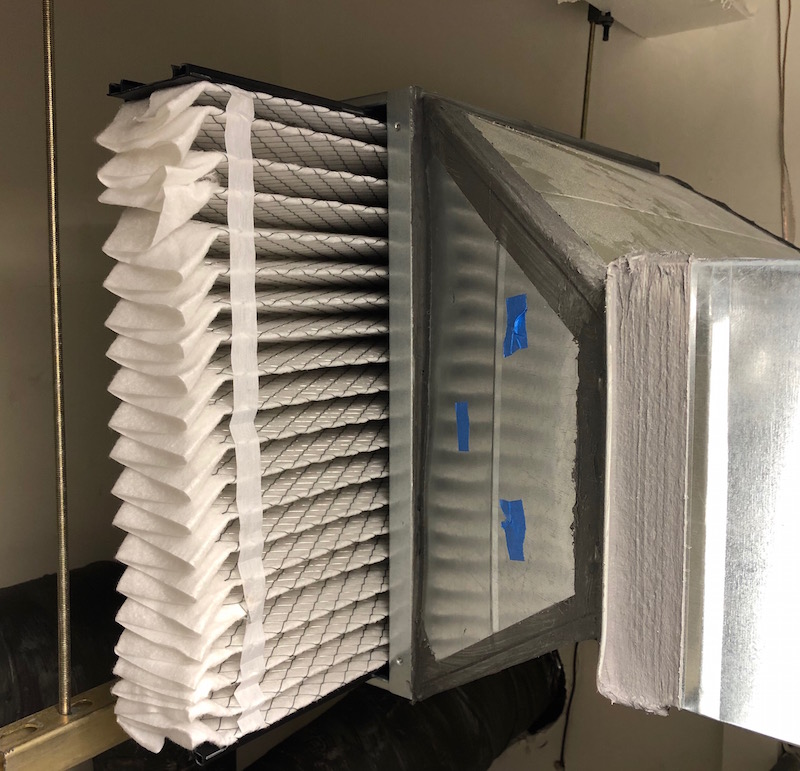 Yesterday I gathered with a few of my friends and colleagues from the building performance community for a virtual happy hour. During our chat, Steve Byers of Energy Logic posed the question: Compared to BC (before coronavirus), how will you be different once the stay-at-home orders are lifted, the coronavirus pandemic is behind us, and we go back to whatever our new normal will be?
My first thought was that I'm going to wash my hands a lot more than I did BC. That may seem like just a superficial change (sorry), but it's connected to a deeper behavioral change. I'd like to think my handshaking days are behind me, too. When I went to Orlando earlier this year for the ASHRAE meeting and AHR Expo, I shook a lot of hands…and one of those hands ended up giving me a cold.
And then there's the air. I've been doing building science and indoor air quality work for nearly two decades, and now the coronavirus pandemic has me thinking about particles in the air even more than I did before. I think I'll never think about the word "droplets" the same way again, especially after seeing so many visualizations of them recently.
But everyone seems to be thinking more about what's in the air around them. This is a wonderful thing, but it's also likely that some people will overreact, falling for ineffective or even harmful methods to improve their indoor air quality. So let's take a quick look at filtering the air inside your home.
Spending time at home
With most of us staying at home these days, we're breathing the air in our homes more than usual. The average American spends about 90% of their time in buildings in normal times, but that times is split between home, work, gyms, bars, and other buildings. Home was always the highest at about 69%; now it's mostly in the home.
So if you want to filter the air in your home to improve the indoor air quality and maybe remove any coronavirus floating around, what do you need to know? Well, you need to know what size particles to filter out and what kind of filters will do that. And you need to know how long the particles carrying the coronavirus will hang out in the air.
A lot of the droplets expelled when a person sneezes, coughs, or breathes are large, from 10 µm up to 100 µm and a few even larger. (1 µm is one micrometer, usually called a micron, and 1,000 microns equal 1 millimeter.) They fall out of the air quickly. Because they don't spend much time in the air, your HVAC system will almost never get a chance to catch them unless someone happens to be standing near a return vent.
The smaller particles, 10 µm or less, are the ones that will float around in the air for hours. One early study on SARS-CoV-2 has found that the virus on those smaller particles can remain intact and infectious in the air for up to three hours. That's the stuff you can have an effect on with good filtration.
High-efficiency filtration
The standard one-inch deep fiberglass filter is meant to stop only the larger stuff, like the dust you can see floating around in the air. The rating that describes filtration effectiveness is Minimum Efficiency Reporting Value, or MERV. That one-inch filter is about MERV-1. (Unfortunately, not all filters come with a MERV rating. Some filter sellers have decided to come up with their own rating systems. I don't buy those filters.)
The chart below (credit: John Semmelhack of Think Little) summarizes the percentage of particles trapped in a filter by the size of the particles. As you can see, MERV-1 does very little.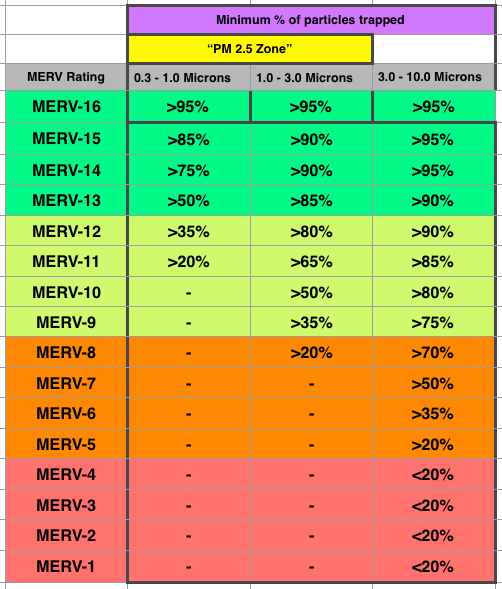 MERV-13 is the minimum filter rating that we recommend in our HVAC design work. To get that rating, it needs to remove at least 90% of particles in 3-10 µm range, 85% of particles in the 1-3 µm range, and 50% of particles in the 0.3-1 µm.
MERV-16 filters out more than 95% of the particles in all three of those ranges. In comparison, an N95 mask goes a step further and must filter out at least 95% of particles smaller than 0.3 µm.
Caution: Your HVAC system may not be able to handle a MERV-13 filter
Yes, to get good filtration, you need to be thinking about MERV-13 as a minimum. I've heard that ASHRAE is planning to recommend a minimum of MERV-14 for better filtration of coronavirus. But if you have a one-inch filter slot next to the air handler, you may end up causing problems — perhaps expensive problems — if you replace the standard MERV-1 filter with a MERV-13 filter or better.
The problem is resistance to air flow. That MERV-13 filter will add a lot of resistance to the air flow in your system, which reduces the total amount of air the system can move. The result may just be lower air flow and everything still works sort of OK. But it could also reduce the air flow enough to cause problems with heating and cooling. It could crack the heat exchanger in a furnace or damage the compressor in an air conditioner or heat pump. See my article on the unintended consequences of high-MERV filters.
Now, it can be done properly so you get good filtration without much resistance to air flow. I've written about that, too. Please take a look at that article, titled The Path to Low Pressure Drop Across a High-MERV Filter, to find out the best way use high-efficiency filtration in your HVAC system.
Filtration is good, but be careful
The bottom line here is that you definitely can improve your indoor air quality and filter out particles that carry viruses. MERV-13 is the minimum rated filter I recommend. But just popping a high-MERV filter in your system may not help because of some well-known unintended consequences. Caveat emptor.
And speaking of caveat emptor, that applies to ultraviolet (UV) treatment as well. We'll take a look at that topic next week.
Allison Bailes of Atlanta, Georgia, is a speaker, writer, building science consultant, and founder of Energy Vanguard. He is also the author of the Energy Vanguard Blog. You can follow him on Twitter at @EnergyVanguard and pre-order his upcoming book at Publishizer.
Related Articles
Can You Use HVAC Filters in Coronavirus Masks?
The Path to Low Pressure Drop Across a High-MERV Filter
The Unintended Consequences of High-MERV Filters
Which Indoor Air Pollutants Matter Most?
NOTE: Comments are moderated. Your comment will not appear below until approved.