A House Needs to Breathe…Or Does It?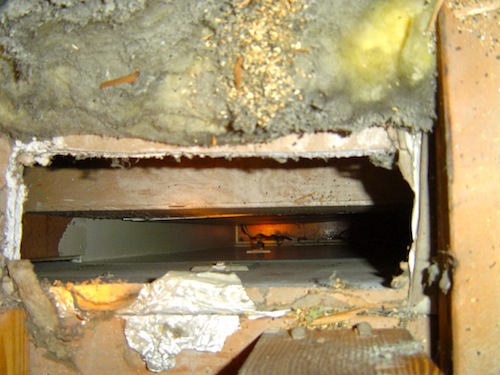 Have you ever lived in a home where you just couldn't feel warm even though you had the heat cranked way up? How about one where you have to turn up the volume on the TV when the air conditioner or heater comes on? Or a home with a musty smelling basement?
The myths we live by
These and more are problems common to many homes. Whether you rent or own your home, you most likely have suffered with problems of comfort, indoor air quality, noise, high energy bills, and more. The primary cause of these problems is that many of the architects, builders, and contractors responsible for delivering the final product don't take the full occupant experience into consideration.
And they operate largely based on myths about how buildings actually work. Let exhibit A be the title of the book: "A House Needs to Breathe." This statement is usually shorthand for, "I don't believe the cost of air-sealing a home is justified by the benefits." It's wrong, though. Random air leaks through the building enclosure don't work. That photo at the top, for example, allowed a lot of air to move between the house and attic, affecting energy bills, comfort, moisture, and indoor air quality.
A house does NOT need to breathe, but the people inside it do. There's no level of airtightness that makes a house too tight. If airtight homes have indoor air quality problems, I guarantee you it's not because they don't have enough air leaking in from attic, crawl space, or garage. It's because of too many pollutant sources inside, poor filtration, and inadequate ventilation.
I'm writing a book
The Energy Vanguard Blog turned ten years old last month. In the past decade I've published more than 900 articles here, many of them discussing the myths that are so pervasive in the building industry and the ways to overcome those myths. Whether it's achieving a high level of airtightness, understanding how to get the most out of your insulation, or solving moisture problems, I've probably written about it here — and in some cases, I've written about it many times.
Now I'm working on a book to put a lot of the most important information in one place. This book will explode the myths, misinformation, and nonsense that pervades the world of home building, remodeling, maintenance, and operation. You'll get building science principles in plain English so you can understand why those things you've been told are wrong and what are the proper ways to make homes comfortable, healthy, and energy efficient.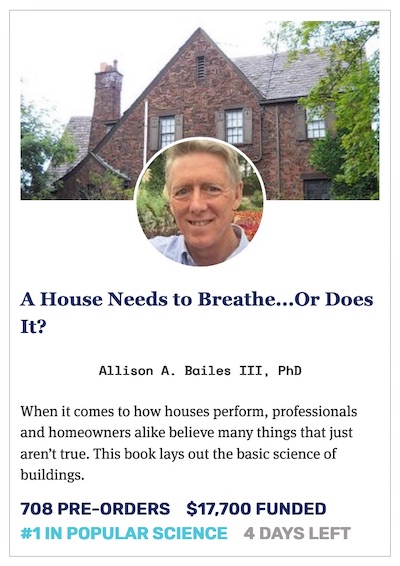 The good news is that you can pre-order this book now. I've been running a crowdfunding campaign on Publishizer to get the attention of publishers. The more pre-orders and funding I get for the book, the more and better publishers will be interested.
But I don't want you to pre-order the book just to help me. I want you to pre-order the book because you'll find a lot of value in it. Click the image above (or this link) and read more about the book. Watch the video I made in my spray foam insulated attic. And look at what some people who know have written about this book in advance.
What people are saying
Over the years I have learned so much from Allison's writing. He has a great talent in making dense topics engaging and relevant. In the field of building science, this is a rarity! If you live in a house, pay utility bills, and are concerned about your health, this book is a must!
~ Amanda Hatherly, Director, EnergySmart Academy at Santa Fe Community College
Dr. Bailes is my favorite writer in building science and HVAC design because of how he simplifies and explains complex topics. This book is sure to be a must read.
~ Bryan Orr, Founder of HVAC School and host of their podcast
Allison Bailes makes the complex world of building science seem intuitive. He combines the penetrating analysis of a physicist with the flowing narrative of a storyteller. And the story he tells is about what your home can and should be doing to make your life better. You're going to want to read this book!
~ Kristof Irwin, P.E., host of the Building Science Podcast
Please take a look and consider pre-ordering one or more copies. You'll see the various bonus levels on the right side of the Publishizer campaign page.
But hurry because this campaign ends midday Thursday, 16 April. That's about 72 hours from now. Here's that link again:
A House Needs to Breathe…Or Does It?
Allison Bailes of Atlanta, Georgia, is a speaker, writer, building science consultant, and founder of Energy Vanguard. He is also the author of the Energy Vanguard Blog. You can follow him on Twitter at @EnergyVanguard and pre-order his upcoming book at Publishizer.
Related Articles
Myth: A House Needs to Breathe
Winterizing Your Home? Don't Caulk the Windows!
Flat or Lumpy – How Would You Like Your Insulation?
NOTE: Comments are moderated. Your comment will not appear below until approved.