Humidity, Health, and the Sterling Chart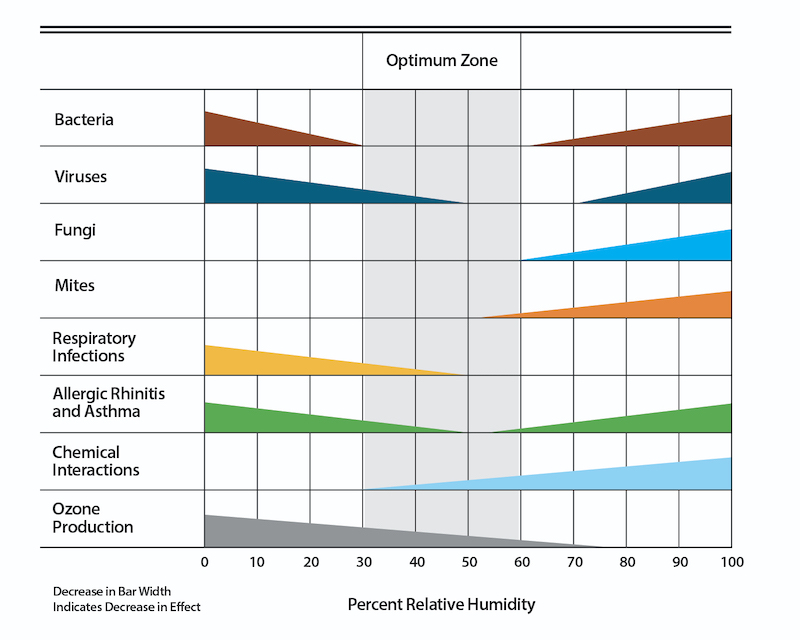 The classic chart demonstrating the importance of keeping to the middle of the relative humidity spectrum has been shown to countless attendees of classes, conference presentations, and webinars on building science, indoor air quality, moisture problems, and health.  I can't tell you how many times I saw it before I discovered the source.  It's often called the Sterling chart and is from a 1986 paper titled, Indirect Health Effects of Relative Humidity in Indoor Environments.
Because so many people have seen this chart in the intervening 34 years, it seems natural to us now.  In 1986, however, the relation of health to indoor air quality was mainly about source control and ventilation.  Even filtration hadn't made it to the big leagues for residential IAQ.  Humidity?  That was a comfort, convenience, or durability issue because people don't like to sweat in their homes, wipe up excessive condensation, or repaint or repair their walls.
This paper put humidity on the IAQ map.  Of course, we were only a decade into the exploration of thermal bypasses and infiltration, and duct leakage was just beginning to get attention, so a lot of building science was fairly new.  Still, just the fact that the chart from this article is shown so frequently is testament to the importance of this paper.
Familiar-sounding research
In this era of the coronavirus pandemic, it's interesting to look at a paper from 1986 that discusses transmission routes for viruses as well as how they fare with humidity.  They discuss aerosols carrying viral particles and transmission by direct contact with infected surfaces or people.  Anyone who has paid attention to the news in the past six months has heard plenty about that.
The authors of the paper cite many other research studies about these topics.  The influenza virus, for example, was shown in three studies to quickly become less viable as the relative humidity increased above 40%.  Other studies, however, found that the infectiousness of influenza virus increased as the relative humidity decreased below 40%—in line with the other studies—but it increased again when the humidity went above 60%.  Similar results applied to bacteria.
In addition to laboratory studies like the aforementioned, the authors also looked at epidemiological data on respiratory infections from schools, army recruits, and offices.  What they found was that in every case where the correlation was significant, the buildings with higher indoor humidity had fewer respiratory infections.  Most of the humidified buildings had relative humidity between 40 and 51 percent whereas their counterparts were at 31 to 41 percent relative humidity.
In addition to viruses, bacteria, and respiratory infections, the study also looked at allergens, like mites and fungi, and chemicals, like formaldehyde and ozone.  The results were similar.
The optimal zone
The authors of this paper summarized their results, which were really the results of a lot of other studies, in their now-famous chart.  Some of the health factors get worse at lower humidity levels, some get worse at higher humidity levels, and some get worse at both ends of the humidity spectrum.  Where you want to be, they concluded, is in the sweet spot in the middle, between 40 and 60 percent relative humidity.  They showed that in the chart with a shaded region.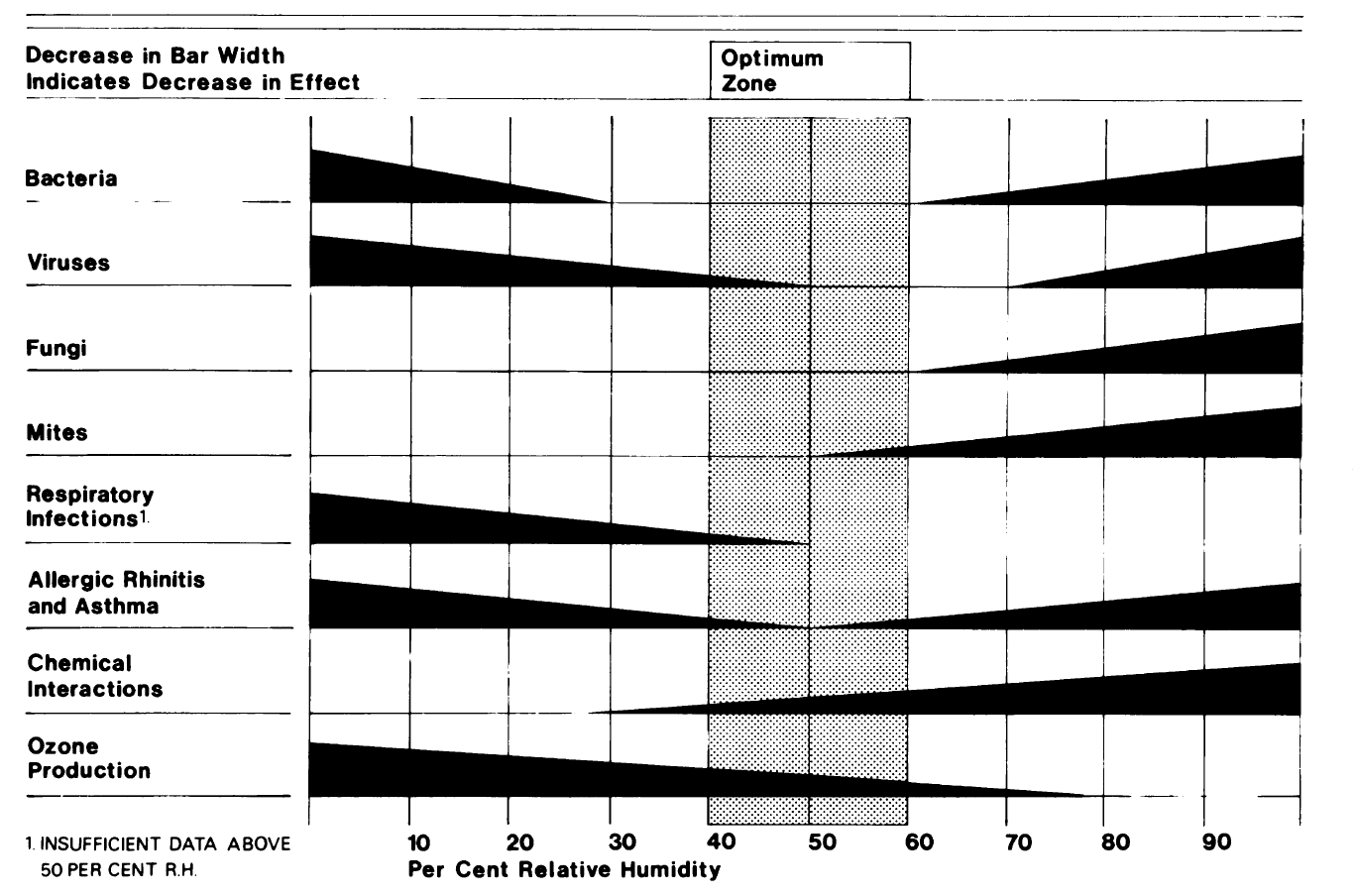 Some people are arguing that 40 percent relative humidity should be the low end of indoor humidity because of health reasons.  (See last section below.)  In cold climates, however, 40 percent relative humidity might actually make the indoor air quality worse.  In a poorly insulated house with a lot of air leakage, the interior surfaces can stay cold enough to cause moisture accumulation and mold growth.
For that reason, I put the low end of the optimal zone at 30 percent relative humidity.  The diagram at the top is the adaptation of the Sterling chart that I used in my book, A House Needs to Breathe…Or Does It?  For houses with weak building enclosures, building science experts generally agree with a lower low end.
A caveat
But there's a caveat in their paper that has gotten little notice over the years, probably because almost everyone who has ever used this chart in their training materials or presentations hasn't read the original paper.  Early in the paper, the authors state:
"A review of the available data on the indirect health effects of relative humidity shows that these effects do not uniformly increase or decrease in frequency or severity with a change in relative humidity."
Take a look at that chart again.  The statement above contradicts what they show there.  In the conclusion of their paper, though, they state:
"The shape and height of the bars in the figure are only suggestive of an increase or a decrease in effect and do not represent quantitative data."
I asked Bill Rose, the author of the fabulous book Water in Buildings, for his take on the Sterling chart.  He called it the "zebra chart," which I thought was a great description, and said about it:
"What I minded about the chart is that it makes the 40%-60% range appear unfavorable to organisms unfavorable to us.  That's a funny way for evolution to work—for bacteria and viruses to favor environments as far as possible from 50% RH."
We certainly know that the SARS-COV-2 coronavirus causing such trouble now doesn't seem to have trouble with higher humidity.  Remember when we were told it would go away in April, like a miracle, as the heat and humidity increased?
The big takeaway
From a moisture perspective, we already know that high humidity isn't so good.  Porous materials get wetter as humidity rises, mold grows, and materials rot.  We're used to thinking of a maximum for relative humidity, but low humidity can also be bad in terms of health.
Dr. Stephanie Taylor is a medical doctor and researcher who is on a mission to establish a minimum of 40 percent for indoor relative humidity.  According to Dr. Taylor, the negative health effects increase quickly enough once you drop below 40 percent that we need a hard stop there.  The implication is that buildings in cold climates need to get more air sealing, insulation, and better windows if they have trouble with 40% relative humidity.
So, the big takeaway from this paper is that relative humidity near 50% is probably the best overall, but don't take that chart literally.  You can still get sick or have allergic reactions even at 50% relative humidity.  And the risk doesn't change linearly as shown in the chart.  They made that part up.
If you've seen the Sterling chart before, did you know the name and the source?
Download the article:  Indirect Health Effects of Relative Humidity in Indoor Environments
Allison Bailes of Atlanta, Georgia, is a speaker, writer, building science consultant, and founder of Energy Vanguard. He is also the author of the Energy Vanguard Blog. You can follow him on Twitter at @EnergyVanguard.
Related Articles
Controlling the Humidity in Your Home in Winter
Make Dew Point Your Friend for Humidity
What Is the Best Indoor Relative Humidity in Winter?
NOTE: Comments are closed.