The Surprising Building Science History Behind the Revolving Door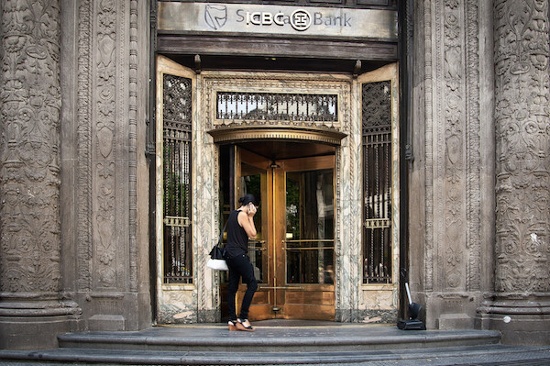 Revolving doors have been around for a century and a half. You see them at the bottom of tall buildings, which tells you something right there. They weren't invented merely to function as a way to enter and exit these buildings. There's a building science reason behind their invention. In fact, the name given them by H. Bockhacker, the original inventor in Germany, tells you why he did it: "Tür ohne Luftzug."
In case you don't speak German, the translation of that is "door without draft of air." In tall buildings, opening a regular door at the bottom of the building in winter time is usually accompanied by a big rush of cold air into the building.
If you've been reading this blog for a while, I'm sure you know the reason for that draft. It's gravity, of course. And its effect on volumes of air at different temperatures. Warmer air is less dense. Colder air is more dense. That changes pressures, of course, and when you make a hole at the bottom of the building, cold, dense air forces its way in and pushes up the warmer, lighter air, which then finds its way out through holes at the top of the building.
This phenomenon has a name. It's called the stack effect. Here's what it looks like when a tall building has a flexible skin.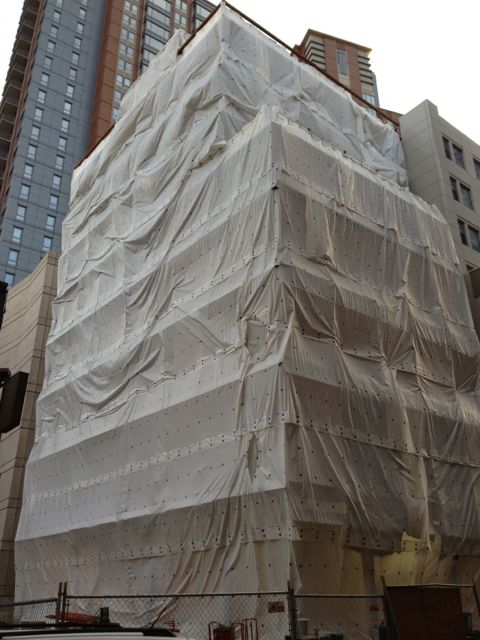 Notice the plastic tarps being sucked in a t the bottom of the building and pushed out at the top.
Stack effect increases with height. That's why you don't see revolving doors in low-rise buildings. It also increases with the difference in temperature between inside and out. That's why it's stronger in winter than summer.
Revolving doors limit that inrush of air because, unlike a regular door, the inside and outside aren't directly connected to each other when people go in and out.
New buildings have another way of reducing that stack-effect induced air leakage: compartmentalization. Isolate the floors from each other and seal the elevator shafts, and the stack effect is greatly reduced.
There you have it. A new bit of trivia you can use to impress your friends and win bets in bars. Who knows? You may even be able to use this knowledge to your benefit in Building Science Fight Club! (But I can't talk about that.)
Related Articles
Heat Rises…and Falls — Stack Effect, Air Movement, & Heat Flow
Winterizing Your Home? Don't Caulk the Windows!
Wikipedia article on the revolving door
Photo of revolving door by Hernán Piñera from flickr.com, used under a Creative Commons license.
NOTE: Comments are moderated. Your comment will not appear below until approved.