It seems like most of the people I talk with have taken interesting routes to this industry, and the vast majority of us are excited to be where we are today — in a growing and vibrant industry.
My calling stems from my own personal sustainability journey and the ongoing evaluation of my consumption choices. As I began to be influenced by friends, documentaries, and books (The Long Emergency scared me silly and Cradle to Cradle truly shifted my thinking), my wife and I started to make adjustments to our lifestyles that focused on reducing our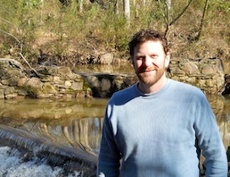 environmental footprint. This process has continued, and we get energized every time we discover a new "green" habit to adopt…almost as excited as when we show people our vermicompost bin, appropriately labeled "I've got worms."
I was born and raised in rural South Georgia (my parents still live on an unpaved, dirt road). Doing farming-related jobs and spending a lot of time in nature provided me the foundation of respecting our land and its natural resources. Then I decided to "go up North" (Atlanta qualifies for this label to South Georgians) to study Engineering at Georgia Tech. After earning my Industrial Engineering degree, I spent the next 14 years predominantly working in the consumer products supply chain, with the majority of that time providing management consulting to a wide variety of consumer product companies.
The consulting lifestyle provided a lot of things, most importantly, the opportunity to travel and see the world. Between business travel and personal travel, I began to truly appreciate the variety of cultures and sustainability beliefs across the globe. Living abroad exposed me to things like the British passion for non-GM foods (the US is finally starting to adopt similar labeling transperency) and the amazingly dedicated population of Japan that sort their household waste into umpteen different categories before disposing.
A number of major life events in 2008 served as a wake-up call, and we made the decision for me to stop the traveling consultant lifestyle and leave an industry primarily focused on selling more disposable items made from unsustainable materials via unsustainable processes (a somewhat harsh description).
So, with all that said, why building science?
Footprint Reduction – I feel an innate responsibility to lessen our impact on the environment, and I think practicing building science is a great way to address the significant impact that the built environment has on the natural environment.
Industrial Engineering is actually pretty applicable – My education makes the science part of all this a little easier to grasp and Industrial Engineers are consumed with making things more efficient. I can't think of a better place to improve efficiency than with the use of our natural resources!
Giving back – Being a HERS rater and ENERGY STAR Partner has given me the opportunity to volunteer with the Habitat for Humanity building program. Witnessing the positive impact of providing an affordable, energy efficient home to a Habitat partner family has been a blessing.
My entry to the industry was my founding a consulting company that provided home energy assessments, home performance diagnostics, and sustainable living counsel. After a few successful years working with builders and homeowners, I decided I could utilize my management consulting skills and make an even bigger impact by training others in building science and sharing my experiences as a rater and building science consultant.
… and that is what has led me to Energy Vanguard, and I'm excited to be here.
My certifications include:
RESNET: HERS Rater and Quality Assurance Designee
BPI Certified Professional and Field Proctor:  Building Analyst, Envelope, Healthy Home Evaluator, Infiltration and Duct Leakage Tester
Outside of work, I enjoy:
Raising a son – I think I'm learning more than he is.
Hiking – Kilimanjaro, Patagonia, Inca Trail, Mt. Fuji, 3 of the 10 "Great Walks" in New Zealand, Zion's Angel's Landing, The Wave, and numerous other treks across the globe
Baseball, college and professional – Go Tech! Go Braves!
Soccer/Football  –  Five Stripes! Atlanta United, Glory Glory ManUnited!
Striving to be a locavore
Travel – when you have some time to soak up my passionate memories, ask me about the around the world trip my wife and I took in 2007