The 2017 Building Science Summer Camp Wrapup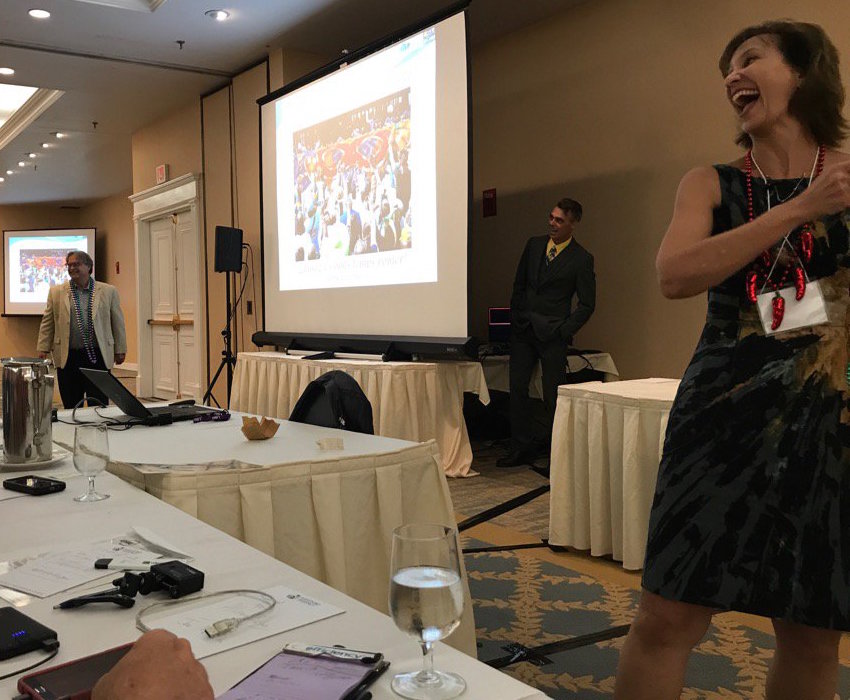 Well, another Building Science Summer Camp has come and gone. If you've been reading this blog for a while, you probably know about it. You may even know that I have a special history with it. Dr. Joseph Lstiburek and Betsy Pettit, his wife and business partner, (shown below) host it each year at the beginning of August, and it's one of the most impressive gatherings in the world for people who work in building science. The official name is the Westford Symposium on Building Science, but it's usually just called Summer Camp. As difficult as it will be, let me see if I can give you a taste of what happened this year without it turning into a book-length review.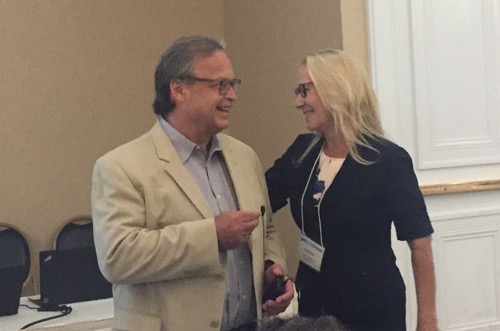 The weekend
I showed up on Saturday this year, as I've been doing for a while now. Along with the other four days I'm there, this is my favorite day. Well, at least it's my favorite Saturday of Summer Camp. With fewer people in Joe and Betsy's backyard, you can have more relaxed conversations. And the Saturday meal is steak and lobster!
Throughout the weekend, Joe gave tours of the new test hut in which Building Science Corporation is doing research on moisture in roofs. Look for results from them in the future.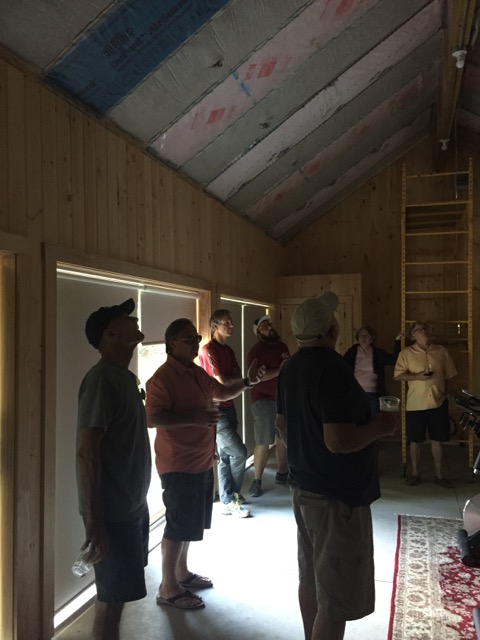 Sunday is much the same, until late afternoon. That's when the shuttles run more frequently and people start pouring into the backyard. The Building Science Boogie Band, of course, plays every night, beginning Friday.
Monday
The sessions begin on Monday morning at the Westford Regency. First up was Frank Nunes talking about stucco. One of the big takeaways for me was the two kinds of stucco: cracked and not-yet-cracked. A lot of cracks present only an aesthetic problem. Apparently, though, there's a lot of lawsuit action in stucco world. Nunes never really got to that part unfortunately.
Second on the agenda was J.D. Stenner, a stonemason whose task was to discuss old masonry buildings and the problems they face. When he stuck to what he know — stone, brick, mortar — he was fine. I would have loved to have heard more about lime putty versus portland cement. The problem was he extended himself into stuff he didn't know much about. That area, unfortunately for Stenner, was building science. At one point, Stenner criticized modern buildings and Joe yelled out, "That's bullshit." Note to presenters: Stick to what you know.
I enjoyed the afternoon sessions more. First up was Dr. Ian Robertson from the University of Hawaii, whose accent makes him sound just like Cary Grant. He discussed two of his research projects. The first one was a study of corrosion of rebar in concrete in marine environments. The big finding is to use fly ash. The second study was on the corrosion of cold-formed steel fasteners. Takeaways: (1) Rain is good because it washes off the salt and creates a protective patina on galvanized fasteners. (2) Keep fasteners away from direct exposure to salty air if they're not going to get rained on.
Last up on Monday was Kurt Mitenbuler, who gave a fascinating talk on China. He showed a gazillion photos of tower blocks (the huge high-rise apartment buildings people live in now), old versus new stuff, sidewalks, gates, wood joinery, and more. My takeaway here was that China would be a scary place to live. Mitenbuler said he always has to make sure he's not grounded before touching parts of the electrical system in buildings. He also showed that people heat themselves (not their homes, because their windows are often open) with open combustion under the dining room table. I wonder if anyone has measured the extent of the carbon monoxide poisoning they must have.
Tuesday
OK, I have to admit I didn't get much out of most of the sessions on Tuesday. It wasn't because they weren't good. It's that I skipped out a lot because I was a little on edge. Well, OK. I was more than on edge. I was a nervous wreck. More on that in a bit.
I did catch the first presentation. Helen Hardy Pierce from GAF (a roofing company) spoke on roofing membranes. That's not my area so I learned a bit about built-up roofs, EPDM, PVC, and TPO. In my notes I wrote these two things, so I'll post them as my takeaways: (1) Ponding water accelerates UV degradation. (2) Spiking into a concrete deck is stupid. Concrete roofs need to be adhered, not mechanically fastened.
I caught part of Claudette's talk on her work in Louisiana. (That's her above in the lead photo, taken by Neil Randol.) I'm sure I was one of only a few people who knew the word "couyon" before her talk, since I lived with the Cajuns from fifth grade through high school. I heard from others that her talk on moisture and mold and the LaHouse was excellent.
My presentation on flex duct
The reason I was too nervous to stay in the room for Claudette's talk is that I was a co-presenter in the  talk right after hers on Tuesday. Chris Van Rite and I discussed flex duct. You can download the slides (pdf) and take a look, but you probably won't get a whole lot from that, at least not from my part of the presentation (slides 1-46 and 80-96). I don't put a lot of words on my slides because they distract attention. I want people to listen to what I'm saying, so you kinda had to be there.
The good news is that Joe Medosch set up his GoPro and videoed the whole thing. I'll try to get that out in the next week so you put the slides with the words. Look for it here in the EV Blog and in my social media channels. I'll say more about it then, too.
Wednesday
The last day of Summer Camp started with Andy Ask. I really wanted to be there for it but when you don't leave Joe's backyard until after 2 am, it's not easy to make it to an 8:30 presentation. (Sorry, Andy!) I hear he was even asking for me in his talk.
I did catch Foster Lyons's talk, though. He gave a lot of great advice for architects on detailing their drawings to avoid stupid stuff happening during construction. You know, things like calling out every penetration and providing flashing details for them.
As usual, Joe Lstiburek closed the show, this year with a talk on how buildings age. He focused on masonry buildings, which I don't know so much about. He taught us about the three kinds of brick ("good brick, OK brick, and shitty brick"). He busted our chops because we don't read books and taught us some good details, like reglets to keep the water from staying in the wall and sacrificial mortar.
The best thing about Summer Camp
This was my seventh year of attending Building Science Summer Camp. I got Joe to invite me when I wrote an article in 2010 that he thought was funny. Over these seven years, I have to say that my favorite thing about Summer Camp is the amazing collection of people who show up.
Joe and Betsy invite architects, engineers, academics, and contractors. There are people who know soils, foundations, floors, walls, windows, insulation, air barriers, roofs, and mechanical systems. You can talk to people who are experts in Passive House, Pretty Good Houses, affordable housing, and just about any other program that intersects building science in some way.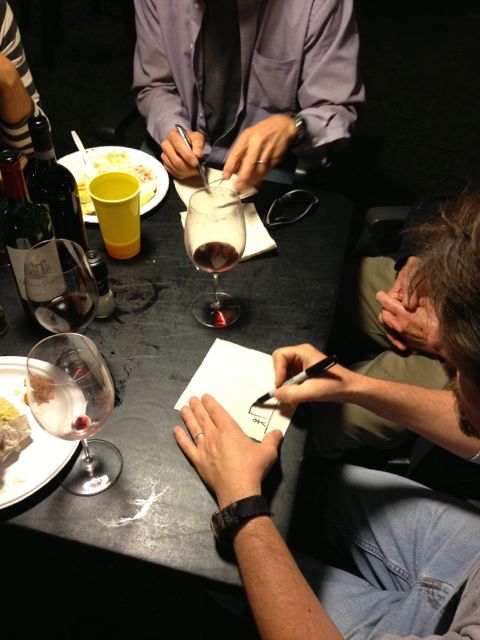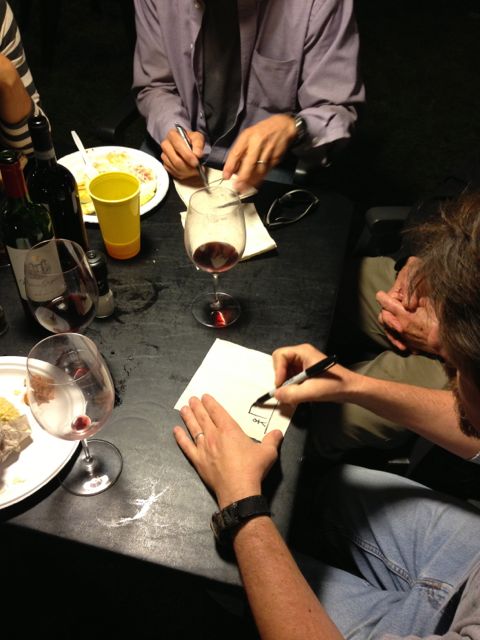 The conversations at Summer Camp are invaluable.
The Summer Camp Twitter feed & presentations

If you really want to do a deep dive on this years Summer Camp, check out the Twitter feed. We always use the same hashtag:
The presentations will be available on the Building Science Corporation website soon. Here's the link:
2017 Building Science Summer Camp presentations
Related Articles
I Don't Need No Stinkin' Building Science Summer Camp!
Matt Risinger's Building Science Summer Camp Interviews
Photo Highlights from the 2013 Building Science Summer Camp
NOTE: Comments are moderated. Your comment will not appear below until approved.