Get Trained for Florida's New Certified Rating Program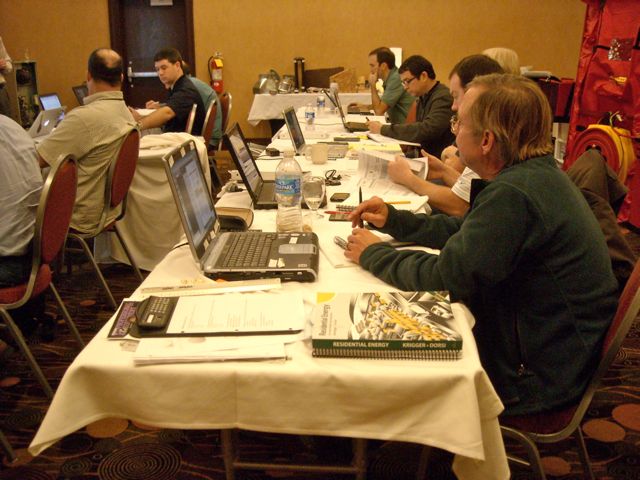 Last month I told you about the new certified rating and code compliance program that's launching in Florida. I mentioned there will be a training for it at the Southeast Building Conference (SEBC) in Orlando this month. And now I have the details. If this is something you might be interested in, here's what you need to know.
Schedule
26 July 2017
12 pm to 5 pm
Location
Gaylord Palms Resort & Convention Center
Kissimmee, Florida
Fee
$200
Instructors
Allison Bailes and Jeffrey Sauls  (Yep. That's us.)
Is this class for me?
This program is ideal for people who already have a credential related to the certificates being offered in the new program. Those include infiltration testing, duct leakage testing, energy code performance path modeling, water efficiency testing, and similar code related metrics. If you're a RESNET certified HERS rater, BPI certified in Infiltration & Duct Leakage (IDL), or a BPI Building Analyst, this program could provide expanded revenue streams for your business.
How do I sign up?
Go to the SEBC registration page and follow this path:
Start with "Click Here to Register"
Then click "Start a new registration"(unless you've already registered)
Select "Expo & Education Pass" or "Special Events Only"
Select "FHBA – Sponsored Certified Rating Program – Onboard Training" in the special events section
That should get you in. The training is in less than two weeks and seating is limited so you I suggest doing this soon if you're interested. There's no capacity is to move to a bigger room if we sell out.
If you're just interested in finding out more about the program, sign up for the SEBC trade show and look for the Triconic booth (#1334). They'll be happy to answer any questions you may have and will also have representatives from UL, Intertek, Florida Water Star, and Green Builder Coalition. There's also an FAQ on their website that gives more detail.
Oh, and you may notice something else in the special events section of the SEBC registration – a pub crawl. Jeffrey and I will both be doing that. I hope you can join us, for one part of all parts of what I've discussed here.
And a special offer. If you want to come to the trade show and ask questions, you can use the following code to register for free:  INVITESEBC17.
See you in Florida!
Related Articles
UL and Intertek Partner With Homebuilders in Energy Rating Program
The 2015 Energy Code Will Have a HERS Rating Compliance Path
The Struggle to Update Georgia's Energy Code

NOTE: Comments are moderated. Your comment will not appear below until approved.