Radon Venting—Do It During Construction or Add a Zero
You can install a radon vent the hard way. Or you can install one the easy way. I discovered in Nashville a couple of weeks ago that home builders there prefer to do it the easy way. That is, they rough in the sub-slab or crawl space ventilation pipes during construction. Once they frame the house, they extend the vent up through the roof. That's the way to install a radon vent!
I took the photo above while we were in Nashville doing quality assurance for E3 Innovate's HERS rating work. This wasn't even a house that's going for any certifications (ENERGY STAR, LEED for Homes...). Evidently it's pretty common for builders to do this in Nashville.
What's it cost? Oh, maybe $300. You've got a little bit of PVC pipe to rough-in during the foundation work. Then you've got to rough-in a bit more when the house is framed and run it up through the roof.
I don't know if they're doing it in Nashville, but ideally you'd also stub in an electrical junction box near the pipe. That way, after the occupants move in and test the house for radon, they can easily add a fan to convert the radon vent from passive to active.
All that's pretty easy and inexpensive to do during construction. If you don't do it and the house tests high for radon, it becomes much more difficult and expensive. It means opening up walls and messing up painted drywall. You have to cut through an already finished roof and make sure you get the vent flashed properly. Running the wires for a fan might mean fishing wire through a wall.
It's probably a safe bet that you can add a zero to the cost if you wait until that point to do it. Of course it's going to depend on the how hard it is to retrofit your particular home, but that $300 job easily could become a $1000 job or more. Uggghhh!
Radon fundamentals
The US Environmental Protection Agency (EPA) estimates that radon causes 20,000 deaths from lung cancer each year. It's second only to cigarette smoking.
Radon is a radioactive element in the decay chain of uranium. It's a gas. If you breathe it in an it decays in your lungs, bad things can happen.
Some areas have a lot of it. Some areas don't. The US is divided into 3 radon zones — 1, 2, and 3, with 1 having the highes potential for radon. Homes in zones 2 and 3 can still have high radon levels, though. The map below shows the 3 zones. (Click to go to EPA radon zone's page.)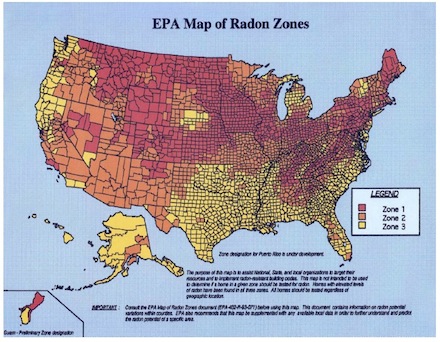 Testing your house is the only way to know if you have it. You can buy a test kit at home improvement stores.
Nashville is in radon zone 1, having high potential for radon. Builders there seem to get that it's important. Atlanta is also in zone 1, and I think the only house I've seen in this area that had a radon vent was the one I built.
Come on, Atlanta home builders! Are you going to let that little town in Tennessee kick your butts like this?
Related Articles
Builder and Contractor Resources for Radon-Resistant New Construction

Subscribe to the Energy Vanguard Blog
The Latest from the Energy Vanguard Blog