The Shocking Truth About Heat Pumps
Should you use natural gas heating rather than a heat pump in your home? Some say the interest in heat pumps is fueled by irrational exuberance. Others say that because they require supplemental heat, heat pump performance is not acceptable. Another group says you'll get a better HERS Index by using gas heat.
So how's a person to decide? Some of the folks who say these things are smart, established, and well respected in the HVAC and energy efficiency communities.
Calming the chaos
The first answer to the lead question in this article is yes, it may be better for you to use natural gas heating in your home. The second answer is no, you might be better off with an electric heat pump. You also can reverse the order. In other words, the best answer is, it depends.
The truth is that anyone who says never or always is usually wrong, especially when it comes to which products, materials, or technologies to use in your home. In the case of gas heating versus heat pumps, here are some of the issues you need to consider:
Climate zone
Electricity vs. gas rates and service charges
Where your electricity comes from
Building enclosure
Modern equipment
Climate zone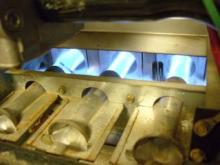 It doesn't make a lot of sense to put in a gas furnace in Valdosta, Georgia or Phoenix, Arizona. Where cooling loads dominate, heat pumps do, too.  
The further north you go, the more gas heat you find. That's changing, though, because building enclosures are getting better (more airtight and better insulated) and because we have better heat pumps.
Climate zone does matter, but the one-size-fits-all approach is becoming obsolete, even when applied to specific climate zones. I've seen heat pumps in Maine and furnaces in Florida.
Electricity vs. gas rates
Within a single climate zone, it may make the most sense to put in a gas furnace in one location and a heat pump in another. Natural gas rates have been really low for a few years now, but that hasn't killed the electric heat pump. Look at Georgia, for example. Since deregulation of the gas industry here in the '90s, we typically pay about $30 per month in service charges. I've known people with gas heat and electric water heaters who get gas bills in the summer showing no gas consumption and an amount due of $30 or so.
One of the problems with comparing the cost of operating a gas furnace to an electric heat pump is that you're billed for each in different units. You pay the gas company for how many therms you use and the electic utility for kilowatt-hours. Then you've got to factor in the efficiency of the furnace. If you really want to know which is cheaper, you've got to do the conversions and find out how many cents per Btu you pay for each fuel, with the equipment efficiency factored in.
A more comprehensive analysis also would factor in the lifetime and maintenance costs of the different types of equipment. Still, with rates, efficiencies, and equipment costs all over the map, you can't make any generalization about always using heat pumps or always using gas heat. As Kai Ryssdal does every day on MarketPlace, you've got to 'do the numbers.'
Source of electricity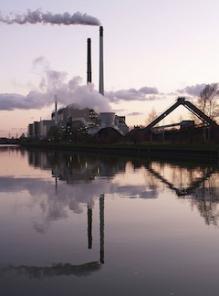 If you're concerned about the environment, then you'd want to know something about the sources of your various fuel options. Natural gas has its fracking problems. Most electricity is generating by burning coal or natural gas. If you live in the Pacific Northwest, most of your electricity comes from hydropower, which is much cleaner but has disrupted river ecosystems and salmon runs.
Building a net zero energy home? If so, that makes heat pumps more attractive because the source energy issue isn't as big a deal, but it also depends on the array of incentives available to you to make the onsite power production feasible.
Heating high-performance homes
David Butler wrote a two-part series on the challenges of heating and cooling high-performance homes for us a couple of years ago. The first article was titled Just Say No to Furnaces in High Performance Homes and made the case that...well, do I really need to say?
The second article, Heat Pumps and Hydronics – A Great Team for High Performance Homes, laid out a path for using heat pumps in a way that overcomes one of their biggest drawbacks: electric resistance heat to supplement the heat pump at low temperatures. Yes, most heat pumps need supplemental heat. It's true. That certainly doesn't make them unacceptable, though. It means you need to be smart about how you set them up and use them.
As David described in his second article, using a hydronic coil with heat from a water heater is a much better option for supplemental heat than is electric resistance heat. You really should click to read the article.
These ain't your grandpappy's heat pumps
Heat pumps today aren't the same as the early models from the 1970s and '80s. They're more efficient. They've got the supplemental heat thing figured out. And they come in a wide variety of efficiency, capacity, and technology, from the standard models to mini-splits to ground-source heat pumps.
Of course, furnaces (and boilers) have come along, too. We now have high-efficiency, sealed combustion furnaces that can distribute the heat through either forced air or hydronics. You can get a modulating condensing (mod-con) furnace that can adjust the capacity closer to the needs of the house.
Overall, it's easier and less expensive to get a heat pump small enough to match the loads of a high performance home than it is to get an appropriately sized furnace. Mini-splits are great for this and allow for better zoning, too.
The shocking truth
In the end, you shouldn't go with a furnace just because an expert said all heat pumps are unacceptable. You've got to look at the issues I outlined above. Consider what your priorities are. Low energy bills? Environmentally friendly energy sources? Uniform heating with lower temperatures or short blasts of higher temperatures?
The shocking truth about heat pumps is that they might well be a great fit for your home. Or they might not. It depends.
Related Articles
Heat Pumps and Hydronics – A Great Team for High Performance Homes
Finding Balance - Heat Pump Heating Load vs. Capacity
How the Heck Does a Heat Pump Get Heat from Cold?!
Photo of power plant by eutrophication&hypoxia from flickr.com, used under a Creative Commons license.
Subscribe to the Energy Vanguard Blog
The Latest from the Energy Vanguard Blog