This Little Hitch Snares ENERGY STAR Homes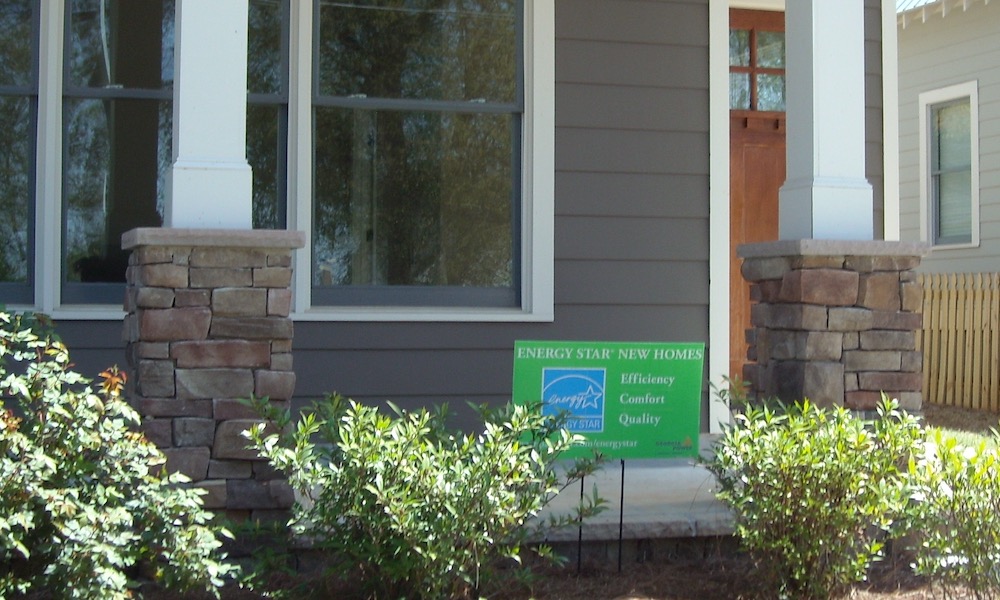 Let me tell you a little story about the day that Jeffrey went to test several Habitat for Humanity houses that are going for certification in the ENERGY STAR new homes program (the one in the photo here was not one of them). This was a couple of weeks ago, but I wrote down the numbers he told me because I think you may be somewhat surprised.
This isn't an issue unique to Habitat, though. If you've done the kind of testing required for Version 3 of the ENERGY STAR program, you've likely seen similar numbers for the failures I'm about to describe.
The little hitch that snares
One of the requirements in ENERGY STAR V3 is that bath fans have to be able to exhaust at least 50 cubic feet per minute (cfm) of air. It's got to be measured by a HERS rater as one step among many in the required commissioning process. Many builders going for ENERGY STAR have learned that fans rated at 50 cfm generally don't cut it. This particular Habitat affiliate, as a result of early failures, made the decision to install fans rated at 110 cfm in all their homes.
Should be pretty easy to hit 50 cfm with a 110 cfm fan, right? No, not necessarily.
Jeffrey tested 9 fans, all rated at 110 cfm. Want to guess how many passed on the first try? Well, the actual number was five. That's right. Only five out of nine fans passed.
And even their results weren't stellar. None of them even hit 100 cfm. One barely made it across the finish line with 51 cfm. The other four were between 51 and 85 cfm.
And the four losers? Their exhaust flow rates were 30, 45, 45, and 46 cfm. Did I mention that the fans were rated for 110 cfm? Those four fans couldn't even get 45% of their rated air flow!
If you're a builder, HERS rater, or HVAC contractor working on ENERGY STAR homes, what kind of failure rates are you seeing on bath fan exhaust flow rates?
How we measure bath fan flow rates
The photo below shows Andrew Woodruff of Building Performance Engineering in Boone, NC using the exhaust fan flow meter from the Energy Conservatory. We use the same device, as do many HERS raters. You just hold it over the fan with the fan turned on and measure the pressure difference with a manometer. The range of exhaust flow rates it measures is from 10 to 124 cfm with an accuracy of ±10%. They're quick, easy to use, much less expensive than a flow hood, and way lighter than a powered flow hood.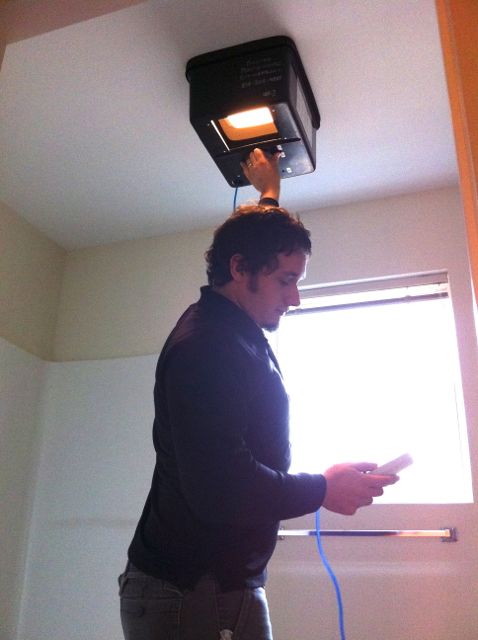 How to pass on the first attempt
These Habitat builders have modified their processes to ensure they get their homes certified, but they're still working on some of the details. Here's the full solution:
Use a higher capacity fan. You shouldn't count on getting 50 cfm out of a 50 cfm fan.
Install the housing with the duct port facing the right direction. It's amazing how often I see them installed so that the duct has to make an immediate 180 degree turn.
Shorten the duct runs. Don't run the duct all the way across the attic. Try to keep the duct length to less than 10 feet.
Upsize the duct. Go with a 6″ duct, rather than the 4″.
Use hardpipe or install flex perfectly. Poorly installed flex can zap the oomph right out the air.
Make sure the wall cap or roof vent is operating properly. Sometimes those dampers stick, or get screwed or painted shut.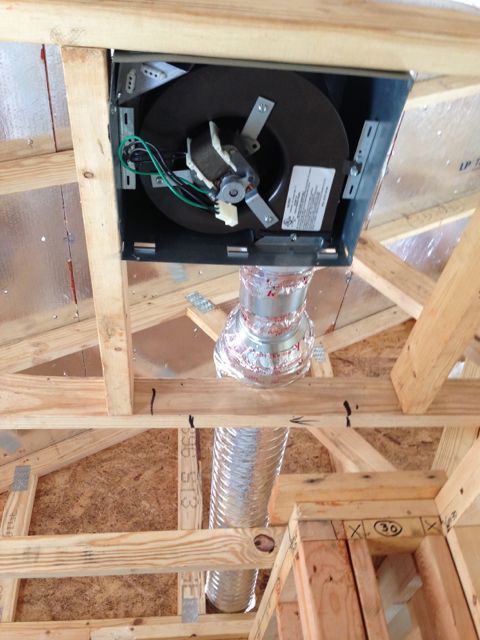 The photo above shows one that does almost all those things and should have no trouble passing the air flow test. It does have one little issue that may need to be corrected before the final inspection, though. They went to the larger duct, but it's got a crimp where it goes across the first 2×4.
If you're doing work on ENERGY STAR homes, it's good to keep these things in mind. Jeffrey doesn't like to go back out for reinspections, and your HERS rater probably doesn't either.
Allison A. Bailes III, PhD is a speaker, writer, building science consultant, and the founder of Energy Vanguard in Decatur, Georgia. He has a doctorate in physics and writes the Energy Vanguard Blog. He is also writing a book on building science. You can follow him on Twitter at @EnergyVanguard.
Related Articles
5 Reasons Bath Fans Have Such Poor Air Flow
Snakes in an Attic — The Ductopus's Cousin Strangles Bath Fans
Comments are closed.