Photo Highlights from the 2013 Building Science Summer Camp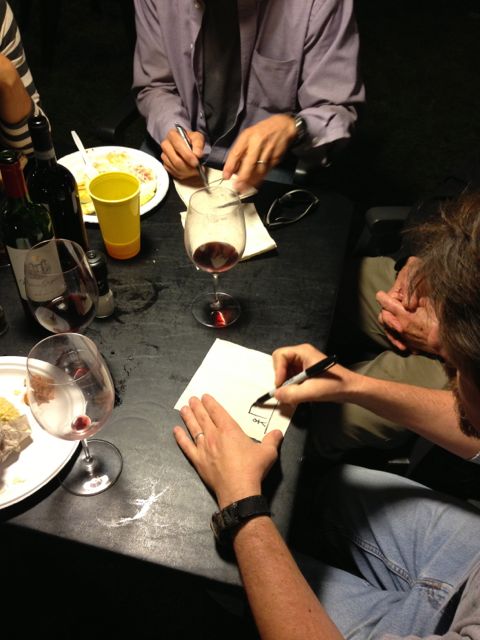 Building Science Summer Camp ended yesterday. It's been another fabulous event, the third one I've attended since getting myself invited by writing this piece that caught Joe Lstiburek's attention. As I wind down and reflect on the things I learned this week, I thought you might like to see a few photos to get a feel for what really happens at the Westford Symposium on Building Science.
The first photo gives you an idea of what, I believe, is the best aspect of this event: sharing ideas. On Monday evening, I was at a table when two different discussions led to napkin sketches. (That's Kristof Irwin at the top and Blake Reid on the right.) The conversations that happen at Summer Camp are amazing!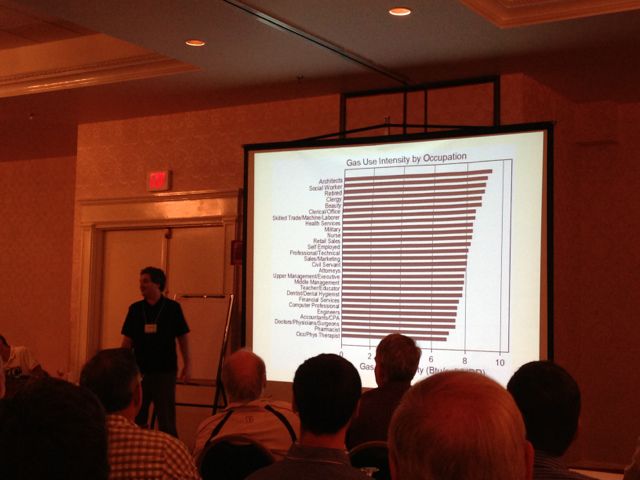 We also get to hear some of the top folks in the world of building science, of course, and the conference opened with three hours of Michael Blasnik giving a presentation called Lies, Damn Lies, and Modeling. Here you see him standing next to a slide showing data of energy intensity by occupation. Architects are at the top.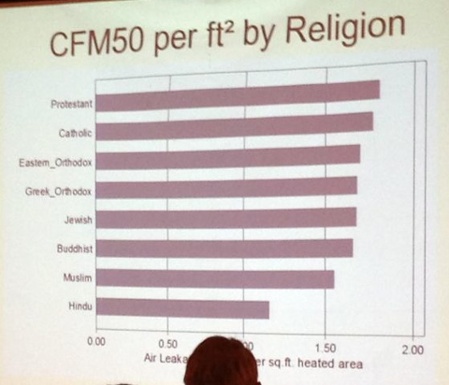 He then showed a graph of blower door results by religion. The point is that you can get data to say a lot of things that may or may not be meaningful.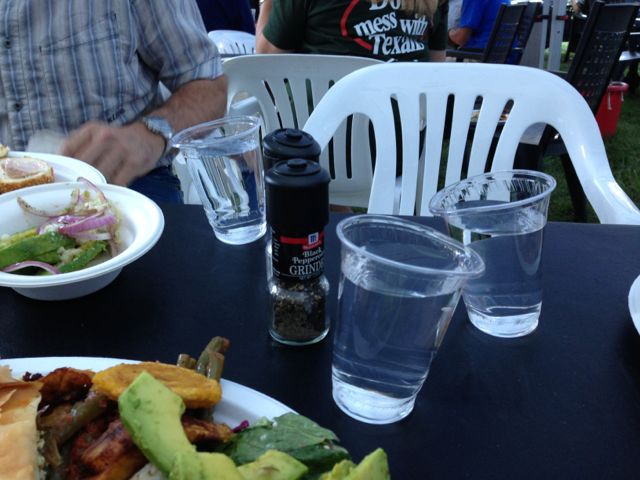 I think these melted, leaning water cups were some kind of trick by Joe or Betsy to make people think they were drunker than they really were.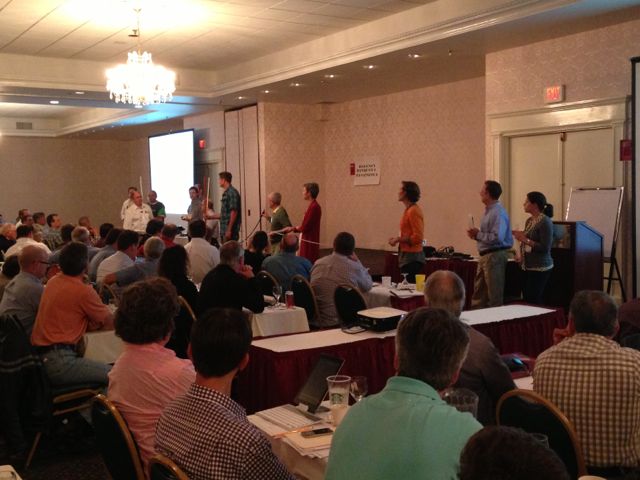 Gary Klein spoke about hot water on the first day and used volunteers to demonstrate how to minimize the amount of wasted hot water when you turn on fixtures throughout the house. Basically, the method is to use trunk-and-branch plumbing and make the twigs (his term for the last run to individual fixtures) as small and short as possible.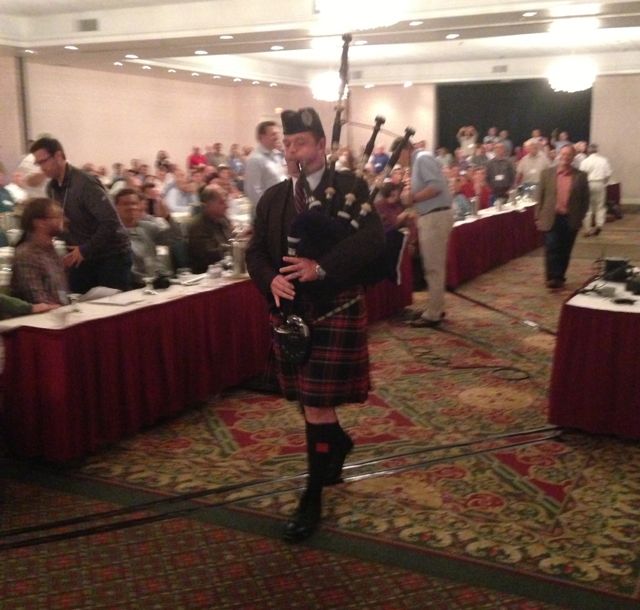 Occasionally you get surprises at Summer Camp. At the end of the sessions on Tuesday, a bagpiper marched into the seminar room and played Scotland the Brave, a traditional Scottish tune.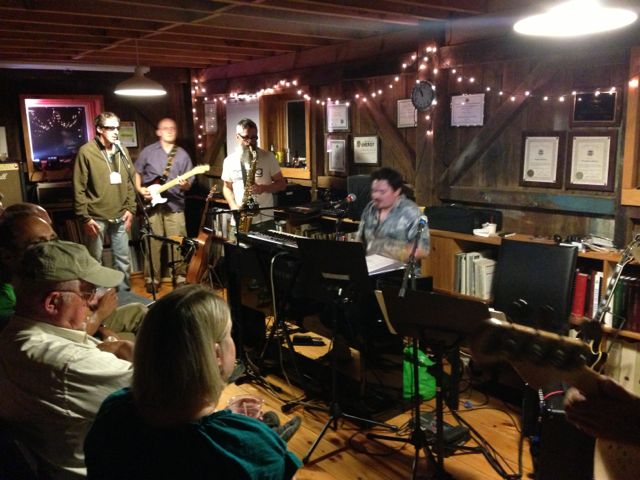 The Building Science Boogie Band played every night, of course. In the photo above, you can see a couple of new additions to the band: Danko Davidovic, a PhD building scientist with Huber Engineered Woods, and Rob Moody on the sax.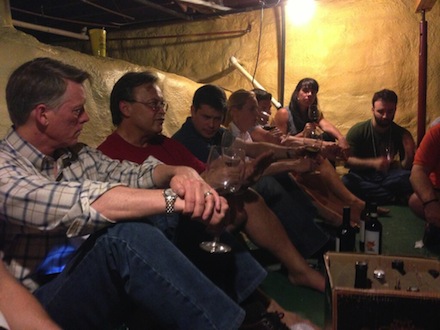 Summer Camp wouldn't be complete without the annual Crawl Space Twitterview. We sit around with Joe in the conditioned crawl space/wine cellar and ask him a lot of questions that go straight to Twitter. (You can see all the tweets from Summer Camp using the #bscamp hashtag.) Peter Troast of Energy Circle wrote up a transcript of this year's crawl space Twitterview, but I'll give you these few nuggets from our conversation with Joe:
"Passive House is the only place where real innovation is happening."
"ASHRAE 62.2: Build tight and over-ventilate right."
"Love is the most important metric."
It's been another great Summer Camp! Tremendous thanks to Joe and Betsy for opening their home to 430 of their closest friends!
Addendum
At the request of Kim Shanahan, here's a photo of the two women from New Mexico who attended Summer Camp this year. (That's Amanda Evans of Santa Fe Community College at the end of the table and Leslie Buerk, an architect from Albuquerque, to her right.) And speaking of women, there were definitely more X chromosomes in attendance this year. Of the 430 total, 75 were women.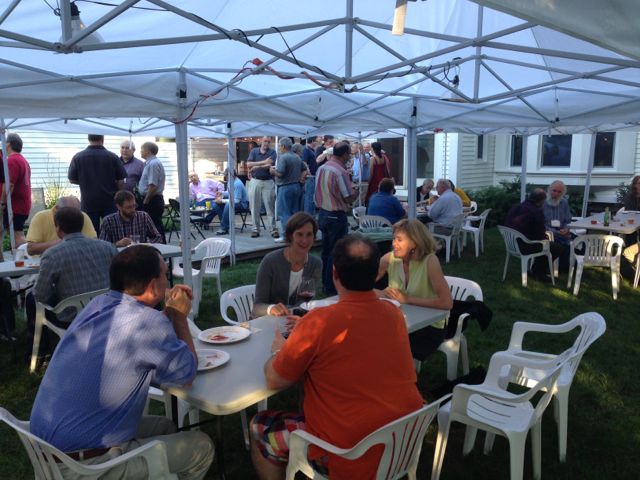 Allison A. Bailes III, PhD is a speaker, writer, building science consultant, and the founder of Energy Vanguard in Decatur, Georgia. He has a doctorate in physics and writes the Energy Vanguard Blog. He also has a book on building science coming out in the fall of 2022. You can follow him on Twitter at @EnergyVanguard.
Related Articles
I Don't Need No Stinkin' Building Science Summer Camp! (2010)
16 Random Thoughts on the First Day of Building Science Summer Camp (2011)
I DO Need Some Stinkin' Building Science Summer Camp! (2012)
Photo credits: All photos except last one by Energy Vanguard. Photo of Allison Bailes, Joe Lstiburek, et al. by Peter Troast.