Graphite in Insulation — Better R-Value but Can You Write with It?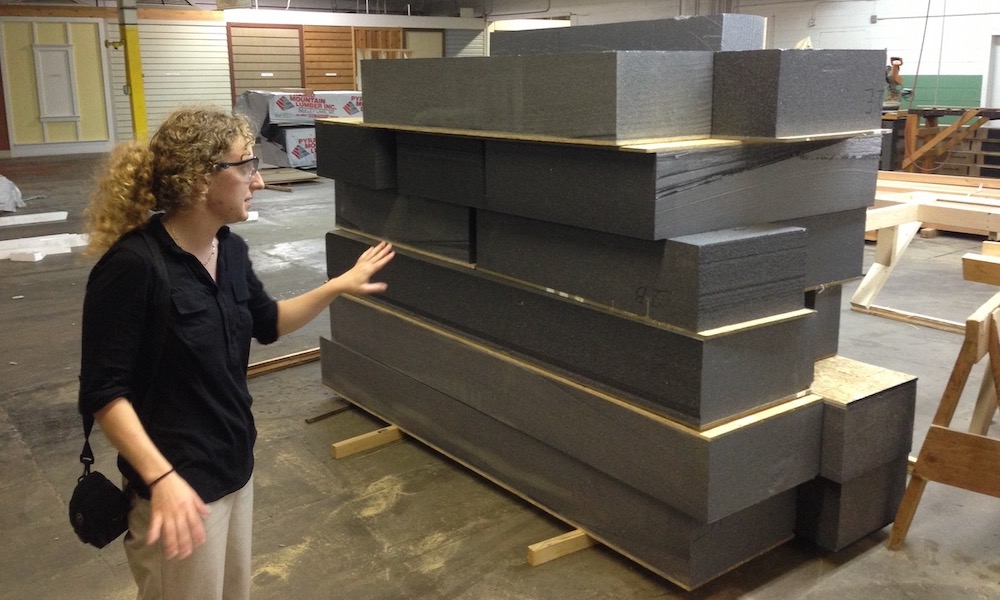 Yesterday I got to see something I learned about only two weeks ago at Building Science Summer Camp. That's where I found out that 85% of all expanded polystyrene (EPS) foam insulation in Germany is grey because it has graphite in it. I was intrigued. Until this week, though, I'd never seen any of the stuff here. Among the various foam board insulations, EPS has some important advantages, so the extra oomph from adding graphite could change the insulation market.
I've been in the North Carolina mountains for the past couple of days working with some of our HERS raters: Scott Suddreth of Building Performance Engineering in Boone and Leigha Dickens of Deltec Homes in Asheville. Leigha was kind enough to give me a tour of the Deltec plant, where she showed me the stack of nailbase panels above. They have OSB bonded to grey EPS.
This material is in their plant for a special project and is not something they use regularly. Still, it could be an indication that this improved insulation is starting to cross the pond. Who knows? Maybe it will eventually replace the white EPS used now, especially in structural insulated panels (SIPs; see photo below) and insulating concrete forms (ICFs).
EPS that's grey, not white
Why did they put graphite in it? Because graphite reduces the amount of radiant heat that moves through EPS. The result is that it can cut the heat transfer through the material by 9 to 21%, depending on density.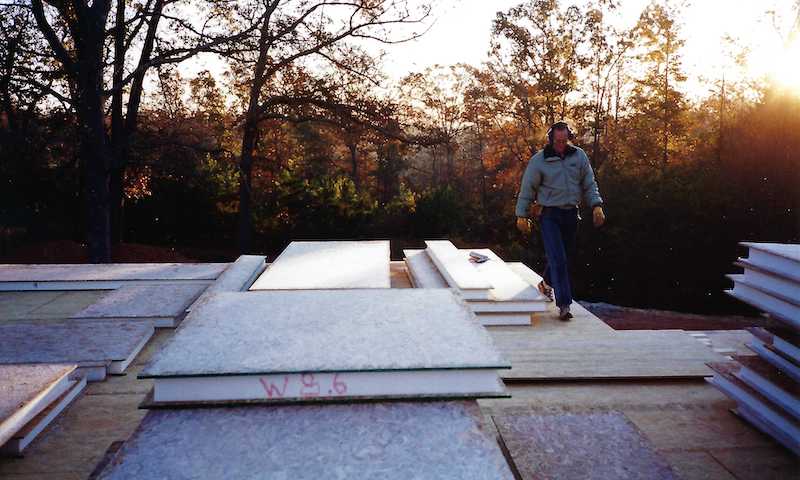 BASF (the world's largest chemical company according to Wikipedia) makes this new type of EPS and calls it Neopor. Since they're based in Germany, it makes sense that Neopor would take off there first.
The advantages of EPS
Now, about those advantages I mentioned at the top of the article. Among the types of foam insulation, EPS has one of the lowest environmental impacts. Even Alex Wilson says so.
Also, EPS is better for not trapping moisture than extruded polystyrene (XPS). Neopor's permeance is between 2.5 and 5.5, depending on the density and thickness of the material. One inch of XPS has a permeance of about 1.1. Two inches would be about half that. Since diffusion of water vapor isn't as big a problem as bulk water for those of us in the lower 48, materials with higher permeance are generally better than those with low perm ratings.
Will it take off here?
EPS is mostly used for applications where it's the main insulation in a building assembly. XPS and polyisocyanurate dominate the insulated sheathing market for above-grade walls, where you also have insulation in the cavities of the framed assemblies, but EPS is the insulation of choice in SIPs and ICFs as well as for many roof decks.
It'll be interesting to see if EPS in North America starts turning grey. Have you seen any yet? Have you used it? What do you think?
Allison A. Bailes III, PhD is a speaker, writer, building science consultant, and the founder of Energy Vanguard in Decatur, Georgia. He has a doctorate in physics and writes the Energy Vanguard Blog. He also has a book on building science coming out in the summer of 2022. You can follow him on Twitter at @EnergyVanguard.
Related Articles
Big News: The R-Value of Insulation Is Not a Constant
Don't Forget the Science in Building Science
Is Mushroom Insulation the World's Greenest Insulating Material?
Comments are closed.