A Home Energy Rater Class Is Just the Beginning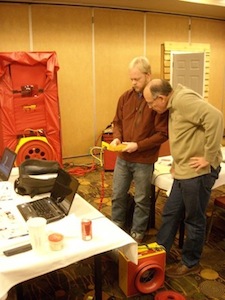 So, you're about to take a class to become a home energy rater or building analyst so you can go out and do energy audits. Maybe you've already taken a class and are out there trying to make a living at it now. You may be aware of this already, but here's a little secret: What you learned in your 5 or 8 day class was just the tip of the iceberg. If you're new at this, you've got a lot more learning left to do than you've already done.
This shouldn't be too much of a surprise, though. It's a technical field that requires a lot of knowledge, skill, and experience. You have to understand pressure testing, energy modeling, HERS or BPI standards (or both), and building science. You get a dose of all those things in your class, but it's not until you get out and start trying to use that knowledge in the real world that it becomes real.
That's also when most new energy auditors realize how much they still need to learn. For example, you saw in class how easily your instructor ran the duct leakage test and got results. You should have also had a chance to operate the equipment yourself and demonstrate that you understood the basic principles.
But then you get out and attempt your first test and try to find the duct leakage outside the building envelope.
"Wait. I thought I was supposed to turn the fan up until the ducts are at 25 Pascals. Why is this number as high as the other test? Maybe I set the manometer for the wrong device. Is Config set right? This doesn't make any sense."
That's about the time I get a call from our new raters. Yet that, too, is still early in the process.
Once you're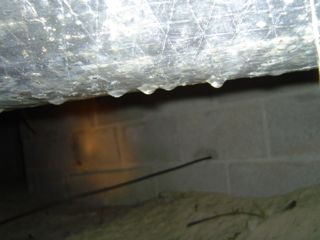 proficient at running the pressure tests, using your energy modeling software, and doing audits according to the standards, a whole new level of learning kicks in. Maybe a customer accuses you of breaking the seal on their double-pane windows when you depressurized the house. Or you want to know if house-wrap works for sheathing the attic-side of kneewalls. Or you realize how poorly you understand ventilation. Or you see ducts sweating in a crawl space and want to understand condensation better.
The real world is much more complex than any classroom, you see. A HERS rater class can take you only so far, but then you've got to dedicate yourself to learning as much as you possibly can. Here are a few tips for new energy auditors:
Join Home Energy Pros and the RESNET BPI group on LinkedIn. Both are tremendous resources and allow you to ask questions, interact with your peers, or just lurk and learn.
Read Green Building Advisor regularly, especially Musings of an Energy Nerd by Martin Holladay. Great resourse! This is also an active community, and you should sign up for their free membership to contribrute or their pro membership to get all the benefits.
Read The Journal of Light Construction and Remodeling Magazine's websites. They're similar to GBA.
Subscribe to the Energy Vanguard Blog. Type your email address into the box at the top right of this page. (But you're already a subscriber, right?)
Subcribe to Home Energy Magazine. It's probably the best print resource for home energy pros and they have a great website, too.
Go to the RESNET or Affordable Comfort conferences. Amazing learning and networking happens there.
Read everything you can from Building Science Corporation's website. They make a lot of their publications available for free. You can also buy most of the best building science books available through their bookstore.
Read the manuals for all of your equipment. There's a lot of good info in there.
Learn the ACCA protocols for HVAC design. It's important stuff.
Buy and study the ASHRAE standards we refer to all the time. The main ones would be 62.2 for ventilation and 55 for comfort.
Get as much hands-on practice as you can. This will certainly include your house and your friends' and family's homes, but you can also offer free audits or other services for practice. Of course, you can also volunteer on charitable projects like Habitat for Humanity.
Teach. If you get the opportunity to teach others what you know, you'll find it invaluable in helping to cement what you already know and go deeper into the details. You can never prepare well enough to answer every question, but make sure you remember the ones you couldn't answer and do your research afterwards. Teachers often say if you want to really understand something, teach it. In our classes, we apply that in a different form: The one who's doing the most talking is doing the most learning.
Write a blog. Since I started the Energy Vanguard Blog two years ago, I've had to do a lot of learning. Sometimes I write without looking up other information, but usually I have to go to other sources to supplement what I already know. With some articles, the real learning starts after it's published and the comments start coming in.
This is, of course, not an exhaustive list, so I'd be interested in hearing what other ways of learning you've found after getting out of your HERS or BPI classes. Please comment below!
Once you get into this field as a home energy pro, you'll find the rabbit hole goes much deeper than you ever thought possible. Keep learning and maybe someday you'll get invited to Building Science Summer Camp.