Mr. Bean Proposes a Radical Change to Energy Codes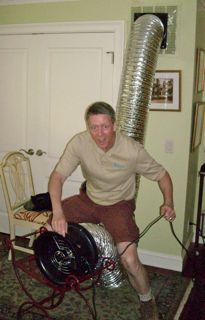 Evidently, I'm an oddball. We published a guest post by engineer Robert Bean on comfort and ASHRAE Standard 55 a few weeks ago, and when I first read the article, one sentence jumped off the screen, grabbed me by the collar, and yelled in my face, "Allison, you ignorant nut! Mr. Bean's suggestion is radical! It's revolutionary! It can help naked people all over the world."
Now, you may think what he wrote wasn't so radical. Maybe you didn't even think it was particularly important. Perhaps you just have difficulty believing anyone who pretends that his duct leakage test equipment is a giant sandworm.
I guess most or all of the people who read the article felt underwhelmed as well because, even though I wrote in my introduction to the article, "Pay attention, because he makes a statement toward the end that, I believe, could lead to a great shift in our thinking about buildings," no one commented on the part that I thought was so radical.
So, what did Mr. Bean actually say?
"If building codes dropped the reference to controlling air temperatures and switched the requirements to controlling mean radiant temperature, building performance specifications would have to change overnight."
Whoa! Radical!
Why, you ask? It's because even though home energy pros and building science geeks talk about the importance of mean radiant temperature (MRT), a lot of our building codes and practices focus on controlling air temperature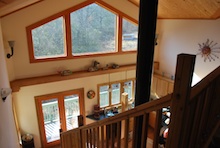 rather than mean radiant temperature. I explained MRT a few months ago in an article that will be the title of the book I'm putting together now: Naked People Need Building Science. For a good technical description of MRT and operative temperature, which is a combination of the air temperature and MRT, see the Healthy Heating page on mean radiant temperature.
Here's my personal experience with MRT and operative temperature. Ten years ago I built a high performance home out of structural insulated panels. It had little air leakage and was well-insulated, and I was more comfortable in that house than in any other I've lived in.
Because it had such a good building envelope, the MRT inside the house was high enough in winter that I could reduce the thermostat setpoint by several degrees Fahrenheit. An air temperature of 65° F, for example, was more comfortable than other homes I've been in with the air temperature of 72° F.
As Robert Bean explained it to me on the phone last week, the air and mean radiant temperatures behave like a teeter totter, with those two temperatures on opposite sides and the operative temperature at the fulcrum. As the MRT goes down, the air temperature needs to come up. When the the MRT goes up, as in the green home I built, the air temperature must go down.
So, what do you think would have to change in our building practices to control mean radiant temperature? How would energy codes have to change? If you're a builder, have you recognized this issue, and how have you addressed it? Let's hear it!
Related Articles
Thermal Comfort: Everyone Wants It but Few Know the ASHRAE Standard
Naked People Need Building Science
Oooh, Shiny Stuff! – Radiant Barrier Fundamentals