This Hole May Be the Biggest Air Leakage Site in Your Home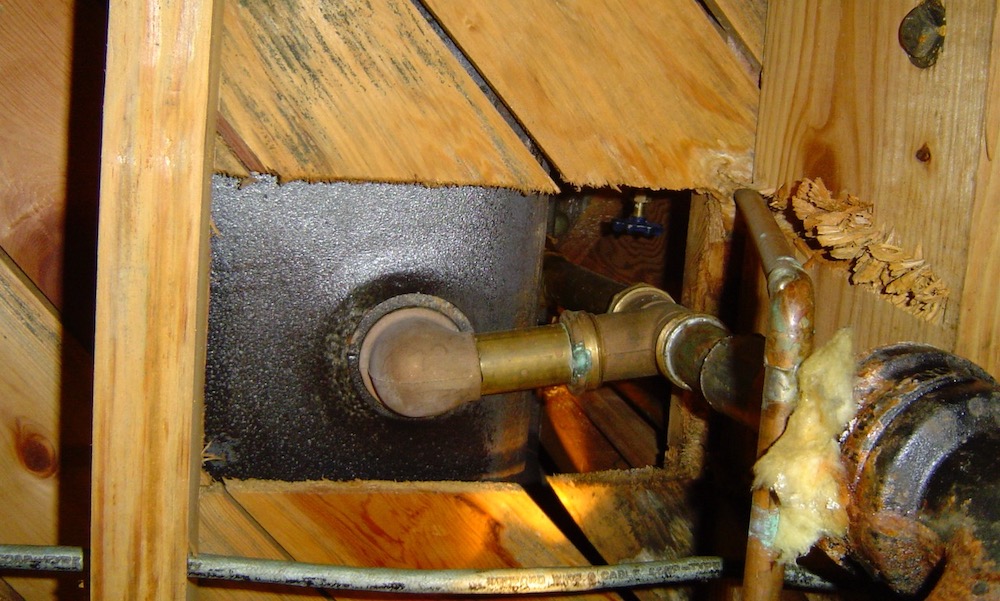 I'm talking about the hole the plumbers cut for the bathtub drain. If you have a bathtub sitting on a floor over an space like a vented crawl space or unconditioned basement, this hole allows air to move freely between inside and out. Often, the air these holes bring in is not the kind of air you want in your home. Nor are the critters.
I've spent a lot of time in crawl spaces over the past decade and have seen a lot of bad stuff there. It's not the kind of stuff you want to invite inside either, yet your bathtub hole gives easy access to the bad air, the critters, and the moisture.
Why is this hole there? It's to accomodate the bathtub drain, which connects to the tub in two places and runs horizontally right at about the level of the subfloor. Plumbers often use a chain saw or reciprocating saw to cut the hole and make it big enough so it's easy to install the drain.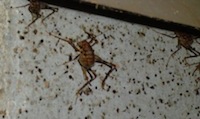 Plumbers don't generally think about the impact of their work on the air leakage in a home. Even though I did have trouble with plumbers when I was building my house ten years ago, there are some very good plumbers doing work on homes. My grandfather was one of them.
The home builder, though, is ultimately responsible for making sure this hole gets sealed. Unless they have to pass a blower door test for their local energy code or because the house is being certified in a program like ENERGY STAR, that hole generally doesn't get sealed.
You might think that maybe your house didn't get such a big hole. Or maybe the builder had the hole sealed up before they finished the job. You're probably wrong, though. I've got dozens and dozens of photos of bathtub holes. Here are three more, for your viewing pleasure.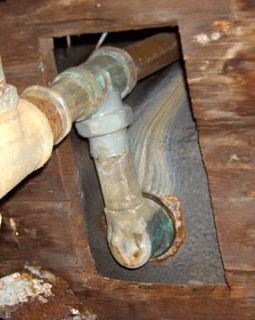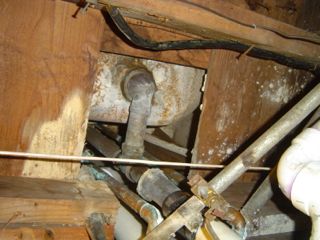 And yes, they're still doing it. The one below is from a recent addition.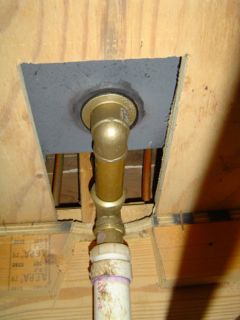 You may think that the nasty crawl space air can't move freely into the house because the bathtub will stop it. Yes, a bathtub, whether made of cast iron or fiberglass is a pretty good air barrier and won't let the air pass through. So the air does what it does best and finds other ways to move.
Look at the photo of that last bathtub hole. Notice the open wall studs. The air moves into those spaces and finds all the openings available to come out into your home: under baseboards, through electrical outlets and switches, behind cabinets… Air, being a fluid, is really good at finding ways into your home.
Now I guess I should apologize. If your home has a bathtub over a crawl space, you probably won't be able to rest until you've been down there and seen how bad it is. If you venture into that danger zone, please be careful. I've seen things much worse than the camel crickets shown above.
Allison A. Bailes III, PhD is a speaker, writer, building science consultant, and the founder of Energy Vanguard in Decatur, Georgia. He has a doctorate in physics and writes the Energy Vanguard Blog. He is also writing a book on building science. You can follow him on Twitter at @EnergyVanguard.
Related Articles
Hidden Air Leakage Sites in Your Attic
Mind the Gap – Air Leakage at the Top Plates
How Much Air Leakage in Your Home Is Too Much?
Heat Rises…and Falls — Stack Effect, Air Movement, & Heat Flow
Air Barrier Sleuthing – Building Envelope Lessons for DET Verifiers
Comments are closed.