A Really Cool Net Zero Energy Home in the North Carolina Mountains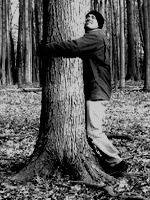 Amy Musser has a PhD in Architectural Engineering and, like me, used to be a college professor. Her husband, Matthew Vande, is an architect with an MS in Architectural Engineering. He is also a treehugger (photo at right). Together, they founded Vandemusser Design, a firm that provides green design, certification, and consulting. They walk the talk, having designed, built, and moved into their net zero energy home in Asheville, North Carolina.
Amy Musser has a PhD in Architectural Engineering and, like me, used to be a college professor. Her husband, Matthew Vande, is an architect with an MS in Architectural Engineering. He is also a treehugger (photo at right). Together, they founded Vandemusser Design, a firm that provides green design, certification, and consulting. They walk the talk, having designed, built, and moved into their net zero energy home in Asheville, North Carolina.
They gave an evening presentation on their home at this year's RESNET conference, and this net zero home is impressive. I'll give you an overview here, and you can get more detail from their presentation, which you can download in pdf form from RESNET's site. If you know about HERS ratings and the HERS Index, you may be surprised about one aspect of this home.
I travel up to the North Carolina mountains and hope to visit their place on one of my trips this year. Of course, this is news to them, since I haven't asked them yet. Nothing like publicly inviting yourself to someone's home, right? The photo below shows the front of their home in its natural habitat. (As far as I know, it never leaves that habitat, but with a net zero home, you just never know.)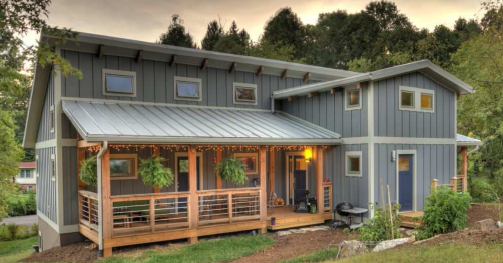 About their home
They use the building both as their home and their office. They live upstairs and the office is in the basement. It's 3100 square feet total. Other features include:
All electric
HERS Index 44 before solar
HERS Index 12 with solar
True net zero performance (see next section)
Multiple certifications (which we sometimes call a NASCAR house): LEED for Homes Platinum, ENERGY STAR, EPA Indoor AirPlus, NC Healthy Built Platinum.
I'll talk about the energy features in the section on getting to net zero. Not all of them were energy savers, and even some that were didn't have favorable cost-effectiveness. Keep reading.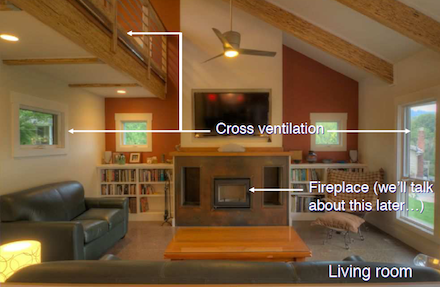 What is a net zero energy home?
The term 'net zero energy home' can mean different things to different people. Basically, it means that you're producing as much energy on-site as you're using over the course of a year. The controversy comes in when homes that use natural gas, propane, or other non-electric fuels exempt those other fuels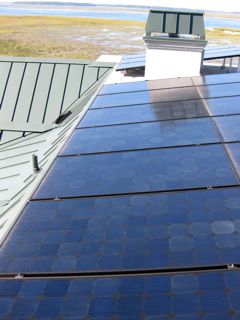 from the calculations. They focus only on the electricity because that's what they can produce on-site, typically with photovoltaic (PV) modules mounted to the roof.
In my opinion, net zero energy should include all fuels used on-site. Using natural gas or diesel? Calculate how many kilowatt-hours (kWh) those BTUs add up to and make sure your PV system produces enough to cancel them out.
One thing a net zero energy home does NOT have to be is off the grid. In the early days of PV systems, you had to be off-grid because the electric utilities didn't want hippies sending their homemade electricity into their beautiful grid of shiny corporate electricity. But the hippies wouldn't go away, and the engineers figured out to make hippie electricity look just like the shiny corporate stuff while also keeping the linemen safe.
That's how we got to where we are now, with all the interest in net zero. You don't have to be a hippie to have PV on your house nowadays. In fact, some of the big production home builders are even building net zero spec homes. Yeah, it's mostly in California, I think because of all the hippies…uh, I mean, incentives there, but this thing is catching on.
So, back to Amy and Matt's home now.
How they got to net zero (and other energy features)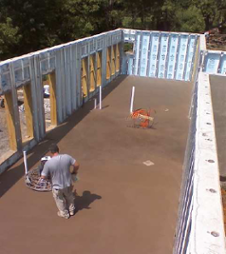 Did I mention that Amy and Matt are pretty smart and they have lots of college degrees? And that they're deeply involved with green building and high performance homes? Well, as you might expect, they went into this process knowing way more about how to do it right than I did when I built a green home.
Here are some of the nice features in their home:
Highly insulated basement walls. They used the Superior Wall system, as you see in the photo above right. They've got R-12.5 continuous plus R-19 cavity insulation. Nice!
Passive solar. South-facing windows with high solar heat gain coefficients (SHGC = 0.53) and low SHGC (0.23) on other sides of house. Slabs for thermal mass in basement and first floor.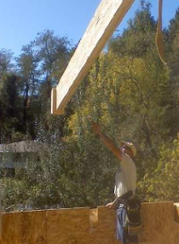 Reduced thermal bridging. They paid attention to the details, especially the band joist and the rafters. Remember that article I wrote about a sword through the ribs of the building enclosure? Well, they didn't do that. Instead they stopped the rafters at the enclosure and then lagged rafter tails onto the outside. Voilà.
Structural insulated panel (SIP) walls and roof. They used urethane foam instead of the more common expanded polystyrene (EPS). It has higher R-values, R-24 in the walls and R-38 in the roof.
Ground-source heat pump. Expensive but offset by lots of incentive money. Capable of distributing heating and cooling either through radiant tubes or through air ducts.
Radiant heat. This didn't save them any energy but they did it anyway for comfort reasons.
As I mentioned above, the HERS Index for their home is 12. Theoretically, a net zero energy home means that the HERS Index will be zero. Their score of 12 means that they're 12% less efficient than a net zero home. Or so we're told anyway.
They may not have reached the theoretical net zero of a zero HERS Index, but in terms of performance, they're net zero. In their first year in the home, here's how they did:
5843 kWh consumed
6147 kWh produced
In terms of actual performance, they've got a HERS Index of less than zero! Of course, let's step back and remember that a HERS rating is an asset label, which means it doesn't account for how people live in the home. If Amy and Matt moved out and another family moved in, the amount of energy consumed could be very different.
What they would do differently
In their RESNET presentation, Amy and Matt were honest about what they saw as their mistakes. Having lived in the house for a couple of years now, they see things that didn't quite work out. They've also looked at the numbers and found what wasn't as cost-effective as they hoped it would be.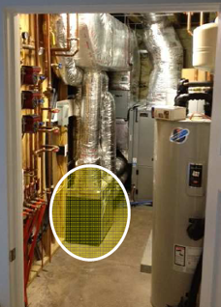 Mechanical room too small. This one happens everywhere. I've rarely been to a house where the designers allocated enough space to the HVAC and water heating systems. And theirs, as you can see in the photo here, is downright spacious compared to some of those little closets jam-packed with equipment and ductwork.
SIPs not cost-effective. They calculated that it cost them an extra $12,000 to use SIPs and netted $5 of annual savings. The simple payback on those numbers yields 2400 years. (I like SIPs and think the payback for the house I built would have been much more favorable.)
Fireplace not used. They've had one fire in two years in their home, "mostly out of guilt," and found that it overheated the living area. They may have saved that $5000 if they were doing it over.
By eliminating the SIPs, fireplace, radiant heat, rainwater harvesting, and using an HRV instead of an ERV, they calculate that they'd have saved over $41,000. That would have dropped their square foot costs from $156 to $143 and still gotten the same performance. (Those costs factor in the incentives.)
In their presentation (download pdf here), you can also read about their dual-flush toilet woes, what they call their 'ghetto wine cellar,' and the box elder beetles that love their home, too.
What they're happy with
The things that they really like about the house and that worked out well are:
Abundant natural light. Having lived in a passive solar house myself, I know the feeling.
Thermal mass floors. They're green (low VOC, recycled fly ash) and comfy warm!
Rainwater harvesting system. Although difficult to justify based on savings since Asheville's water is so cheap, it's still a good, green thing to do.
Money in their pockets. They offset a good chunk of their costs with rebates and tax incentives. The total was nearly $52,000. Of course, they also save every month when the electric bill comes in.
Is a net zero home in your future?
Amy and Matt have built the house that I would have built if I'd known what I was doing in 2001. I'm in the pre-planning phase for my next house, though, and will definitely draw on their experiences in building this really cool net zero home.
What about you?
Related Articles
A 20 Year Old Energy Efficient House Goes to Net Zero in Florida
A Net Zero Energy Home in Rural Tennessee
A Sword through the Ribs of the Building Envelope
All photos except one provided by and used with permission of Vandemusser Design. Photo of PV system on roof (not VandeMusser home) by Energy Vanguard.