My Interview with the Inventor of the Turbo Thermo-Encabulator Max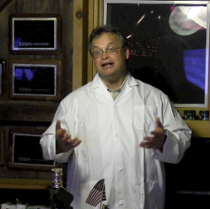 You may not realize that among his many other accomplishments, Dr. Joseph Lstiburek, the well known building scientist and Canadian firebrand, invented the Turbo Thermo-Encabulator Max. He's tried to keep this secret and you won't find anything about it on Building Science Corporation's website. I've known about it for a while, though, and I was perfectly content to keep it a secret…until last week.
You see, I got a chance to interview Joe about this amazing device a while back, but the video was supposed to be only for the inner circle of the inner circle, Joe's so-called Double Platinums. (Yeah, all of you who think you're in the innermost circle because you get the Platinum invitation to Building Science Summer Camp need to wise up. Sorry. He's also got the inner inner circle of the inner circle, but Betsy, who runs a tight ship at BSC, won't tell him who's in it because she knows he won't be able to stop himself from telling the other inner circles and trying to set up envy-fueled feuds.)
Anyway, I wasn't going to go public with this video, but then Joe started getting nasty in public, besmirching my good name in a LinkedIn discussion group. "Dr. Bailes is a well known troublemaker and a general pain in the ass," he wrote one day last week. So, all bets are off now, and I'm letting the whole world know about his connection with the Turbo Thermo-Encabulator Max.
Here's the video of my interview with him. Enjoy!
Allison A. Bailes III, PhD is a speaker, writer, building science consultant, and the founder of Energy Vanguard in Decatur, Georgia.  He has a doctorate in physics and is the author of a bestselling book on building science.  He also writes the Energy Vanguard Blog.  For more updates, you can subscribe to our newsletter and follow him on LinkedIn.
Related Articles
Amazing Breakthrough in HVAC System Efficiency and Performance!
Release the Kraken! — The Ductopus Is Bad for Air Conditioning
Comments are closed.