Are You a Building Science Geek, Nerd, Dork, or Dweeb?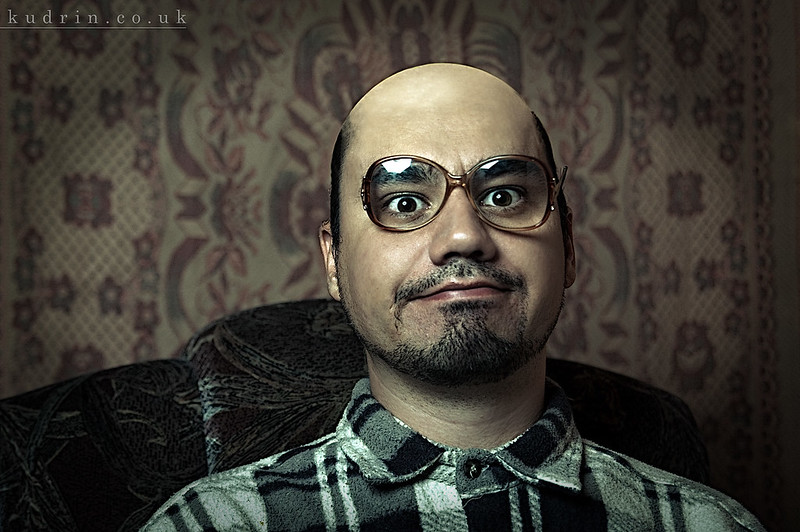 I hear a lot of people call themselves building science geeks, energy nerds, home performance dorks, HVAC dweebs, weatherization wonks, and policy poindexters. (It's true! Some of them are imaginary people in my mind and some are aliens, but they really do say that.) What I see, though, is that most such people seem to throw these words around without understanding which is which and how dorks and nerds and geeks and dweebs differ.
(We'll ignore eccentrics, boffins, anoraks, swotters, wonks, poindexters, and others of the sort because anyone who is anyone in the world where such things matter knows that those terms carry no weight. (Well, maybe wonk does. (And it would take a grammar wonk to tell if I've nested these parentheses correctly after all.) (But who cares about such silly things as nested parentheses, especially at 1:47 am?)))
A while back I saw a snarky article by Great White Snark (sorry – website gone now) that clearly showed the difference between nerds, geeks, dorks, and dweebs in a nifty Venn diagram, like the one below.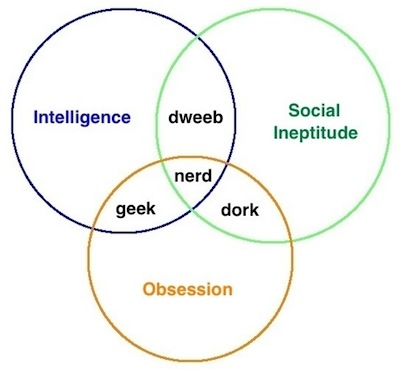 When I first saw this, I realized why I always take offense when someone calls me a dork. It also validated (at least in my mind) my perception that a nerd is a geek with glasses. My own assessment of where I fit in has always been geek. And yes, the mighty Venn (diagram, that is) confirms that my intelligence and obsession combined with absolutely no hint of social ineptitude puts me squarely in the geek camp. (You believe that, right?)
Hooray! I'm a geek!
I'm not a nerd. I'm not a dork. I'm not a dweeb.
I'm a geek.
…

Hold on there, buster, cries another voice from the interwebs. According to OkCupid's Nerd, Geek, or Dork Test (that one's gone now, too), these three terms are defined this way:
A Nerd is someone who is passionate about learning/being smart/academia.
A Geek is someone who is passionate about some particular area or subject, often an obscure or difficult one.
A Dork is someone who has difficulty with common social expectations/interactions.
Yes, I took their 60 question test. They happen to think I'm 70% nerd, 43% geek, and 22% dork. Hmmmm. I'm not sure I like that (except the low dork score). Dr. Seuss, who invented the word "nerd" after all, thought they were something to be caught and put in the zoo.
It seems that I have my work cut out for me. I wrote a little about the geek issue last year in my post, I Don't Need No Stinkin' Building Science Summer Camp! But we're going to have to come up with some clear-cut definitions for the building science world. We'll probably have to start with the elder statesmen and stateswomen in the field — Joe Lstiburek, Gary Nelson, Linda Wiggington et al. Of course, Martin Holladay has already staked out his turf by calling his blog Musings of an Energy Nerd. But is he correct? Is he really a nerd?
What we need to do is develop our own metrics to determine if one is a nerd, geek, dweeb, or dork in the world of building science. I'm gonna go get my HP 15C now and do some calculations in reverse Polish notation. I'll get back to you with my results. It might take a while, though, because I'll probably have to run some regression analyses, maybe use some of Michael Blasnik's modified box plots, and definitely throw in some log-log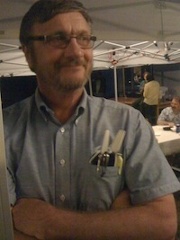 graphs (unless it turns out not to be a power law relation, but that'll put us back to square one).
In the meantime, I urge you all to think carefully about which of these you might be. If only it were as easy as saying, Oh, you wear a pocket protector so you must be a dweeb. Well, at least then we'd know what label to ascribe to Dr. Ed Voytovich (shown at the 2011 Building Science Summer Camp). Since it's not, however, we'll just have to wait until I get my algorithms worked out.
Allison A. Bailes III, PhD is a speaker, writer, building science consultant, and the founder of Energy Vanguard in Decatur, Georgia. He has a doctorate in physics and writes the Energy Vanguard Blog. He is also writing a book on building science. You can follow him on Twitter at @EnergyVanguard.
Related Articles
Amazing Breakthrough in HVAC System Efficiency and Performance!
What's the BTU Output of a Dragon — A Furnace with Wings?
Comments are closed.