Fiberglass Insulation Manufacturer Gets Serious About Installation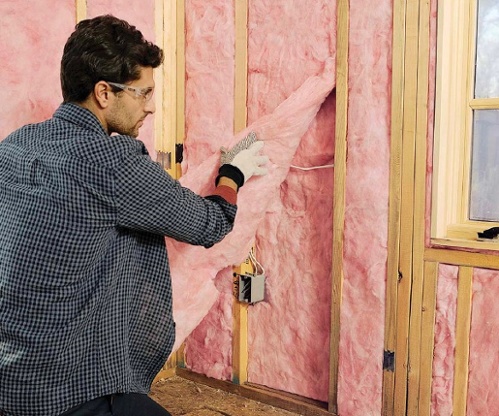 One of the major fiberglass insulation manufacturers (the color in the photo below gives away which one I'm talking about) is getting serious about the installation quality of fiberglass batt insulation. They've put out a video (embedded below) and a document showing how to achieve RESNET Grade 1 installation quality with fiberglass batts. Have you seen these things yet?
Owens Corning's push for Grade 1 installation
Owens Corning, of course, is the company I'm talking about. The photo above, from their 12 page guide, Achieving Grade 1 with Fiberglass Batts (pdf), shows their trademarked pink insulation. The guide begins with some general information about what it means to get to RESNET's Grade 1 in insulation installation quality. It also includes a nice checklist that builders and insulation installers can use to help ensure they get Grade 1 when installing fiberglass batts.
The guide closes with four pages of photos on the right and wrong ways to install insulation. They hit on some of the critical areas that cause most of the problems preventing installers from getting Grade 1 assigned to their work by the home energy raters who inspect the work. Here's one of them.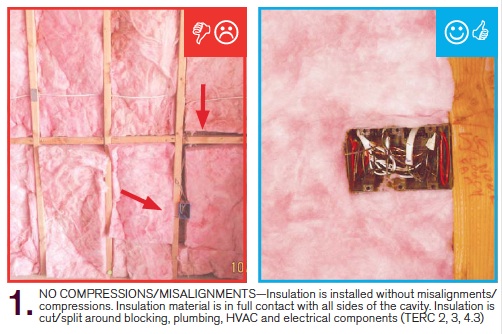 If the style of that image looks familiar, you may recognize that it's from the ENERGY STAR Version 3 training materials. Owens Corning has referenced the ENERGY STAR Thermal Enclosure Rater Checklist (TERC) in this document so installers know why they're getting docked, at least for ENERGY STAR homes. (Advanced Energy, which put together the ESV3 materials, also prepared this document for Owens Corning.)
The insulation installation grading protocol is from Appendix A in RESNET's Home Energy Rating System (HERS) Standards. I wrote about how to grade installation quality of insulation a while back, so you can check that article for more details about what's behind the grades: 1, 2, or 3. (The short version is that Grade 1 is the best, and the parameters that govern the grade are the percentage of area with missing insulation and how much compression or incompletely filled areas there are.)
A helpful video for installers
In addition to the 12 page guide, Owens Corning also produced a really nice video. In 11 minutes, they cover pretty much everything installers need to know to get to grade 1 installation quality. It's on YouTube, but you can watch it right here, too.
A good start, but…
I think this represents good progress for the fiberglass insulation industry. Fiberglass insulation, especially in batt form, has a pretty bad reputation among home energy pros. I'm going to say something now that I'm sure will lead to some interesting discussion below: The problem isn't the material. The problem lies in the design and installation. Fiberglass batt insulation can work just fine in assemblies designed to make good installation possible and when installers take the time to do it right. Yes, it will cost more, but as usual, you get what you pay for.
Owens Corning has made a good start. They need to push harder, though. A lot harder. They put out these materials last summer, but if you don't know where they are, you'll have great difficulty finding them. I looked all over the fiberglass insulation part of their website and couldn't find them. I had to go back to an email I received last summer to dig up the links. Come on, OC. Put these things front and center so anyone going to your site will see them.
Still, kudos to Owens Corning for this start. It's much better than trying to pretend the problem doesn't exist or squashing negative publicity about fiberglass batts. (Oh, come on. No manufacturer would do that. Would they?)
Fiberglass insulation isn't going away. Let's make sure it's done right.
Related Articles
How to Grade the Installation Quality of Insulation
The Diminishing Returns of Adding More Insulation
Who's on Your Insulation Crew?
A Visual Guide to Why Fiberglass Batt Insulation Underperforms
Images of fiberglass insulation from Owens Corning's guide, Achieving Grade 1 with Fiberglass Batts (pdf).
NOTE: Comments are moderated. Your comment will not appear below until approved.