The One Thing I'd Love to See Building Enclosure Workers Do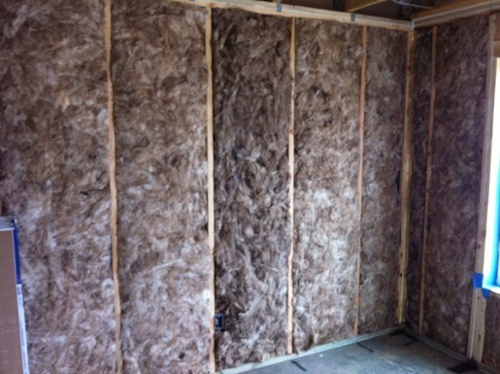 I think a lot about building enclosures. I've looked at a whole lot of houses and seen a whole lot of problems with the enclosure. I've also seen a few good ones, although they're all too rare. If you've been reading this blog for a while, you know I've also written about this topic a lot and have posted a lot of photos, of both the bad and the good. Today I'm going to tell you the one thing I'd love to see when I look at building enclosures.
The one thing
The building enclosure includes a lot of different components. Basically, it's a structure (standard wood framing, insulated concrete forms, structural insulated panels…) with control layers for heat, air, and moisture. It's certainly important for someone involved in every job to have a good basic understanding of control layers, but not everyone who touches the building enclosure has to know the difference between a vapor barrier and an air barrier or what the main purpose of house wrap is (to act as the liquid water control layer).
But there is one thing everyone who touches the building enclosure needs to know and do. The photo above looks nice, but it's the photo below that might give you a hint.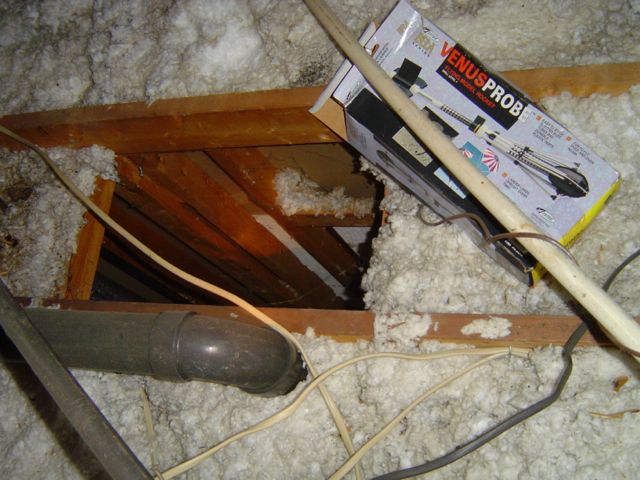 Nope. It has nothing to do with model rockets. It's the hole!
This was a thirty year old house, and it did have insulation in the attic. But it also had that open chase into the attic, putting the interior walls in direct contact with unconditioned air. Not good! They're lacking a continuous air control layer and a continuous layer of insulation.
Now you should have an idea what my one thing is, I hope. It's this:
I'd love to see everyone who touches the building enclosure—from the designers to the builder to insulation contractors to the cable guy—understand that the control layers need to be as complete and continuous as possible.
Yes, the cable guy, too. The photo below is a case in point. This house had a nice, Grade 1 layer of insulation in the attic until the cable guy came through and messed it up.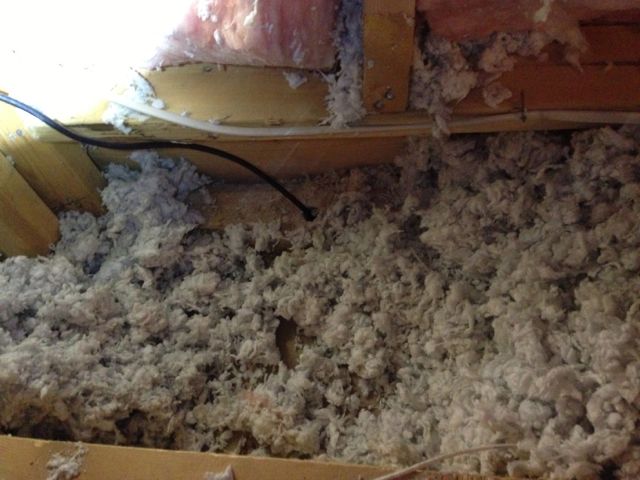 Why is this important?
It's important because air leakage is one of the biggest energy wasters in buildings and not that hard to fix. All the little air leaks, like the unsealed cable penetration above, add up and most homes are too leaky. The result is comfort problems, moisture problems, indoor air quality problems, as well as energy bills that are too high.
It's important because insulation works a lot better when it's flat than when it's lumpy. Don't believe me? What do you think happens when only 1% of the area of an attic is uninsulated? A 1% reduction in the R-value? A 1% increase in heat loss (or gain) through the ceiling? You might be surprised to learn it's a lot more than that. See the article I wrote a few years ago on the mind-blowing hole in the building enclosure that a 1% uninsulated area represents.
So that's it. The one thing I'd like every building enclosure worker to do is make sure that they leave it as complete as continuous as possible.
Related Articles
Be a Controlling Building Enclosure Control Freak with Control Layers
The Pen Test — A Control Layers Tool for Architects and Contractors
Attic Stairs – A Mind-Blowing Hole in Your Building Envelope
Flat or Lumpy – How Would You Like Your Insulation?
NOTE: Comments are moderated. Your comment will not appear below until approved.