My Big Fat Oversized Air Conditioner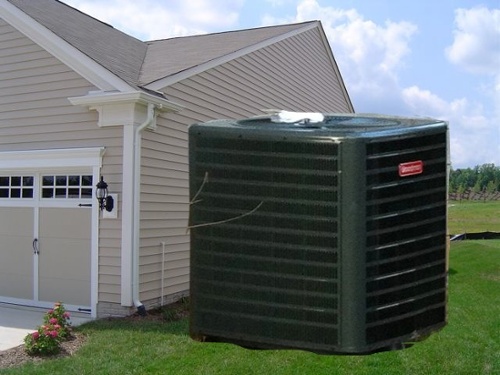 Back in 2009, I had a new air conditioner installed our condo. The previous one was an ancient 25 years old and barely limping along. It wasn't cooling much, and the summer electric bills had risen. So, I did a Manual J load calculation on our condo to find out what size we should replace it with. I wanted to install one that wouldn't be too big so it would have long runtimes and keep our place cool and dry. Well, I put one of my new data loggers to use this summer to find out if I succeeded. The (doctored) photo below, which is not our condo, might give you a hint how well I did.
Air conditioner runtime on a hot day
Once you have an air conditioner installed, it's not hard to tell if it's oversized. All you need to do is time how long it runs on a hot day. If it runs a lot and still keeps the place cool, you're in good shape. If it runs only a few minutes at a time and spends the majority of the time turned off, your AC is oversized.
In the world of air conditioning, "hot day" has a specific definition. There's this thing called summer design temperature, which is the temperature that your location goes above only 1% of the time. Out of the 8,760 hours in a year, the summer design temperature is the temperature exceeded only 87.6 hours, on average.
Your air conditioner should be sized to run almost continuously at the design temperature. That's the idea behind a Manual J heating and cooling load calculation, a protocol developed by the Air Conditioning Contractors of America (ACCA). But there's some slack built into it, so you don't need to worry about being hot on a day when the temperature is a few degrees over your design temperature. If you're getting runtimes of 45 minutes or more per hour when it's near your design temperature, your AC is probably doing a pretty good job.
How much capacity did we need?
As I mentioned, I did a load calculation on our condo before I got the new AC. The result was that we needed about 1.6 tons of air conditioning capacity. As I wrote in an earlier article about how to find out if your AC is oversized, I wanted to go with the 1.5 ton AC, but I chickened out and put in a 2 ton unit instead.
Our place is about 1500 square feet, so that's 750 square feet per ton. The standard rule of thumb that a lot of contractors still use around here is to install one ton of AC capacity for each 500-600 square feet of conditioned floor area. Since our place is old and leaky (yeah, yeah, cobbler's kids and all that), 750 square feet per ton is pretty good. But, was it good enough?
Measuring our air conditioner runtime
Well, this summer I got finally put a data logger on our air conditioner to see just how oversized it really is. I previously wrote about using a stopwatch to determine that our AC was oversized because the on-periods weren't long. I measured about 9-10 minutes max on a hot afternoon shortly after I got the new AC. The data logger I used in my latest experiment was the Hobo UX90-004 from Onset.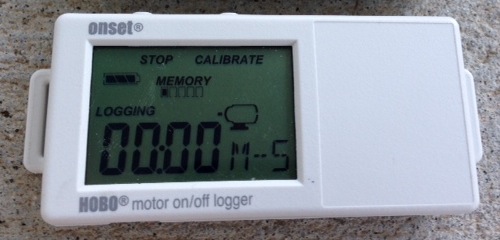 All you do is stick it on a motor (it's held there by magnets) and it tells you when the motor is on and when it's off. I opened up the furnace and stuck it on the blower motor, as shown in the photo below. The display shows how many total hours and minutes the motor ran while the logger was deployed, but you get a lot more detail when you download the data.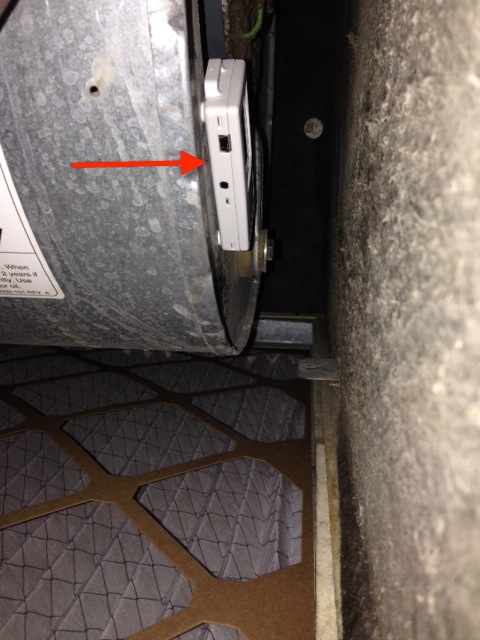 Show me the data!
After sorting through a few months of data, I settled on one day that seemed to be perfect for illustrating how well sized our air conditioner is. That day was last Friday, 29 August, and I looked at the 24 hour period from midnight to midnight.
I also made sure to keep the indoor temperature constant. The thermostat was at 75° F for nearly the whole day. The only time it wasn't was in the early morning morning when I lowered it to 74° F.
You can see the data below. The first graph shows the average temperature for each hour of the day (green), the amount of time the AC was off during each hour (red), and the amount of time the AC was on during each hour (blue). (The temperature data are from Weather Underground.)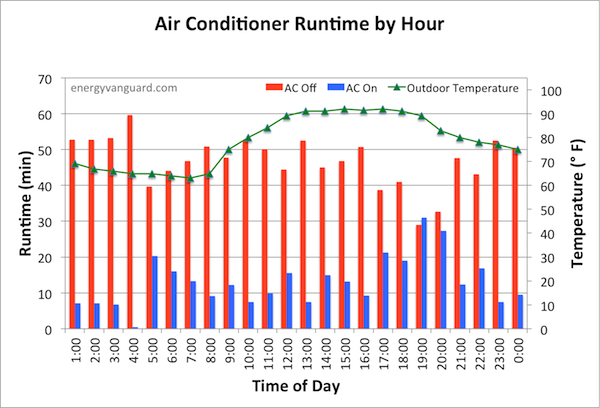 Our design temperature in Atlanta is 92° F. Last Friday, we had a good 5 hours when the temperature stayed right there around 91-92° F. We had another couple of hours above 89° F, so it was perfect for seeing if our AC is oversized.
The first thing to notice is that there was only one hour in the whole day when the AC was on more than it was off. From 6 pm to 7 pm, the AC was on for 31 minutes and off for 29.
Note that the graph above isn't showing the actual on/off cycles. I binned the data so that each red column shows the number of minutes in its hour when the AC did not run, and each blue column shows the number of minutes the AC was on in an hour. When it got hot in the afternoon, there were about three cycles per hour.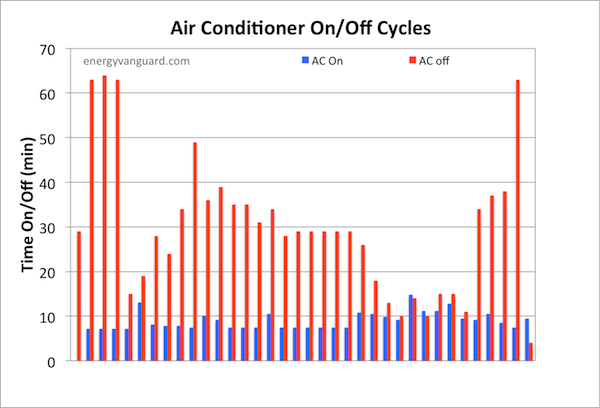 Over the whole 24 hour period, the air conditioner went through 35 cycles. It started the day turned off and ended the day turned off and came on 35 times in between. (The red columns at the beginning and end don't show the whole off periods. The first one shows only 29 of 53 minutes off, and the last shows only 4 of 63 minutes turned off.)
A few interesting numbers
I've been studying these data for a while now, and there's a lot to see here. Here are some of the numbers that jumped out at me:
Maximum on-time: 14.8 minutes
Minimum on-time: 7.2 minutes
Maximum off-time: 64 minutes
Total on-time: 315 out of 1440 minutes (22%)
Mean on-time per hour: 13.1 minutes
Mean on-time per cycle: 9.0 minutes
The takeaways
Some of the main lessons we can learn from these data are:
I wouldn't have had any trouble with the 1.5 ton air conditioner.
There's a time lag between when its hottest outdoors and when we have the highest cooling load indoors.
There's a huge difference between the longest and shortest off periods (54 minutes) but not so much with the on periods (7.6 minutes).
Even with an old, leaky condo, the 500-600 square feet per ton rule of thumb results in greatly oversized air conditioners.
I didn't do a good job with that Manual J.
At 9 minutes per cycle, our air conditioner isn't doing as good a job at dehumidifying as it could. (I've got some really interesting data about humidity coming up soon, too. Stay tuned!)
Rick Chitwood's favorite strategy
I got an email from Rick Chitwood a couple of weeks ago in which he mentioned how he likes to do air conditioner sizing and installation. Here's what he wrote:
Use Manual J to estimate the size of AC required;
Use HOBO's to monitor run times (at design temperatures) and indoor temperature – so you know if you did Manual J correctly.
Of course, if you get the Manual J wrong, as I did, using data loggers doesn't change that. It does help you figure out how to get the load calculations right and make sure you do better on the next job, though.
There you have it. The data don't lie. If you want to find out how oversized your air conditioners are, just get out your stopwatch. If you want to get a better picture of what's happening, get yourself a data logger.
Related Articles
Why an Oversized Air Conditioner Is a Bad Idea
We Are the 99% — Design Temperatures & Oversized HVAC Systems
How to Tell If You Have an Oversized Air Conditioner
NOTE: Comments are moderated. Your comment will not appear below until approved.