My First Affordable Comfort Conference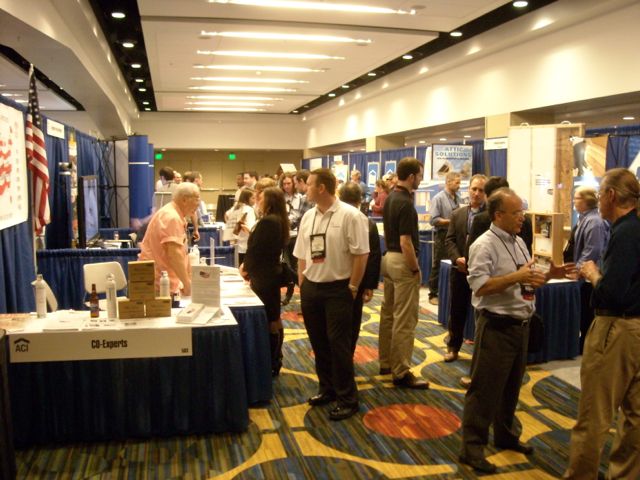 In 2005 I went to my first Affordable Comfort conference, now usually called the ACI national conference or just ACI. The year before I'd gone to a related conference but by 2005, my first business in this industry (ab3 energy) was moving into home performance contracting. I'd just taken a Home Performance with ENERGY STAR class and was trying to learn as much as I could about air sealing, duct sealing, insulation, and running a business in a niche that went against the grain of what most contractors do in homes.
So I drove up to Indianapolis with Reza Mokari, a friend I met when I took the HERS rater class at Southface in '03. We went to the opening reception out on the lawn near the conference center, but I knew no one there except Reza. The next day, the conference started, and I went to all the sessions I could find about how to run a successful home performance contracting business.
The sessions I remember most are the ones presented by Dick Kornbluth, Bruce Manclark, and Mark Dyen. I don't know how many sessions Kornbluth gave that year, but I probably went to all of them. He'd been in this business since the '70s, and he knew how to tell those of us aspiring to make it in this field just what we needed to know.
Manclark's session on ducts was equally impressive, even if he did focus only on heating. In fact, I still have the very useful laminated sheet on pressure and flow that he gave us (below).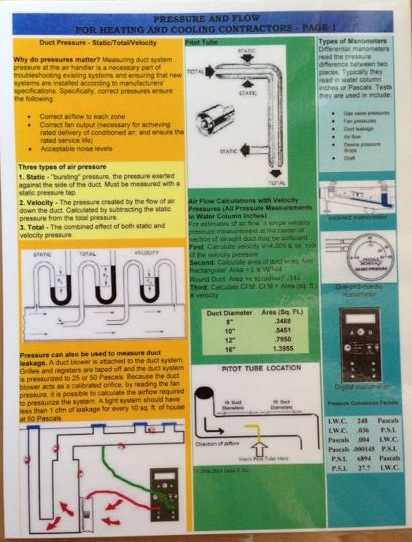 Mark Dyen's talk was on how to be smart so you don't get sued in home performance contracting. That's where I learned that it's better to use the term microbial infestation than mold and that I should take lots of photos on every job and file them with the customer's info.
The conference that year really inspired me and taught me a lot. And it helped my business, more than paying for itself in new business that I got as a direct result of what I learned at ACI. I'd been doing air sealing, duct sealing, and insulation in my first few jobs as a home performance contractor, but I learned enough about crawl space encapsulation at the conference to go back home and add that component to my business. It turned out that encapsulating crawl spaces was the ticket to bigger jobs.
If you're going to be in Detroit next week for the 2014 ACI conference, you're in luck. Dick Kornbluth is giving two talks, and Bruce Manclark is giving three. Of course, you're likely to have to make tough choices on which sessions to attend because there are so many good ones.
If you're not planning to be in Detroit next week, it's not too late to register. Go do it now! This really is one of the absolute best conferences to go to if you work on homes.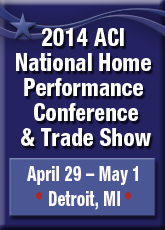 Allison A. Bailes III, PhD is a speaker, writer, building science consultant, and the founder of Energy Vanguard in Decatur, Georgia. He has a doctorate in physics and writes the Energy Vanguard Blog. He also has a book on building science coming out in the summer of 2022. You can follow him on Twitter at @EnergyVanguard.
Related Articles
Quick Review of the 2012 Affordable Comfort Conference
ACI 2011 – A Mad Review of THE Home Performance Conference
The 2 Best Learning Opportunities for Home Energy Auditors
NOTE: Comments are closed.