With Ceiling Fans, Bigger Is Better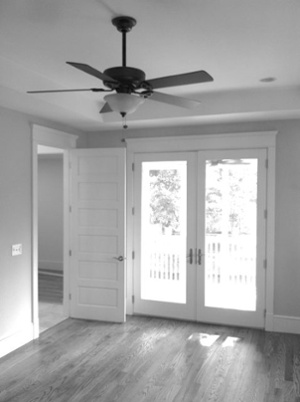 I bought a new ceiling fan yesterday. As I looked at the boxes in the store, I noticed that many of them gave sizing recommendations. And many of those recommendations were not ideal.
Size matters
Ceiling fan manufacturers now have to label their boxes with the efficiency rating—called efficacy and given in cubic feet per minute of air movement per watt of electrical power input (cfm/watt). I wrote about this a couple of years ago, and one of the points I made in that article was that larger fans have higher efficacies. That's not the only factor, of course, but all else being equal, efficacy increases when you increase the blade length.
Think about it. A motor causes the blades to move through the air. Because of the way they're slanted with respect to the plane of rotation, they push air. To get more air movement, you can do two things: Increase the fan speed or increase the blade size. Both increase the energy usage, but increasing the fan speed increases the energy usage a lot more than increasing the blade size.
What that means, if you're looking for a fan that does its job as efficiently as possible, is that you should get a bigger fan than some of the boxes recommend. To make matters even more confusing, the ENERGY STAR page on ceiling fan sizing recommends installing smaller, less efficent fans than you really should. Here's their sizing chart:

If I'd gone with their recommendation, I would have bought a 44″ ceiling fan since the bedroom I'm installing it in is about 160 square feet. The efficacy for a typical 44″ ceiling fan at that store was about 60 cfm/watt at high speed. The 52″ fan I bought gets 81 cfm/watt at high speed.
Even better is that I can run the 52″ fan at medium speed to get about the same air flow as the 44″ fan at high speed. The efficacy comparison then is 117 cfm/watt for the 52″ fan versus 60 cfm/watt for the 44″ fan. That means I'll use about half the energy to get the same air flow. In addition to saving energy, fans are also quieter when they run at lower speeds.
3 rules for ceiling fan efficiency
If you want to get the most out of your ceiling fans, there are only three simple rules you need to know:
Get a fan with a high efficacy
Get the biggest fan you can
On the sizing recommendation, just make sure you meet all the specified clearances. Then you can get the biggest one that makes sense for the room.
And speaking of big, the most efficient ceiling fans of all are made by a company with the audacious name of Big Ass Fans. Their Haiku residential fan, shown below, is gorgeous and has efficacies that range from 846 to 1018 cfm/watt on low speed and 422 to 549 cfm/watt on high speed. They blow most of the others away.
Another brand that comes close is Aeratron, with its  E502-SL and E503-SL models. They come in at 608 to 655 cfm/watt on low speed and 357 to 383 cfm/watt on high speed. [Also see John Semmelhack's comment below for another high-efficacy ceiling fan.] If you download the ENERGY STAR ceiling fan spreadsheet, you can see the numbers for all the ENERGY STAR certified ceiling fans.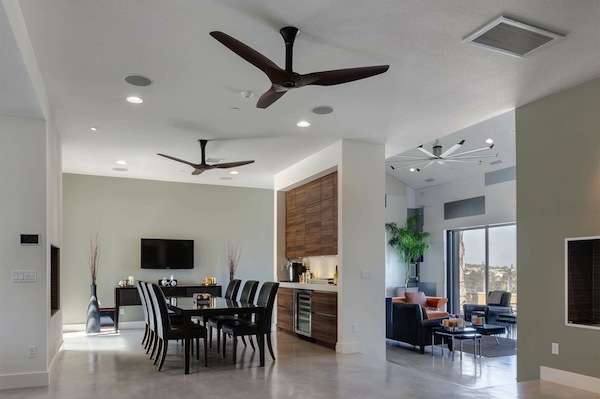 If you're on a budget, however, and don't care at all about efficiency or aesthetics, you can always do what these folks did.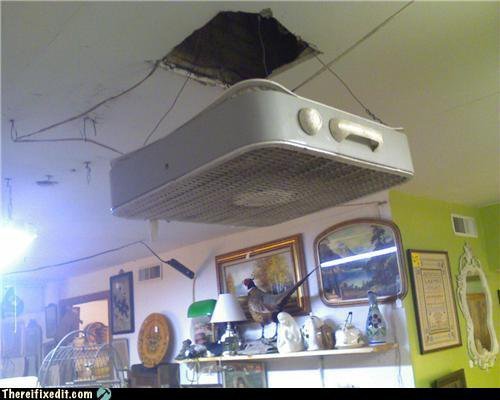 Allison A. Bailes III, PhD is a speaker, writer, building science consultant, and the founder of Energy Vanguard in Decatur, Georgia. He has a doctorate in physics and writes the Energy Vanguard Blog. He is also writing a book on building science. You can follow him on Twitter at @EnergyVanguard.
Related Articles
How Energy Efficient Is Your Ceiling Fan?
Thermal Comfort: Everyone Wants It but Few Know the ASHRAE Standard
NOTE: Comments are closed.