The 3 Rules of Air Leakage (Plus a Bonus!)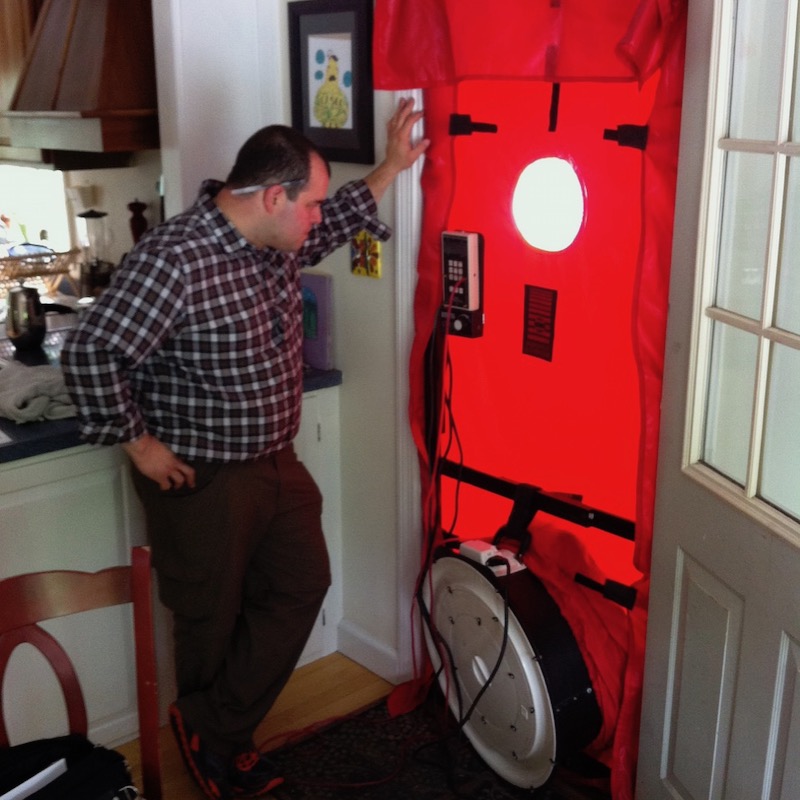 Here's the thing. If you have anything to do with houses (home builder, remodeler, HERS rater, trade contractor, homeowner…), you probably ought to understand these three fundamental principles of air movement. Then you'll have a better chance of knowing how to proceed when you have to pass a Blower Door test get a certificate of occupancy, when a new code (like North Carolina's) requires you install make-up for the big range hood your client wants, or you just want to eliminate those drafts and be comfortable in your own home.
If you recall your Building Science 101, you know that we want to control the flows of heat, air, and moisture. To do so, you have to know how they work. That means understanding how the flow works, the driving forces, the pathways…
Ready? Let's go.
1. For each cubic foot of air that leaks into the house, another cubic foot leaks out.
When there's a hole somewhere in the building envelope and conditioned air leaks out of the house through it, you pay. Your heating or air conditioning system has done work to heat or cool that conditioned air that you're losing, and you pay the fuel bill for it.
But that's only half of the story. Not only are you losing the conditioned air, but you're also pulling in unconditioned air through another hole (or perhaps the same hole if it's big enough). When you turn on an exhaust fan in a bathroom or kitchen, you're intentionally sending conditioned air to the outside. Each cubic foot that leaves is matched by a cubic foot of unconditioned air leaking in somewhere.
2. Air flows from areas of higher pressure to areas of lower pressure.
This is the force behind air movement. Think of that time you were at a concert or a festival or a big party. It's wall-to-wall people, and you have difficulty moving. Then, up ahead, you spy an open area. There's hardly anyone there, so you make your way over there and break out from the crowd and have freedom to move again.
That's what air does, too. This is actually a result of the Second Law of Thermodynamics, one of the most baffling and fun laws of physics that you'll ever find. Really!
3. For air to move, it needs both a pressure difference and a pathway.
As I just stated under law number 2, air responds to pressure differences. It can't do anything, though, if it's got nowhere to go. You may have a house with a higher pressure than outside and minimal air leakage if it's got no holes, the pathways that allow the air to move from high pressure to low pressure. That's why we air-seal houses. We can't eliminate all pressure differences, but we can reduce the pathways.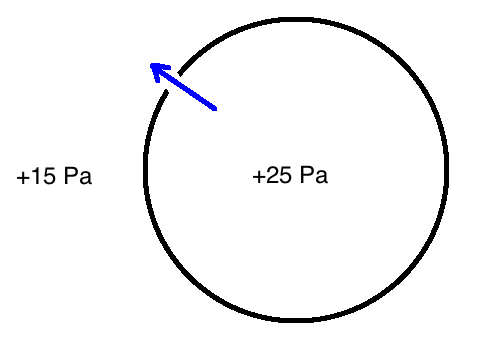 Pressure is the basic quantity we're dealing with here, so knowing exactly what pressure is can be helpful.
Bonus: Air takes the path of least resistance.
This one isn't really on the same level as the first three, but it's still important. One area where it comes into play is when you're trying to connect the cubic feet of air coming in with the cubic feet going out. For example, some people make the really stupid move of installing power attic ventilators in their homes. (Yeah, I really did say that!) Sometimes the soffit or gable vents that are the intended source of make-up air don't give the greedy fan as much as it wants, or at least, they don't give it as easily as that open chase down into the basement or the unsealed top plates in the attic. So it reaches down into the house and pulls conditioned air up into the attic.
Summary
Air is a fluid. It flows. It has pressure. The pressure can go up or down, and that's what drives the flow. Air takes the shape of whatever space it's in and can be kept there when it's bounded by materials that are impermeable to air.
Air is invisible. We take it for granted. Once we understand these basic principles of air leakage, though, it ceases to be a mystery.
Related Articles
What Is Pressure? – Understanding Air Leakage
Why Doesn't Heat Flow Backwards?
How Much Air Leakage in Your Home Is Too Much?
Don't Let Your Attic Suck – Power Attic Ventilators Are a Bad Idea