A Fun Visualization of Air Leakage During a Blower Door Test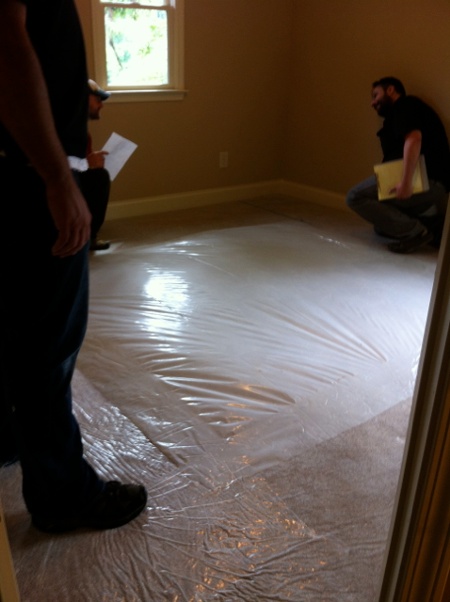 In our last home energy rater (HERS) training class, we saw something very interesting on one of our field visits. We were doing a Blower Door test on a new house, and one of the bedrooms upstairs had plastic taped over the carpet to protect it from dirt. The photo below shows what happened.
The plastic inflated like a balloon! This was a moderately airtight house, too. It passed the Georgia energy code requirement of 7 ACH50, but there was still enough air leaking in to do this. Where's the air leakage coming from? We didn't look for the source there, but I imagine the band joist was responsible for a lot of it since this was a second floor bedroom.
I've seen this happen before, too. The first time was in 2004, and I had my Blower Door set up in the kitchen of a little house. When I turned it on, the vinyl floor in the kitchen came up, and it felt like I was walking on a big pillow. Unfortunately, the builder wasn't there to see the result of the bypass he left when he didn't block and airseal the floor joists that ran across the wall between the garage and the finished basement, right below the kitchen.
Anyway, here's my idea of how you could use this to your advantage. If you have kids and are thinking about renting one of those big inflatable space walk bouncy thingies, just cover one of your floors with plastic like this and depressurize your house. Voilà! You're in business, and the kids are happy.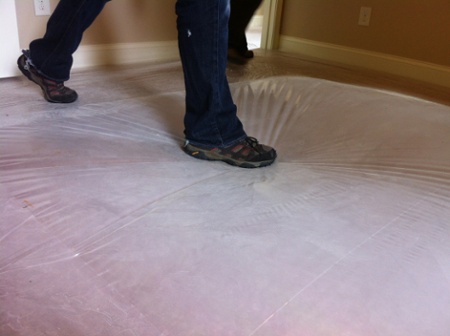 Hey, this could be a way to put that old whole-house fan to use, too!
Happy Friday!