The Sludge That Kills — Post Mortem of an Air Conditioner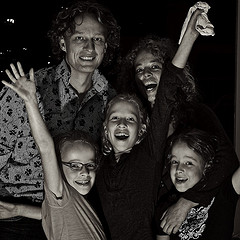 This is the story of a happy family that got too hot and sweaty. They'd lived in their house for a while, and everything was fine at first. The central air conditioning system kept them nice and cool. Over the past few years, however—they're not sure exactly when it started—their 'Home, Sweet Home' started turning into their 'Home, Sweat Home.'
One day, for no apparent reason, the air conditioner couldn't even keep the air inside their home at the 85° F temperature that they'd gotten (sort of) used to. Mom told everyone to check throughout the house and feel for air flow at the supply registers, but no one felt the faintest whisper of air coming out of them at all. Come to think of it, not a single person in the happy family could remember the last time that they had actually noticed air coming out of the vents.
That was it! Dad marched them all out to the backyard on that hot afternoon to see if the air conditioner was running. Little Cindy thought she'd heard a huge clunking kind of sound — Kwaaaa-klurnp-Kwaaaa-klurnp-Kwaaaa-klurnp, it went — back there earlier in the day, but as they stared blankly at that old metal box, it just sat there, silently soaking up the summer sun, making no pretense that it was doing anything to cool their home. They knew it was finally time to call the air conditioning service company.
The HVAC service company arrives
When the HVAC company's truck arrived at their house, the repairman quickly discovered that the compressor had failed completely. Then he went inside and looked at the blower and evaporator coil. He went ahead and took the whole thing apart and learned quickly that there was no use in trying to restore their old air conditioner. They needed a new one.
Here's what he found that probably killed it.
From the top, the evaporator coil didn't look so bad.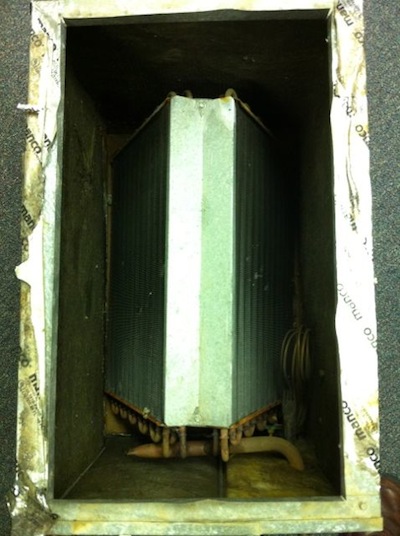 As you can see below, the fins look nice and clean so the air should have been able to move freely through them.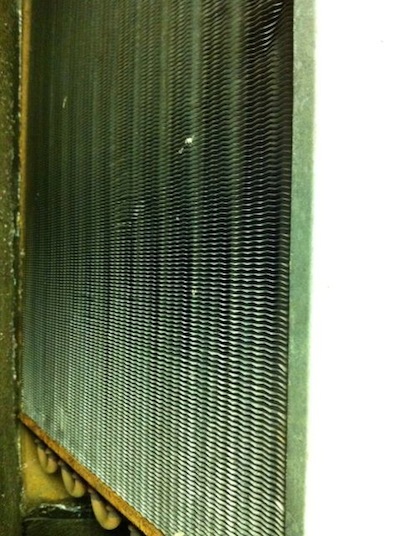 But wait! That was the output side of the evaporator coil. When he turned it over to look at the side where the air went into the evaporator coil fins, he saw this.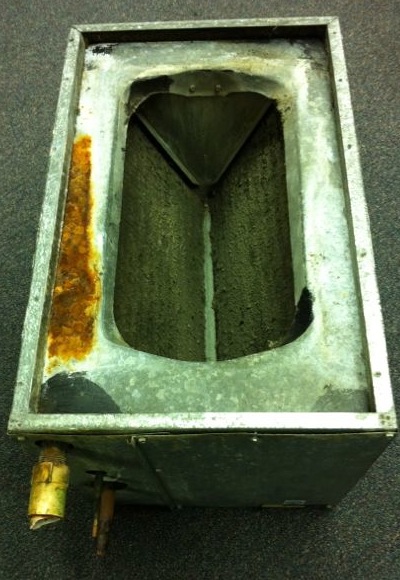 Let's zoom in a little.
Wow! That is one heck of a lot of sludge!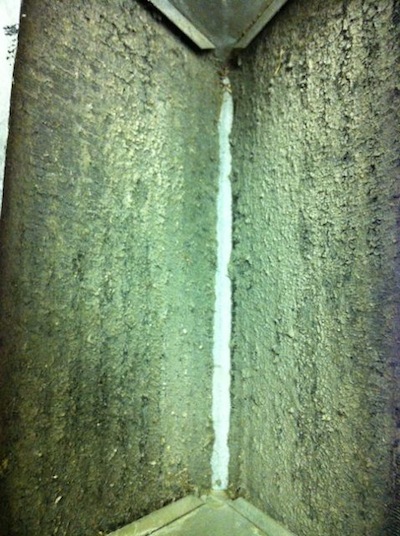 It's amazing that they lived with this system as long as they did. But it's not surprising they felt no air coming out of the supply vents.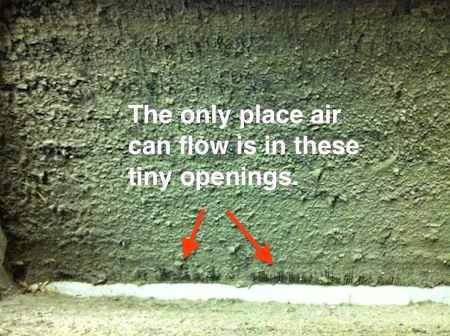 The coil is covered almost 100% with dirt that turned to sludge when it hit the wet coil. Let's zoom in just a little more for jollies.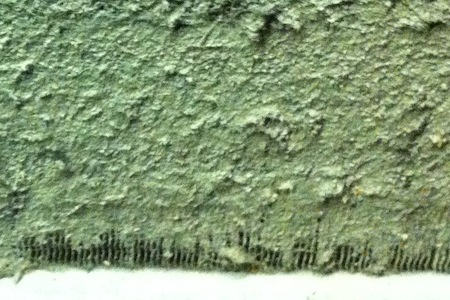 Uh huh. Is it any wonder they felt no air coming out of the vents?
What caused this sludge to build up on the coil?
I made up the story about the happy family above because all I know is that my friend Jake Reid at Moncreif Heating & Air Conditioning gave me this coil from a dead air conditioner that they had replaced. It's not hard to see, though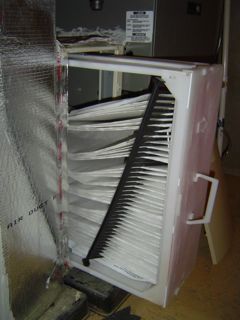 , that this air conditioner wasn't doing much to keep the house cool. It's hard to condition air when no air can flow through.
The problem here was that a lot of dirt got through the duct system and the filter. So, how did it get so dirty? Again, I don't know the actual story behind this one, but one possibility is that the air bypassed the filter. It might do that when a filter doesn't cover the entire duct, as shown at right. Another possibility would be that there's a lot of leakage between the filter and the blower, and the system pulls in dirty crawl space or attic air. When you put the filter at the return grille in the house, that could easily happen. Also, the dirtier the filter gets, the more air it'll pull in through the leakage sites rather than from the house, where it's supposed to be pulling all its air from.
Don't let this happen to you!
Here are a few tips to make sure you don't end up with a coil that looks like the one above.
Check and change your filter regularly.
Have your duct system tested for leakage—preferably as part of a home performance assessment or energy audit. Then seal the leaks in your duct system. (Caution: Make sure to include this as part of a complete analysis of the air flow in your duct system and combustion safety of your home. It's possible to cause problems, possibly even freezing up the coil and burning out the compressor, by sealing ducts.)
Get your heating and air conditioning system serviced once a year and make sure they check to see how clean the coil is and then clean it if necessary.
There's no excuse for a coil as dirty as the one I showed you here. Take care of your air conditioner, and it won't die of asphyxiation like this one did. Let it die a natural death. You know, the kind that results from planned obsolescence. It's always healthier when you can direct your anger at manufacturers rather than yourself.
Related Articles
It's Called an Air Conditioner — Not an Air Cooler!
The Magic of Cold, Part 1 – How Your Air Conditioner Works
Photo Friday – HVAC Filter Horrors
How to Choose a Company to Do a Home Energy Audit
Allison A. Bailes III, PhD is a speaker, writer, building science consultant, and the founder of Energy Vanguard in Decatur, Georgia.  He has a doctorate in physics and is the author of a bestselling book on building science.  He also writes the Energy Vanguard Blog.  For more updates, you can subscribe to Energy Vanguard's weekly newsletter and follow him on LinkedIn.

Photo of happy family by DickSijtsma from flickr.com, used under a Creative Commons license. This is not the actual happy family of the story. In fact, I don't even know if the family who owned this AC was happy. For all I know, the home may have been occupied by a miserable and lonely team of retired mud wrestlers, which could be another explanation for the state of that coil.
Comments are closed.