This Playground Slide Can Give You a Feel for Building Science
Remember those old metal playground slides?  You don't see them all that much anymore, but recently I found one.  It was in the quaint little Southern town of Rutledge, Georgia, near the Hard Labor Creek Blueberry Farm where I'd been picking blueberries one Saturday morning.  Right there in the town square was a playground with the beauty you see below.
Doesn't that just bring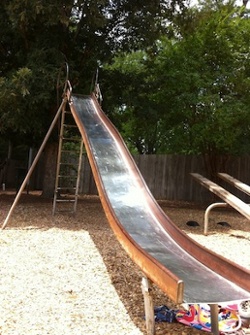 back the memories!  Oh, it was so fun to go to a good playground and go down the slides.  They were always better than the backyard swingset slides that we all had, mainly because they were taller.  The one at Hermann Park in Houston was great!  Not only was it really high, but the stairs took you up inside a rocket skeleton, and the slide came out the side.  I recall climbing up those stairs with great anticipation, but early on, I learned the burning lesson of metal slides:  Feel before you leap!
That's right, even though I couldn't feel the heat emanating from the surface of the slide, if it had been in the hot, Houston sun for a while, that slide was going to be HOT!  So I couldn't just put my hand near the metal. I had to touch it.  And I definitely didn't want to put my bare legs on it without finding out how hot it was.
Why?  Because even though the metal sat there in the sun absorbing heat, it didn't radiate the heat away like a hot asphalt road would. It just sucked up the heat and held onto it.  But it would definitely conduct it, which many of us learned the hard way by jumping on it too quickly.
How does this have anything to do with building science, you ask?  Well, that property of a material that holds onto heat except by direct contact is something that's been exploited in some building products.  Since it doesn't emit heat, we call it a low emissivity material, or just low-e material for short.  Radiant heat gain in homes is mainly a problem in two places: roofs and windows.  In the former, some people use low-e materials under the roof deck and call them radiant barriers, as shown below.  In the latter, low-e materials are put onto window glazing as extremely thin layers.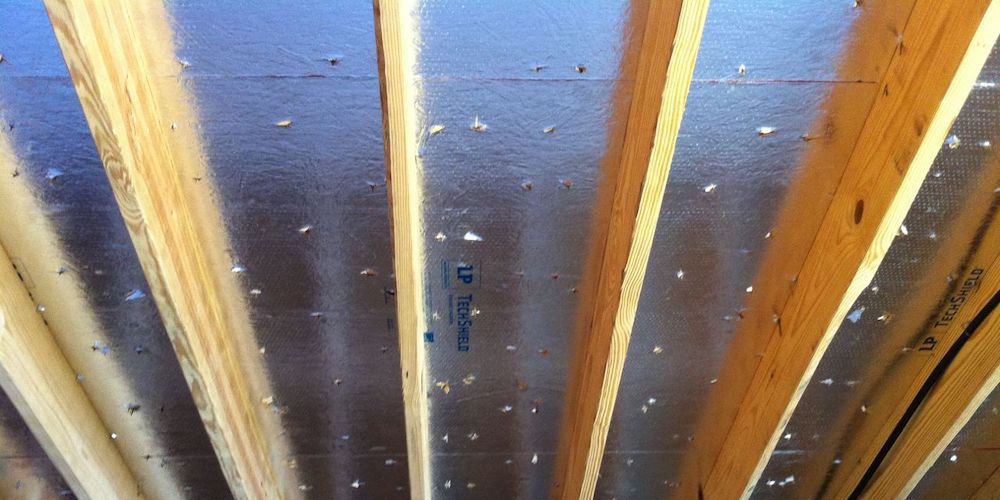 As I explained in an article on radiant barrier fundamentals last year, the heat conducts downward through the roofing materials and gets stuck when it hits the radiant barrier.  These things are not for cold climates, however.  Even in a hot climate like Houston, their savings may be small.  Michael Blasnik found that they saved about 3% of the cooling consumption in tight, well-insulated new homes.  The potential savings are higher for retrofits of leaky, poorly insulated existing homes.
Still, it's interesting building science, and now you've found out that if you also learned the burning lesson of metal slides, you've known something about building science for a long time.  So congratulate yourself for your practical and hard-earned knowledge.
And let's celebrate by going down that slide!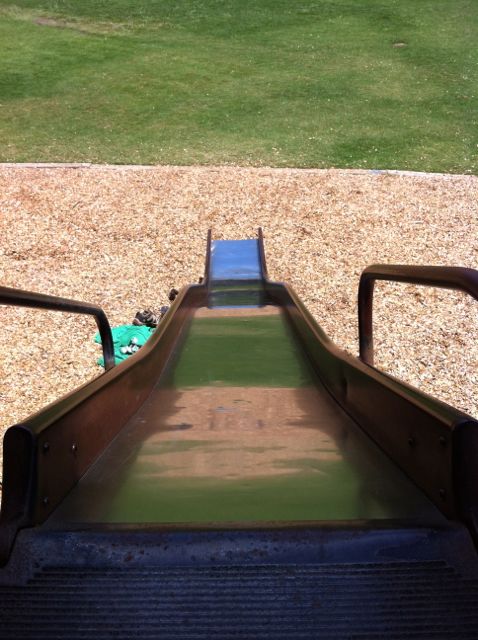 Allison A. Bailes III, PhD is a speaker, writer, building science consultant, and the founder of Energy Vanguard in Decatur, Georgia.  He has a doctorate in physics and is the author of a popular book on building science.  He also writes the Energy Vanguard Blog.  You can follow him on Twitter at @EnergyVanguard.
Related Articles
Oooh, Shiny Stuff! – Radiant Barrier Fundamentals
Are Radiant Barriers Cost Effective in New Homes?
Radiant Barriers Don't Work with Spray Foam Insulation on Them
How Hot Is Your Roof? – Insulated Rooflines and Shingle Temperature
Comments are closed.