Two More Scary Indicators of the Peak Oil Problem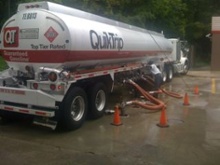 It's been a while since my last post on the big picture of energy, so today I present to you two more metrics that show we have a serious problem. Peak oil, as I've written here before, brings about a supply and demand imbalance long before we actually run out of oil. The problem stems from our looking at the wrong quantity. When we should be looking at rate of oil production, we instead focus on the total amount of oil in the ground. (For the math geeks, it's our inability to understand the derivative of a function that's to blame.)
It's been a while since my last post on the big picture of energy, so today I present to you two more metrics that show we have a serious problem. Peak oil, as I've written here before, brings about a supply and demand imbalance long before we actually run out of oil. The problem stems from our looking at the wrong quantity. When we should be looking at rate of oil production, we instead focus on the total amount of oil in the ground. (For the math geeks, it's our inability to understand the derivative of a function that's to blame.)
Basically, the problem is that finite resources exhibit a production curve that shows steeply increasing production at first, then slowing increases, a peak, and finally, a decline in production. The United States has gone through its increase and peak. We maxed out in 1970 and, with the exception of the Alaskan oil that came on in the late '70s and another little blip in recent years, we're well into our declining period. Here's a graph that I put together a few years ago using data from the US Energy Information Administration (EIA).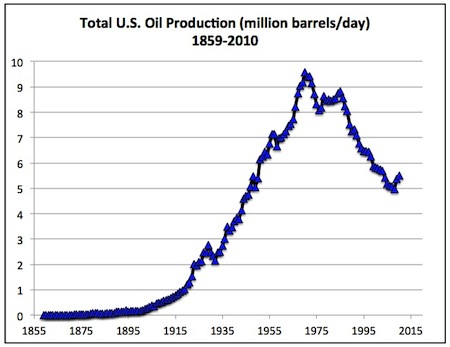 We can drill all we want, but we're never getting back to our 1970 peak. The big debate lately has been when global production will hit its peak. Some say it's happened already because production has been stagnant since late 2004. The graph below (from Gregor Macdonald's excellent site) shows global oil production over the past decade, and it's clear that we've been stuck at about the same level.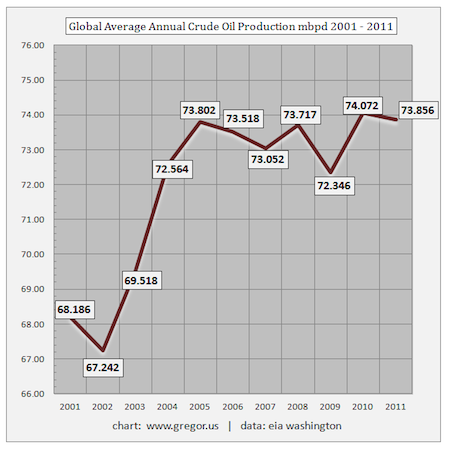 With oil production staying steady since late '04, is it any wonder that we've seen the price of oil and gasoline go up so much? If you recall, it was January 2005 when the price of gasoline really started heading up here in the US. It may be hard to imagine, but we were still paying less than $2 per gallon then.
The other metric I wanted to point out is that even when global oil production was still increasing, it hadn't been keeping up with population growth for the last three decades. Dr. Albert Bartlett, one of my favorite physicists, put together the following graph in a comprehensive article on peak oil. It shows that global oil production per capita peaked in the 1970s. The bottom curve shows actual per capita oil production. The upper curve shows what per capita production would look like if the population had remained exactly the same since 1920.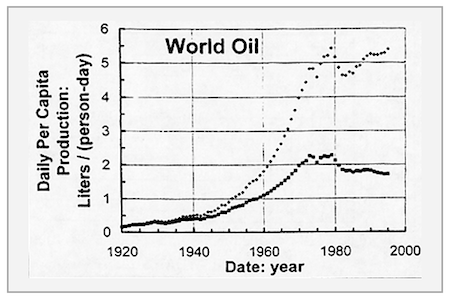 I've pointed out in a previous post that discoveries of new oil reserves are way, way down from the heyday of the mid-twentieth century, and that means there's not much to hope for in terms of future production increases. This is it. We've got to find our way out of this mess by being smart and efficient and rethinking the way we live. Business as usual is over.
Related Articles
Declining Oil Discoveries – The Truth Behind Peak Oil
The End of Growth – Mathematics & Peak Oil
Has the Long Emergency Begun? Peak Oil and the Economic Downturn