Why Do Million Dollar Homes Get Cheapo HVAC Systems?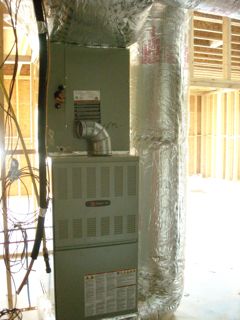 I just don't get it. OK, I do get it, but it drives me crazy. It's not just that it drives me crazy, though. This is just plain stupid.
I just don't get it. OK, I do get it, but it drives me crazy. It's not just that it drives me crazy, though. This is just plain stupid.
See that photo to the left? If you know anything about HVAC systems, you'll recognize immediately that the furnace you're looking at is a standard efficiency (80%), atmospheric combustion model. (In case you're wondering, the flue is intentionally disconnected and won't be left this way.) The problem here is that it's in a million dollar house with a million dollar view on a beautiful lake. Why would anyone do this?
Well, here are my conjectures:
The owners contracting to have their beautiful new home built don't know anything about HVAC and rely on the builder to make the right choices.
The builder wants to give them the nicest looking house he can, and he knows the owners don't know or care much about the furnace.
Most builders don't know much about HVAC and rely on the HVAC contractor.
The HVAC contractor is working within the limited budget given to him by the builder and wants to make as much profit on the job as possible.
I haven't actually met the builder or HVAC contractor for this house, but I'll bet my conjectures don't lie far from the truth.
The problem with this is that it's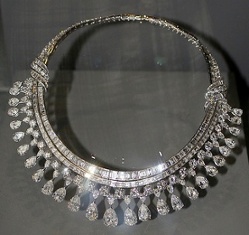 like hanging fuzzy dice from the rearview mirror of a Rolls Royce. It's like wearing a diamond necklace with a duct-tape dress. But it's even worse than either of those because it's not just tacky, it's stupid.
In addition to an atmospheric combustion, low efficiency furnace just not fitting in, there's also the problem of it being an atmospheric combustion furnace. They've put it in a mechanical room in the basement in this house, which means that room will have to be isolated from the rest of the house, and that won't be done well, I'm sure. They'll also have to put two big holes in the house to bring combustion air into that room. (Read more about the problems of atmospheric combustion inside the house.)
If you've got the money to build a fancy house, do it right and make sure that it's not just the finishes get all the attention.
If you're building a house and need help figuring out what kind and size of HVAC system to install, contact us for help with your HVAC design needs.
Photo of necklace by cliff1066™ from flickr.com, used under a Creative Commons license.