A Sign of a Good Duct Installer
Matt Risinger is a home builder in Austin. He builds great houses and is also famous for his videos. He has over 26 thousand subscribers on his Youtube channel. I was in Austin last week for the inaugural Humid Climate Conference and had some extra time on Saturday morning. So I got a tour of a few of Matt's projects. I was pleased to see that pile of materials below at one of those homes. Can you tell why?
Here's why I liked what I saw there:
He uses rigid metal for his duct fittings. I like flex but prefer it for straight runs. Turning air in ducts should be done in hardpipe.
Those fittings were pre-insulated. Once they're in place, it's not always easy to get insulation on them.
The installers had already sealed the joints and seams in those fittings with mastic.
Beautiful! That's the sign of an HVAC contractor who cares about air distribution. Further, those fittings are part of a system that was designed properly. My friends at Positive Energy in Austin did the full mechanical design for this house.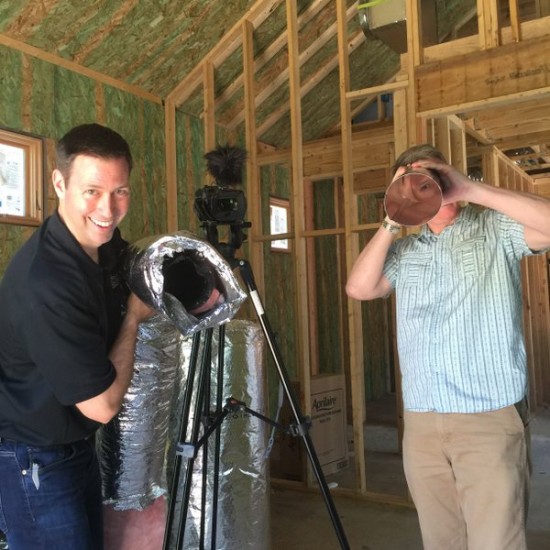 While I was there, Matt shot two videos with me about ducts. Look for them in a few weeks.
And one final note: You may be wondering why there's OSB on the inside of the walls in this house. That same confusion happened to people who visited the house I built while it was under construction. There's OSB on the inside because the house is framed with structural insulated panels.
Related Articles
Beautiful Duct System in a Beautiful Crawl Space! Was I Dreaming?
Navigating the Twilight Zone: The Hidden Flaw in a Zoned Duct System
4 Ways a Bad Duct System Can Lead to Poor Indoor Air Quality
Photo credits:  Duct fittings by Energy Vanguard, Matt and Allison by William Risinger
NOTE: Comments are moderated. Your comment will not appear below until approved.
Subscribe to the Energy Vanguard Blog
The Latest from the Energy Vanguard Blog