Getting Mechanical Ventilation Inside Conditioned Space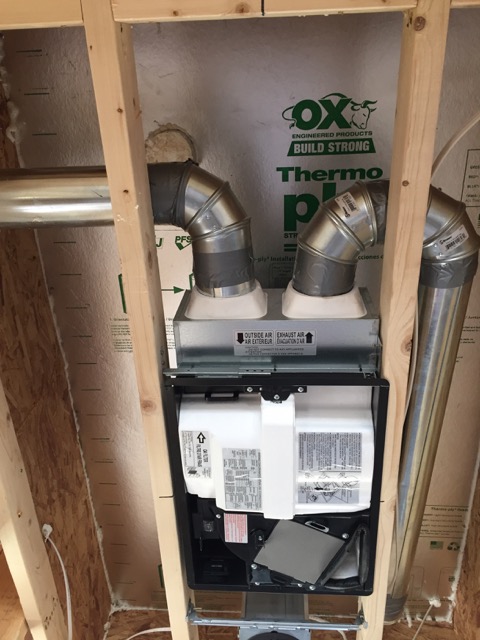 If you've been hanging around here for a while, you know I encourage architects and builders to find a way to get the ductwork and heating and cooling systems inside the conditioned space of a home. In cold climates, this usually happens without much argument. In hot and warm climates, we're not there yet. But there's another aspect of this I haven't mentioned yet: getting the ventilation system inside conditioned space.
The photo above shows an energy recovery ventilator (ERV) installed in a new home under construction in Santa Fe, New Mexico. I visited there last year and Stephen Onstad of EverGreen Building Solutions took me around to see what builders there are doing.
Why should we care where a ventilation system is located?
With exhaust-only ventilation, the fan usually sits inside the house or right at the building enclosure. Then there's a duct carrying the exhausted air to the outdoors (or there should be). If that duct passes through unconditioned space, it's easy to get condensation inside the duct in winter. That in turn can lead to mold growth in the duct, which can find its way into your home's air. Insulating the duct can help. Bringing it inside the building enclosure helps more.
Supply-only ventilation is usually tied into your main heating and cooling system, using a controller like the one made by AirCycler g1. Since this type of system is integrated with the main ducts, the reasons for getting it inside the enclosure are the same as for getting the air handler and main ducts inside.
Balanced ventilation can be tied in with the main ducts or it can be a standalone system, as is the case for the ERV shown above. If you put this system in unconditioned space — say, a vented attic — the outdoor air being delivered to the house will pick up or lose heat on its way. The reason to use ventilation system with heat recovery is so you minimize heat gain or loss, so putting it into unconditioned space kind of defeats the purpose. Right?
How they got this ERV inside
What they did in this home is they put the ERV above a lowered ceiling. The space above will be filled with insulation. The photo below gives you an idea of what's going on in this Santa Fe house. If they put the ERV up there, it would displace insulation and be closer to outdoor conditions. By moving it down, they can get full insulation above and keep the ERV completely inside the building enclosure.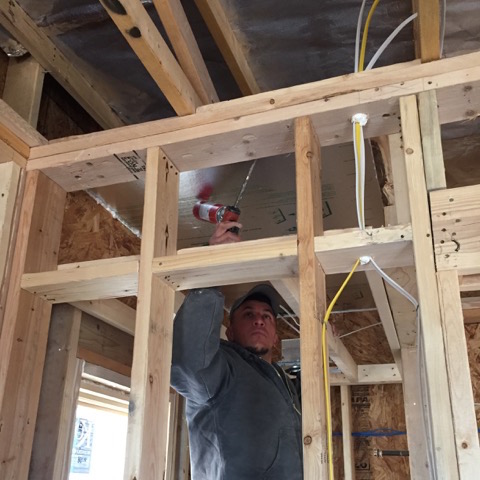 Note how they did this. They put in an air barrier material (ThermoPly) to separate the two spaces. Then they air-sealed all the seams and penetrations.
One other thing to note here is duct insulation. The photo above shows uninsulated ducts. One of those ducts sends stale indoor air to the outdoors. The other brings fresh outdoor air into the ERV. In the winter, that outdoor air can be cold. If you don't insulate that duct, it can become a condensing surface, with accidental dehumidification as a result. (Ask me how I know.) They might be able to get away with uninsulated ducts in New Mexico, but I'd rather not take the chance, even in a dry climate. It's the indoor humidity that matters here.
Getting your mechanical ventilation system and ductwork into conditioned space may take a little extra work and creativity. If you're designing and building an energy efficient, airtight house, though, you shouldn't think of this as optional, especially if you're installing an ERV or HRV. Why would you pay extra for a system that minimizes heat loss or gain and then give it some extra heat loss or gain?
Related Articles
Accidental Dehumidification – A Preventable Mess
Why Do Airtight Homes Need Mechanical Ventilation?
Will Balanced Ventilation Be Required by Code?
Case Closed: Get Those Air Conditioning Ducts out of the Attic
NOTE: Comments are moderated. Your comment will not appear below until approved.