Green Buildings Can Make You Smarter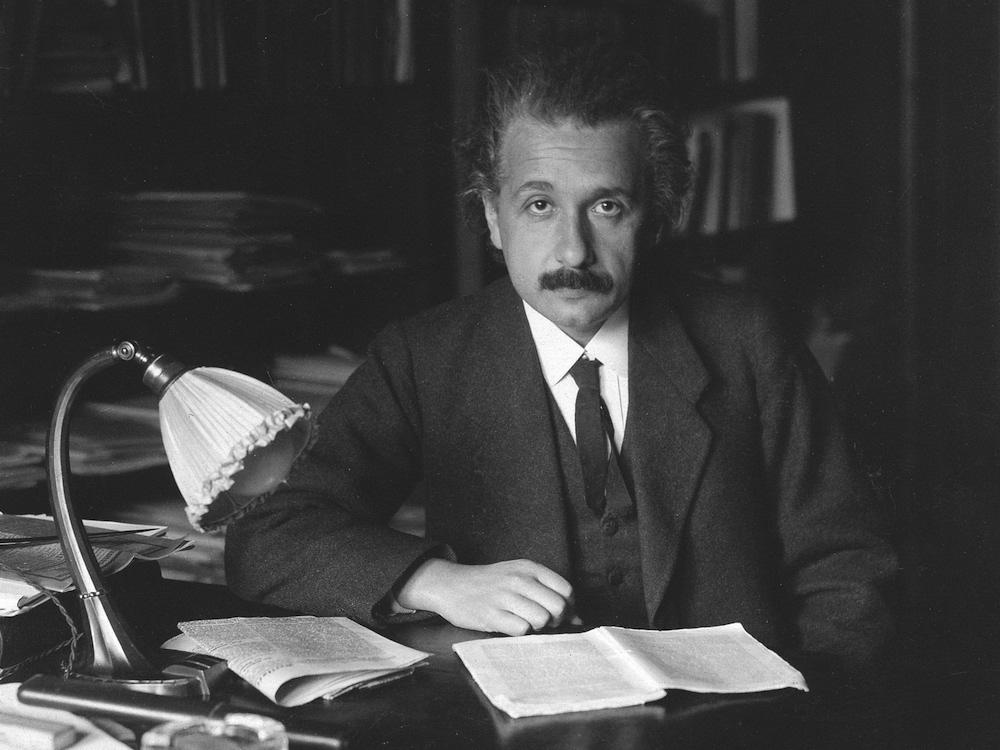 The room is dead silent. You stare down at the paper on your desk, ransacking your brain for any hint of the answer to this test question that has you stumped. Your desperation mounts as you know the teacher is about to call for your test to be turned in. Why can't I figure this out, you think. But those thoughts only push the answer further into the recesses of your mind.
Ever have an experience like that? I'm sure most of us have. Sometimes it's lack of preparation that gets us. Sometimes it's too much preparation, as in last-minute, sleep-depriving, all-night cramming. Sometimes it's just a really hard question. But there's another possible reason your thinking wasn't as sharp as you would have liked it to be: the air you were breathing.
A research project on thinking in green buildings
A couple of years ago, researchers at the Harvard T.H. Chan School of Public Health published a paper on an interesting research project. Their objective was to compare the subjects' ability to think in a conventional building with that in a green building. They studied how two kinds of indoor air contaminants, volatile organic compounds and carbon dioxide, affected the cognitive function of people who worked in the building. Let's see how they did the research and then look at the results.
They got 24 people to come to a special office building in Syracuse (the Willis H. Carrier Total Indoor Environmental Quality Laboratory) for a total of six days. During those six days, the researchers changed the ventilation rate (either 20 or 40 cubic feet per minute per person), the carbon dioxide level (~550, 945, or 1,400 parts per million), and volatile organic compound concentration (~40 or 500 micrograms per cubic meter). In the afternoons, the subjects took tests to measure their cognitive ability in nine separate domains. (See graphs in next section for those domains.)
Here's their summary of the conditions in the building on each of the six days.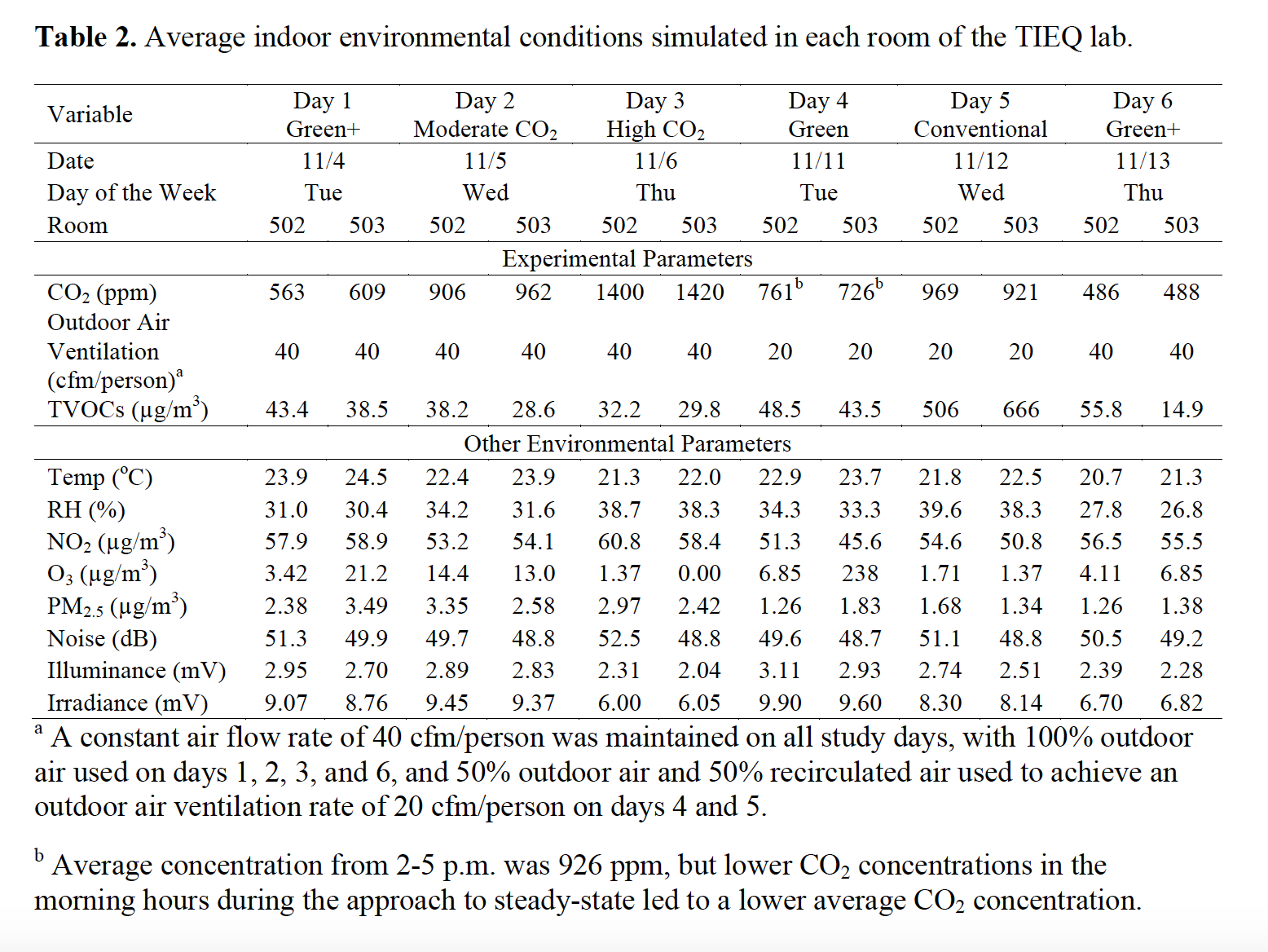 Got all that? If you want more detail, you can download the paper.
The effects of CO2 and VOCs
Here's what they found for the effect of carbon dioxide on cognitive function. The three levels of CO2 they used were the 550, 945, or 1,400 ppm I mentioned above.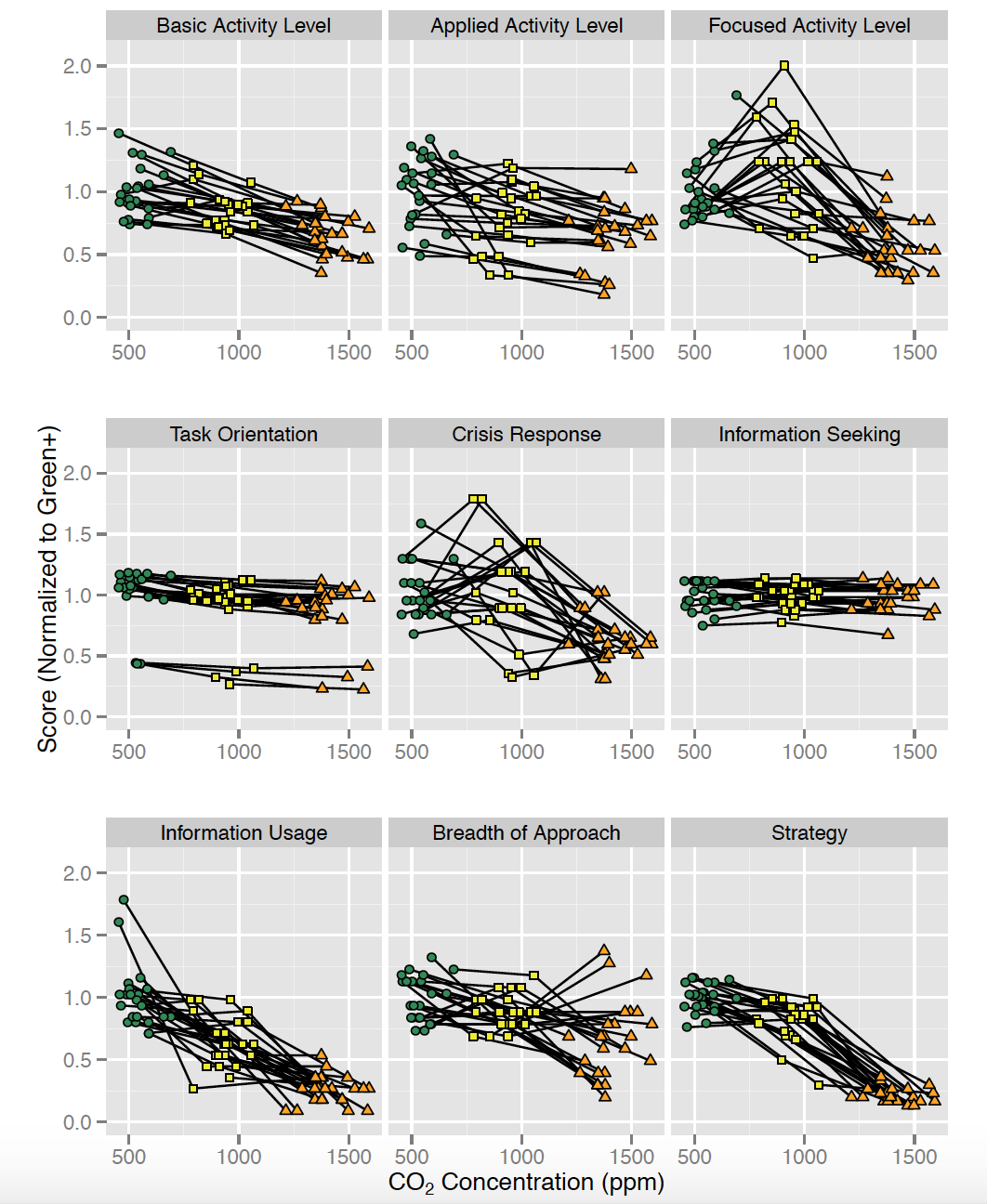 What I see here is that the lowest CO2 level results in better performance than the highest CO2 levels on most of the tests. A couple of the test results were flat for all three levels and a couple (crisis response and focused activity) showed a whole lot of scatter for the medium CO2 level. The main takeaway here, though, is that lower CO2 generally helps us do better on tests of cognitive function.
And here are their results for the effect of VOCs on the nine domains of cognitive function they tested. The brown columns represent the conventional building with VOC levels at about 500 micrograms per cubic meter. In most of the cognitive function domains, performance was worse for the higher VOC air than for the regular green building (light green columns) and the green building with higher ventilation and lower CO2 (dark green columns).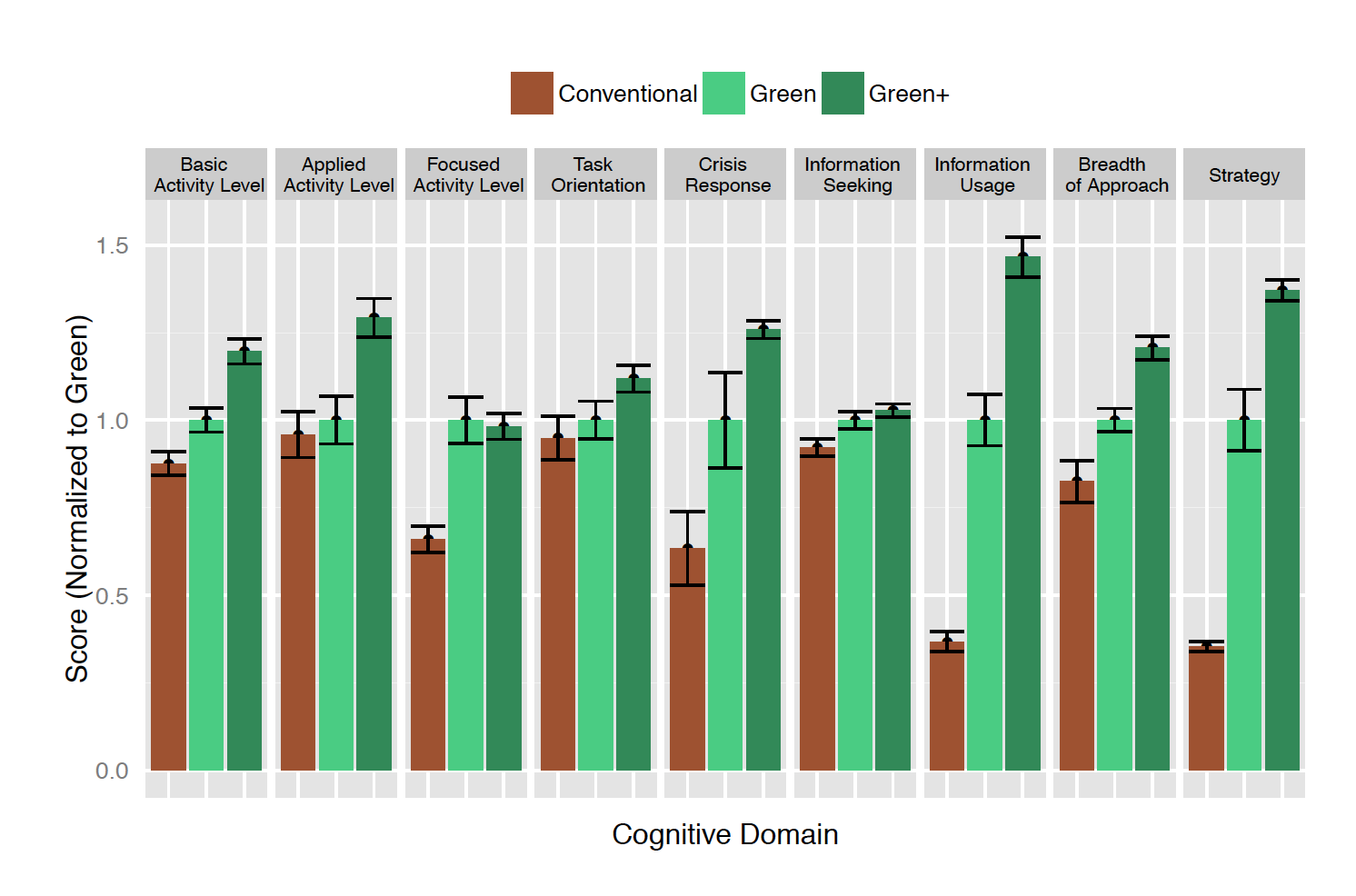 In case you're wondering why I didn't say cognitive function was worse in all nine domains for the conventional building, let me draw your attention to the error bars. Yes, the height of the brown columns is lower for all nine cases, but if you look at the error bars for "Applied Activity" and "Task Orientation," you'll see they overlap for the brown and light green columns.
What about overventilating?
I've written here a number of times about Dr. Joseph Lstiburek's problem with the ASHRAE 62.2 committee's recommended ventilation rates for homes. Does this research invalidate Lstiburek's point? No, I don't think so. The actual variables they controlled in the experiment I discussed above were the levels of carbon dioxide and volatile organic compounds. Yes, they did vary the ventilation rate, but they also added CO2 to get the level they wanted. So the real key is controlling the levels of CO2 and VOCs. Ventilation is the main way to lower CO2 levels and source control is the best way to reduce VOCs.
Can a green building really make you smarter?
We don't need to get into the details of the definition of intelligence here to know that if your brain performs better, you're going to do things in a smarter way. Just spending your time in green buildings won't make you capable of understanding Einstein's general theory of relativity. But according to this research, breathing in air with lower levels of volatile organic compounds and carbon dioxide will make your brain work better.
The authors of this paper make the point that we spend about 90% of our time in buildings. Over the past few decades, the air in many buildings has gotten worse as we've started to make them more airtight. We also put a lot of nasty, offgassing materials in our buildings. The result is that we breathe in more VOCs, more carbon dioxide, more particulate matter.
And apparently it makes us dumb. You've heard of Sick Building Syndrome, right? Now we can add another one: Dumb Building Syndrome. (Just wait till the lawyers hear about that one!) But we can avoid it with source control: Keep the bad stuff out. We can avoid it with mechanical ventilation. We can avoid it by just being smarter.
This is a great study on indoor air quality in green buildings compared to that in conventional buildings. It's another piece of the puzzle. We need more.
Citation:  Allen JG, MacNaughton P, Satish U, Santanam S, Vallarino J, Spengler JD. 2016. Associations of cognitive function scores with carbon dioxide, ventilation, and volatile organic compound exposures in office workers: a controlled exposure study of green and conventional office environments. Environ Health Perspect 124:805–812.  [Read the full paper here.]
Related Articles
Why Do Airtight Homes Need Mechanical Ventilation?
4 Ventilation Quotes That Will Rock Your IAQ World
Will Higher Ventilation Rates Reduce Student Absences in School?
NOTE: Comments are moderated. Your comment will not appear below until approved.