How to Make a Good High-MERV Filter Even Better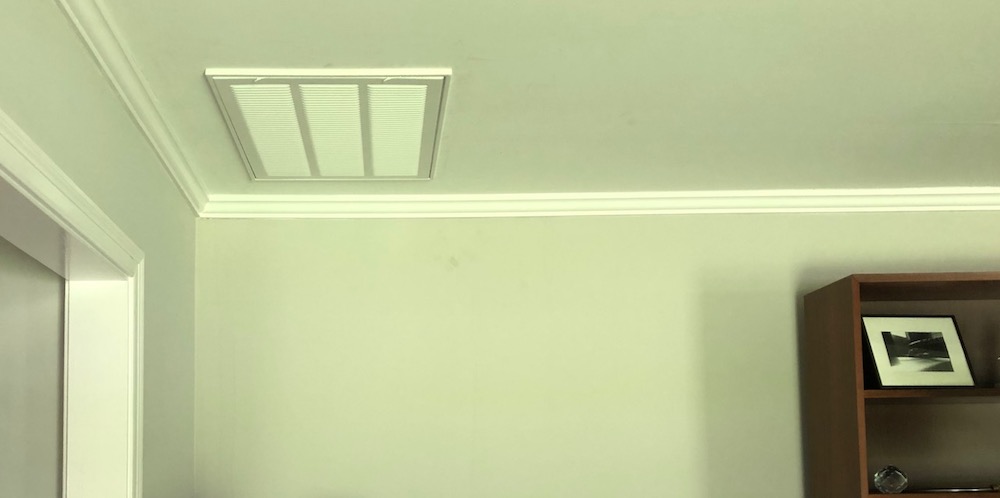 I hate it when I don't see ahead of time what seems obvious afterward. I've assembled a lot of things in my life, including a house and two VW engines, and I can't tell you how many times I've gotten to the end and then had to undo everything because I put a piece in backwards or skipped a step. Like that time I got halfway through installing the second floor back wall of the house I built before I noticed the window openings were in the wrong places because I started with the structural insulated panels (SIPs) upside down. Today's story is something like that but not quite so frustrating.
Pressure drop across high-MERV filters
I've written quite a few articles about filters in the past two years, including how to get a low pressure drop across high-MERV filters. Most recently I wrote about how I applied those principles to the three filters in the new ducted mini-split air handlers at my house. And before that, I wrote about why I like MERV-13 and higher for good indoor air quality because filters with that rating are supposed to capture a minimum of 85% of the particles that are about 2.5 microns in size.
So, to be able to use high-MERV filters effectively, you need to keep the pressure drop low. If the filter is too restrictive, the pressure drop across it is too high. High pressure drop can either reduce your air flow or increase your energy use, depending on what type of blower your air handler has. (For the curious and the geeks: fixed-speed blowers with permanent split capacitor motors will have reduced air flow, and variable speed blowers with electronically commutated motors will use more energy to maintain air flow.)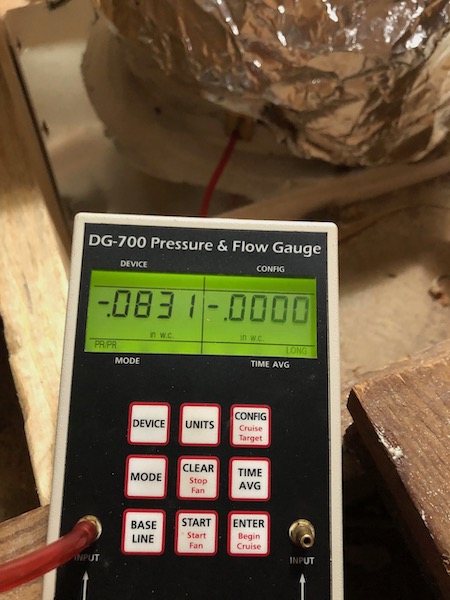 To keep the pressure drop low, the first thing you need to do is have a lot of filter area. And by area, I'm mainly talking about length times width, the face area. Deeper filters have more fabric area, yes, but that doesn't always correlate with proportionally lower pressure drop. (See my article about studies on air high-MERV filters and air flow. Study #2 looked at this issue.) The rule we use in our HVAC design work at Energy Vanguard is to size the filter at 2 square feet of face area for each 400 cubic feet per minute (cfm) of air flow through the filter. That results in a face velocity of 200 feet per minute.
For the filters in my house, I ended up with about 3.7 square feet of face area per 400 cfm and a face velocity of a little over 100 feet per minute. When I wrote about my pressure drop measurements back in June, I told you that I measured the three filters at 0.08 inches of water column (i.w.c.) to 0.09 i.w.c. (See photo above.) I wanted it to be lower, but those numbers were still pretty darn good for MERV-13 filters.
Don't squeeze the air
In case you aren't aware of this yet, John Semmelhack of Think Little in Virginia is one of the most knowledgeable people in the world on the topic of air flow. I discussed my pressure drops with him to find out why they were higher than I expected, and he pointed out something that, in hindsight, should have been obvious to me from the beginning.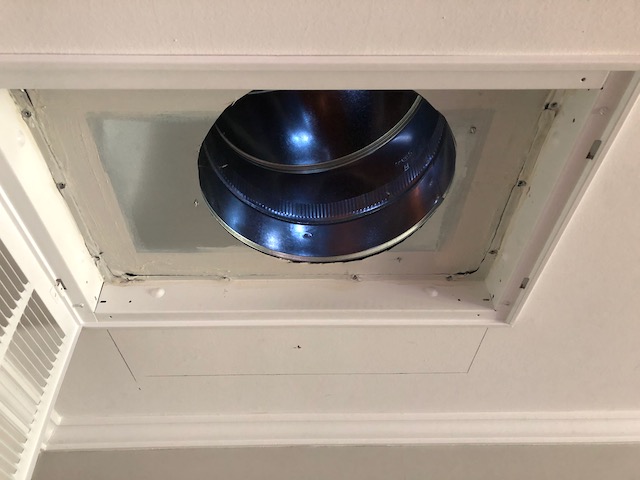 The photo above shows the filter grille return box in June when I made the original measurements. The filter grille itself is about 2.5″ deep and holds a 2″ deep filter. The topside of the box is covered with sheet metal with a duct near the middle. What this means is that air being pulled into the return had an easier time going through the middle part where it could go straight into the duct. Air definitely got pulled in through the whole filter, though, because all three of them looked uniformly dirty when I replaced them. But that lack of space above a large part of the filter restricted air flow and increased pressure drop.
So I embiggened the return box above the filter. (What are you talking about?! "Embiggen" is a perfectly cromulent word.) Semmelhack recommends a minimum of 6 inches of space above the filter, so I more than tripled that. The photo below shows the size of the new return box, with about 21 inches of space above the filter.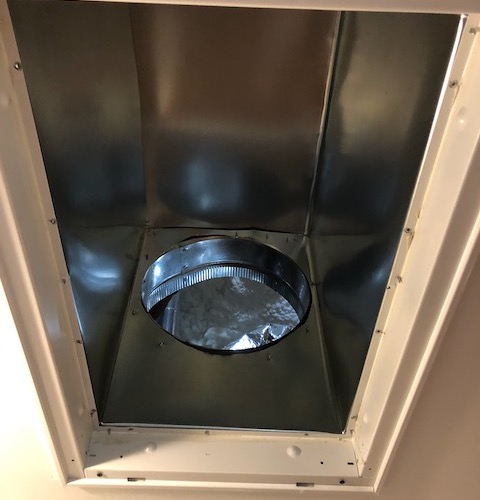 I would have gone with 6 inches or so, but by embiggening it this much, I was able to eliminate the elbow in the return duct above the filter box and bring the duct straight into the side. Here's the view from the attic before the retrofit: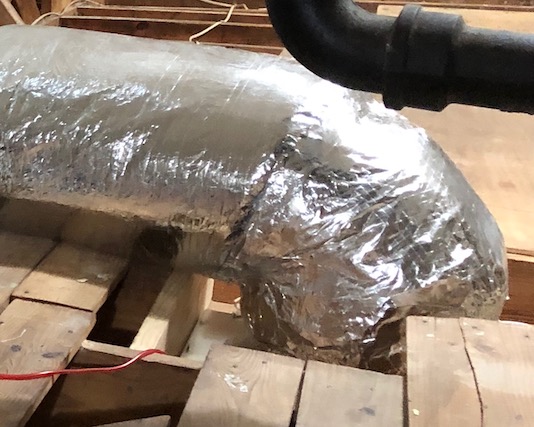 And here's what it looks like now: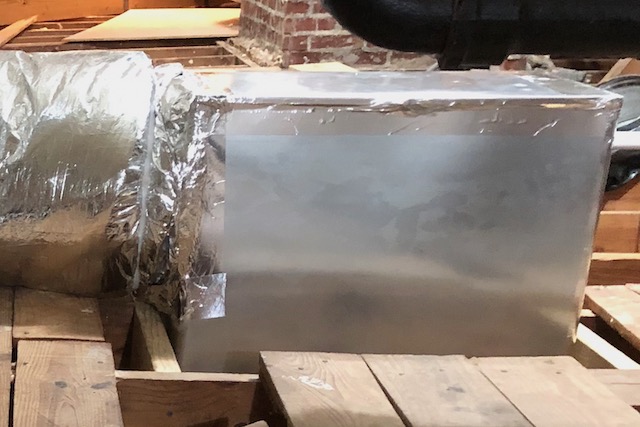 Show me the data
Of course, you're wanting to know if there was any change in my pressure drop, and yes, there was. Why would I be writing about this otherwise? The pressure drop across the three filters (all the same size, 16x25x2, and all MERV-13) was less than 0.06 i.w.c. for each of them. The actual measurements were 0.0532, 0.0573, and 0.0593 i.w.c. Those numbers correspond to improvements of 34%, 28%, and 30% respectively compared to my June measurements. And that's with three months of dirt accumulation on the filters.
Let me add one caution here, though. I could only make my return boxes so large because they're in a conditioned attic. If you're doing this in an unconditioned attic, it's best to keep the surface area of the ducts smaller. With very high temperature differences between the air inside the duct—even return air—and unconditioned attic air, extra duct area can add significantly to your duct loads.
I also measured the effect of the grille by measuring pressure drop with the grille open and with it closed. It turns out the pressure drop across the grille when you have such a low face velocity is also really low. The highest one was 0.006 i.w.c. whereas the Manual D default is five times higher than that at 0.03 i.w.c.
So, the lesson here is: Don't squeeze the air. Look at your duct designs and see if there's any place where the air flow will be constricted. If you see places like that, send any apprentices on the job with you back to the truck for the duct embiggener. It should be right next to the wire stretcher.
Allison Bailes of Atlanta, Georgia, is a speaker, writer, building science consultant, and founder of Energy Vanguard. He is also the author of the Energy Vanguard Blog. You can follow him on Twitter at @EnergyVanguard.
Related Articles
My Low Pressure-Drop, MERV-13 Filters
The Path to Low Pressure Drop Across a High-MERV Filter
Can Your HVAC System Filter Out Coronavirus?
17 Steps to Better Duct Systems
NOTE: Comments are moderated. Your comment will not appear below until approved.