My Low Pressure-Drop, MERV-13 Filters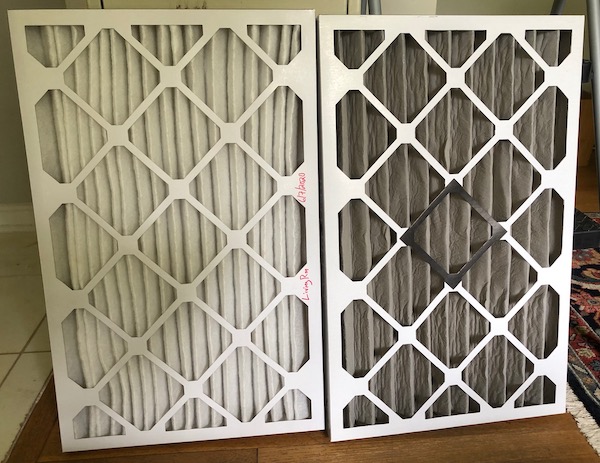 Filtration is on the minds of a lot of people lately. Because of the coronavirus pandemic, most of us would prefer not to breathe in air that contains any hint of the SARS-COV-2 virus that's been spreading the illness known as COVID-19. Wearing a mask when going out in public is standard. Having clean air at home is good, too, and good filtration in your home's HVAC system can help, too. I had the HVAC system replaced at my home last November and recently spilled the beans about how I undersized the new Mitsubishi* ducted mini-split heat pump. Here I'll report on our filtration.
Details of our filters
The photo at the top of the article shows one of the three return filter grilles in our ceiling. I like using return filter grilles for several reasons. First, it keeps the return ducts clean, especially if you prevent bypass by sealing the filter, as I did here with blue painters' tape. Second, it's easier to design the duct system with a large filter area. Third, it's easier to change the filters when they're behind the return grilles than when they're in the attic or crawl space.
I designed the filtration for our house to have three equally-sized filter grilles because that makes buying filters easier. They're all sized for 16″ x 25″ x 2″ filters, which is a common size. When we first got the system installed by Canton Heating & Air* last year, I couldn't find any MERV-13 filters locally so I put in MERV-8 filters.
Dirty MERV-8 vs clean MERV-13
Those MERV-8 filters I put in last November soaked up dust and other stuff from our indoor air for nearly seven months. The photo below shows one of the dirty filters next to a clean MERV-13 filter that I replaced it with. Unfortunately, I didn't measure the pressure drop across the clean MERV-8 filters when I put them in last year, but I did measure the pressure drops across the dirty MERV-8s and the clean MERV-13s. How do you think they compared?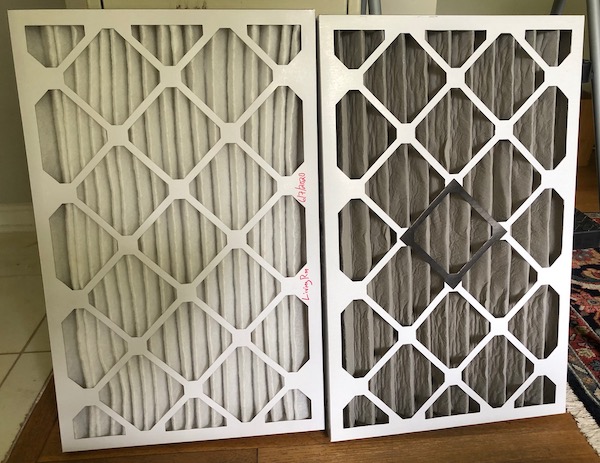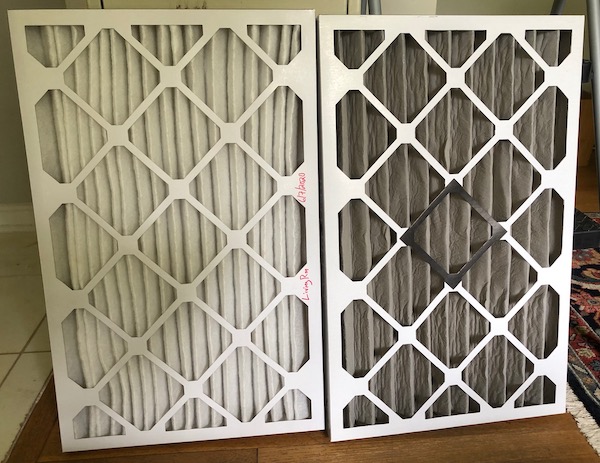 The manometer below shows my reading across one of the clean MERV-13 filters. It was about 0.08 inches of water column (20.7 Pascals).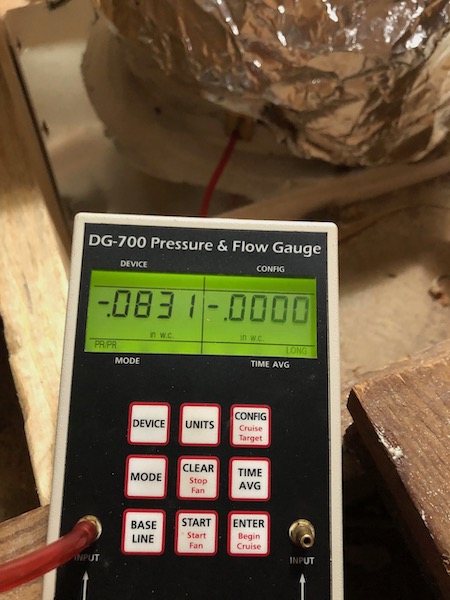 I know you're dying of the suspense now, so here are all the measurements. The dirty MERV-8 filters had lower pressure drops than the clean MERV-13s.

I know that filter may look pretty dirty, but the light went through all that dirt easily when I held the filter up to the window. And the pressure drop measurements show that the air was moving through it easily, too.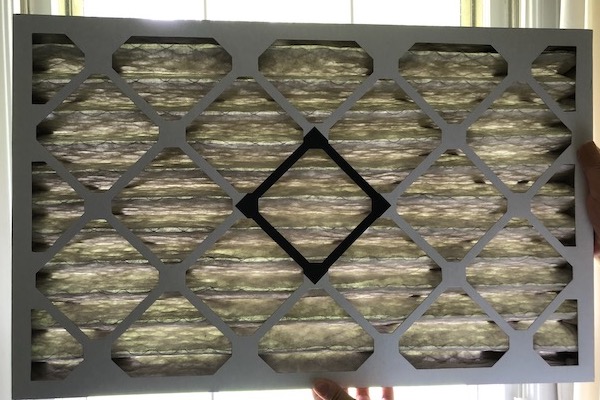 When I wrote about how often you should change the filter, I said one of the best ways is to change when the pressure drop across the filter doubles, assuming you start with a low pressure drop and your total external static pressure stays within the limit (usually 0.5 i.w.c., but 0.2 i.w.c. for my low-static ducted mini-split). I didn't measure the initial pressure drop, but the total external static with the dirty MERV-8 was 0.13 i.w.c., well below the 0.2 i.w.c. max. So, I could have left it in there longer. It probably could have gone another six months.
How to get a low pressure drop with a high-MERV filter
I wrote a full article on low pressure-drop, high-MERV filters last year, so you can go there for more details. The lowdown on it, though, is that you need to design your filters to have an area of 2 square feet (sf) or more for each 400 cfm of air flow. In the case of my filters at home, each one is designed for about 300 cubic feet per minute (cfm) of air flow. The 16″ x 25″ filters have an area of 400 square inches, or 2.27 sf. That works out to 3.0 sf per 400 cfm.
You can't just drop a high-MERV filter into any system because you could end up with a really high pressure drop. That, in turn, kills the air flow in the system. So before you switch out to a high-MERV filter, determine how many square feet of filter area you have for each 400 cfm of air flow. If you're result is two or higher, you should be good to go.
Coming next week: The design and performance of the duct system for my new mini-split heat pump.
Allison Bailes of Atlanta, Georgia, is a speaker, writer, building science consultant, and founder of Energy Vanguard. He is also the author of the Energy Vanguard Blog. You can follow him on Twitter at @EnergyVanguard.
*Disclosures: Mitsubishi gave us a discount on the equipment and advertises in the Energy Vanguard Blog. Canton Heating & Air gave us a discount on the installation.
Related Articles
The Path to Low Pressure Drop Across a High-MERV Filter
How Often Should You Change the HVAC Filter?
My Undersized Ducted Mini-Split Heat Pump
NOTE: Comments are moderated. Your comment will not appear below until approved.