My New Project: A 1961 House With Home-Performance Angst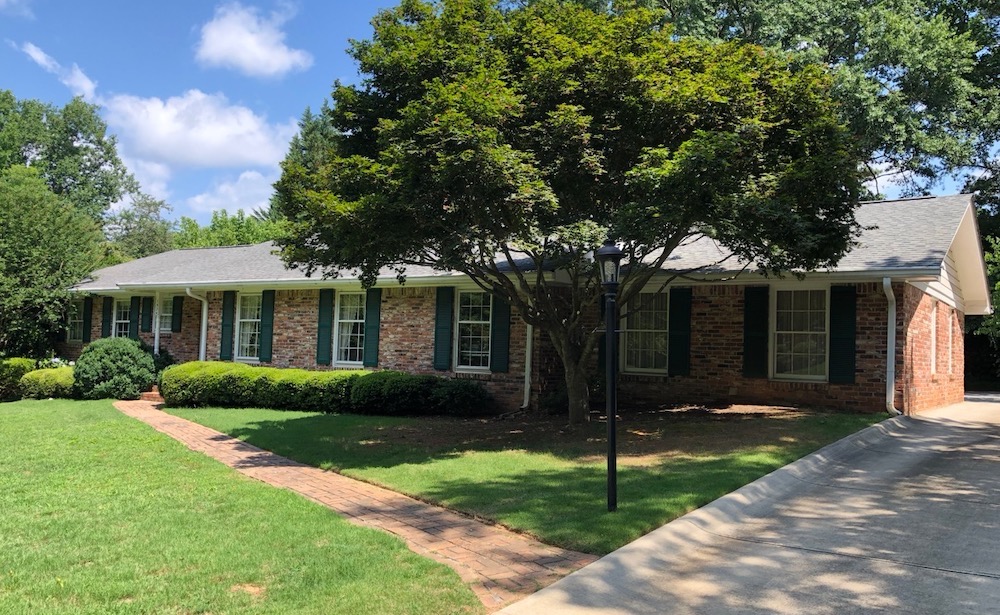 Let me tell you the story about a poor, young country boy who broke the law and launched me into my new project. Back in February, I was driving home from work one evening when a driver T-boned me. The crash totaled my car. Fortunately, no one was hurt, but I was pissed because my car was paid off and I was planning to drive it for several more years.
As it turned out, not only was this kid doing something completely stupid when he hit me, he also was driving with no insurance. I have good insurance, though (thanks, USAA!) and started looking for a new (read: replacement) car. I can't afford a Tesla but I've been interested in switching to an electric vehicle for some time now so I ended up with a 2014 Nissan Leaf that had only 21 thousand miles.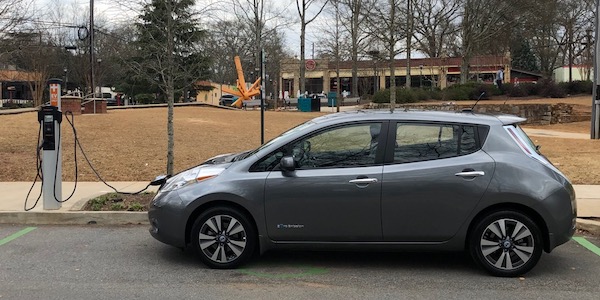 The condo association, however, decided to make it really difficult for me to put in level 2 electric vehicle service equipment (EVSE). So I had no choice but to buy a house so I could install one myself. My wife and I closed on our new-to-us home in early May and moved in toward the end of June. The home was built in 1961 (the same year I was born) and belonged to her father for the past 23 years. So it came with a lot of stuff that he left behind when he moved to a retirement home, and that's why it took us a while to move…and why we haven't really gotten started on the improvements yet.
Anyway, it's a huge, exciting new project and will be the source of many articles here in the coming years. It's got a lot of room for improvement, and I hope to take it all the way to net zero energy. That big expanse of roof you see in the lead photo is facing south and just dying to get some photovoltaic modules.
When you buy a 58 year old house…
But before we get to the supply side of things, we have a few other issues to deal with. Notice anything in that photo below? If not, let me direct your attention to the gutter, especially on the left side. Yes, those are small trees growing in it. I've pulled them out since then, but years of gutter problems have resulted in a lot of rotten fascia and soffit boards. We'll be fixing that soon.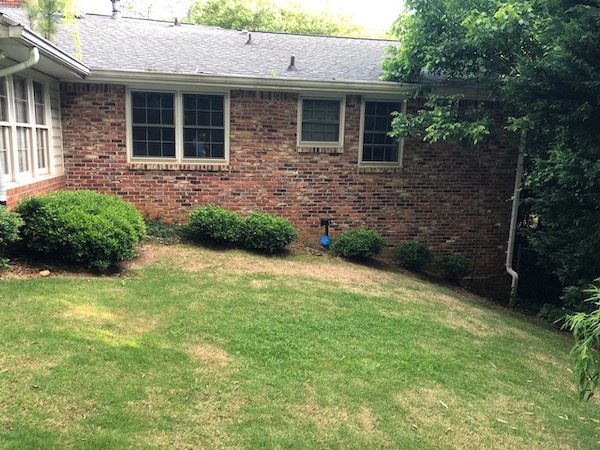 On the bottom of that wall in the photo above is the basement. There used to be a sliding glass door opening onto a little patio behind a retaining wall. That was filled in, but whoever did it didn't really understand water. Below is what the inside of that wall looked like. The spray foam is relatively new and I think the water coming through that area has stopped, but do you see that plastic in the wall to the right? That's in all of the exterior basement walls. Yes, the basement is a disaster and we're going to gut it.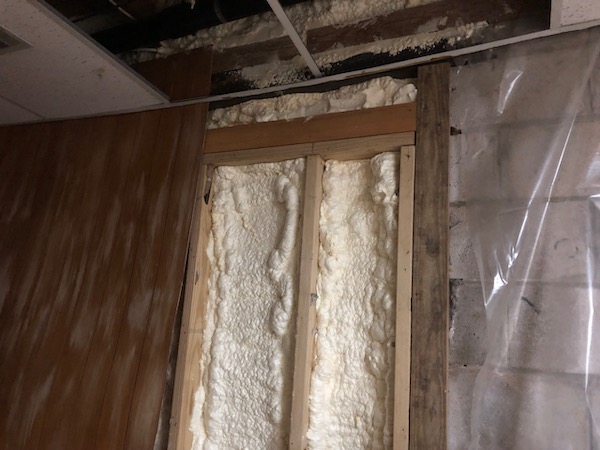 The house does have an encapsulated attic, as you can see below. But there's not enough insulation and they didn't spray over the rafters. I've had some data loggers up there already and found the temperature has gotten as high as 95° F. That's just not good enough.
And the humidity in the encapsulated attic is too high, too. The relative humidity has gotten up to 91% and the dew point up to 87° F. I'll be working on that soon, too.
The house came with some funky stuff, like this garden tub. I guess someone back in the 1980s or '90s thought it was really cool, but it's just a waste of space to us. It would be a waste of water, too, but we'll never use it. Somewhere down the road, a bathroom remodel awaits.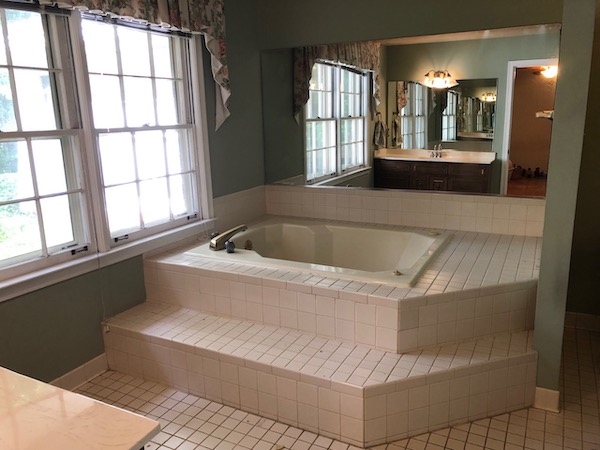 And then there's this old Sears radio and intercom system built into the kitchen wall. Each of the bedrooms has a similar unit without the radio. And the radio actually still works.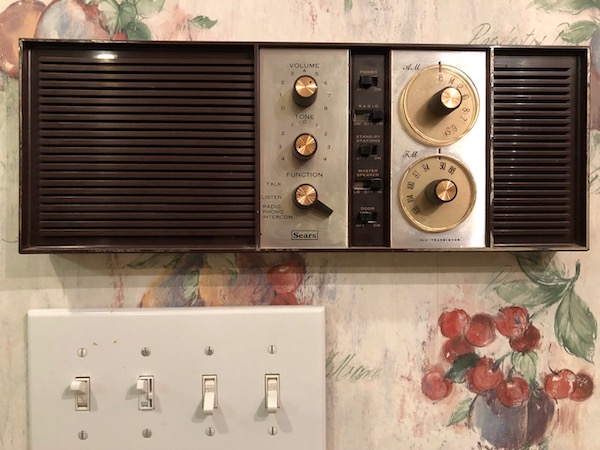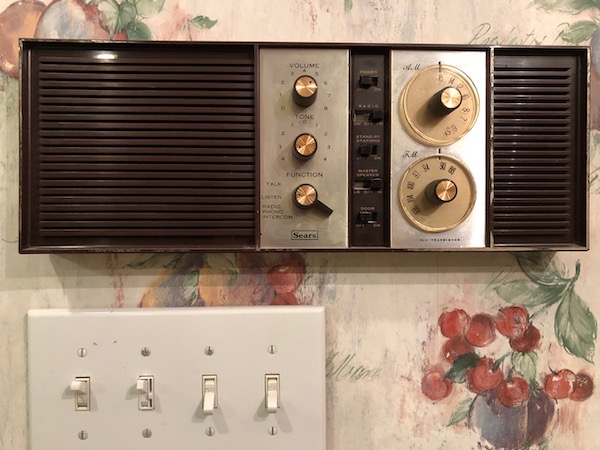 But we also have hardwood floors that were buried under carpet for years and a really nice yard, which of course, I had to buy an electric lawn mower for.
A quick note on the work ahead
I noted just a few of the things we'll be working on as we improve the house and here are some others:
Water heater – Currently we have a natural draft gas water heater in the basement. A heat pump water heater will be a nice upgrade.
Hot water – It takes a long, long time to get hot water in the kitchen. We're gonna do the Gary Klein thing and make our hot water supply plumbing more efficient to speed things up and save water.
HVAC – We have an 80 AFUE furnace in the basement and a 4 ton air conditioner. The system serves the whole house and isn't zoned. My plan is to put a ducted mini-split heat pump in the attic and maybe a couple of ductless units in the basement. Still thinking about that.
Ventilation – Bath fans mostly need to be replaced. Range is ventilated by a microwave oven. There's no whole-house ventilation. Lots of room for improvement here.
Windows – Most are single pane with storm windows. I hate storm windows. Yeah, I know they make a significant improvement over straight single pane, but they're an absolute pain in my opinion. We may do this as a piecemeal improvement.
So now you know what's been occupying a lot of my time lately. And here's the most pressing matter: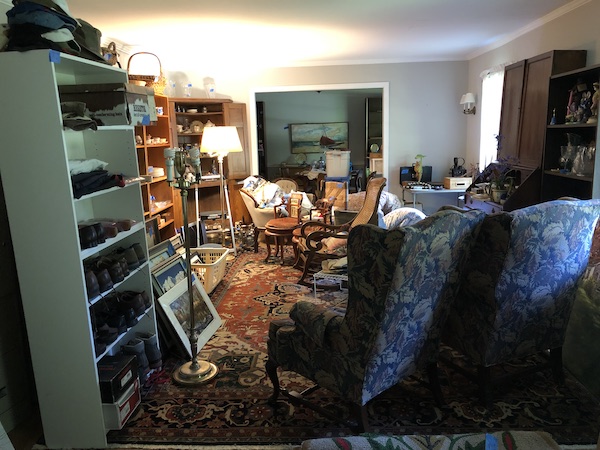 That's our living room. My wife has been sorting and pricing as we get ready to hold an estate sale.
This house is feeling some anxiety because it knows it can be better — it's even tried a little bit to get there. It just needs a good friend and coach, and that's what I'm going to be for it. Stay tuned as I show you in the coming months and years how I turn this 1961 house into a high-performance home — and eventually a net zero energy home, too.
Related Articles
7 Reasons to Gut Your Bathroom When You Remodel
A Great Success: Classic 1970s Passive Solar Home Turned Net Zero
Humidity in a Spray Foam Attic
NOTE: Comments are moderated. Your comment will not appear below until approved.