Oooh, Shiny Stuff! – Radiant Barrier Fundamentals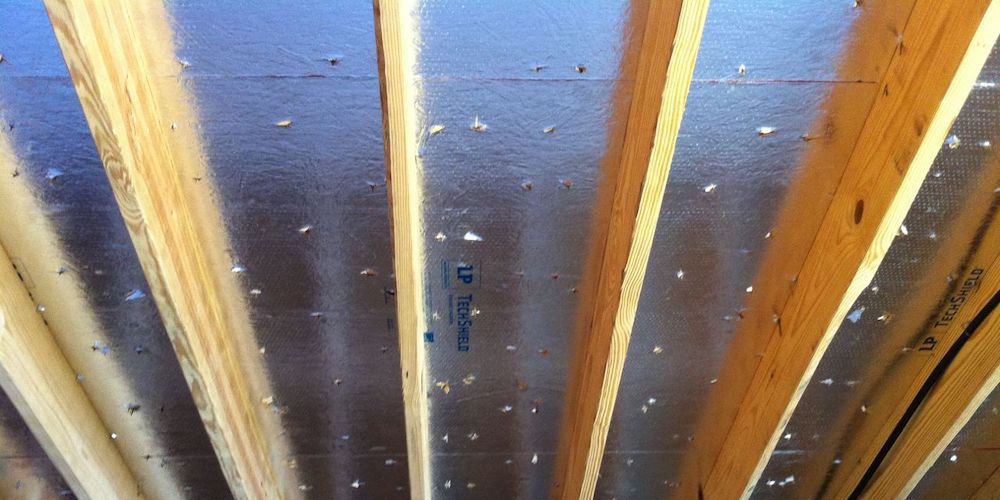 In the guest post I wrote for Bob Borson in his blog Life of an Architect, I gave an overview of the types of attic insulation. I didn't discuss radiant barriers in the article, but it's a hot topic, so to speak, and someone did bring it up in the questions. So, today's as good a day as any to talk about shiny stuff!
I covered this topic a bit last year when I wrote about foil-faced bubble-wrap, a popular product for duct insulation and overblown R-value claims. The general category of radiant barriers is an area of great hype, so I'll tell you what I know, explain the basic physics, and show you some great resources for more information.
OK, first of all, a radiant barrier is something that can keep your attic cooler. Unlike power attic ventilators, they actually go after the source rather than treating a symptom, but first, let's look at the physics. Attics get hot because the Sun is beating down on them all day. The heat from the Sun comes in the form of electromagnetic radiation. When EM radiation hits a surface, it can do one of three things: (i) be reflected, (ii) be transmitted, or (iii) be absorbed. How much of each you get depends on the wavelength of the radiation and the properties of the material it hits.
The part we're concerned with here is the sunlight that's absorbed by your roof. Once the roof sucks up those rays, it gets hot. That heat at the absorbing surface (shingles on most residential roofs) then does what the second law of thermodynamics tells it to do – it looks for cooler places, so it starts conducting down through the roofing materials. When it finds the underside of the roof deck, it then can radiate down into the attic. Typical roof decking materials – plywood and OSB – are pretty good radiators, so everything it 'sees' in the attic starts getting hot, too.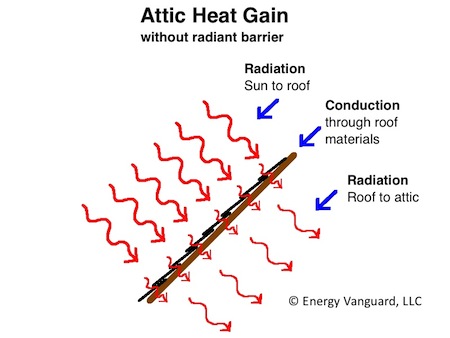 You can see the heat transfer I just described in the diagram above:
Radiation hits the roof.
The radiant energy is absorbed by the roofing materials.
The thermal energy conducts downward.
Heat radiates from the roof deck to everthing in the attic.
So, the dominant form of heat gain in an attic is from radiation, which heats up all the solid materials it finds – framing, ductwork, insulation, all those boxes of Christmas decorations, and dead squirrels. That's one reason power attic ventilators aren't a good solution. They're going after the air, but the air is hot only because all the solid materials are hot.
A better way to reduce the attic temperature is to go after the source – the radiation constantly blasting the attic from the bottom of the roof deck and rafters. Plywood and OSB are good radiators. In physics language, they have high emissivity, which means they're good at emitting radiant energy.
That's where radiant barriers come in. These are materials that have a low emissivity. When the underside of the roof deck has a radiant barrier installed, the heat still travels through the materials, but once it hits the radiant barrier, it's come to a dead end. Little of that heat then radiates to the attic.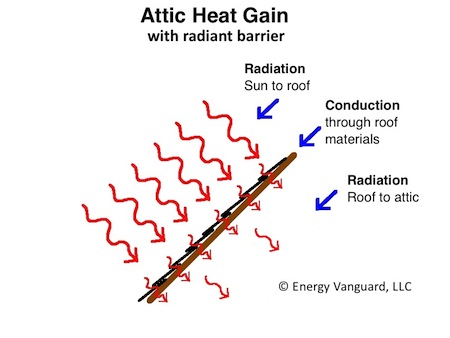 The radiant barrier gets hot. If you go up into the attic and touch it, you'll see that the heat's still getting there. But like that stainless steel playground slide, when you hold your hand near it without touching, it doesn't feel like it's hot. The magic of low emissivity! In case you're wondering, the answer is yes, this is the same thing that makes 'low-e' windows so good. Also, if you're wondering how hot the shingles get, the Florida Solar Energy Center has done research on that, which I wrote about last year.
OK, so if the radiant barrier doesn't feel hot when you hold your hand an inch away but it can burn you when you touch it, what does that mean for installation? You got it! You have to have an air gap next to the radiant barrier. If you spray foam insulation right on the radiant barrier, you've wasted your money on it. Heat will conduct right through the radiant barrier because generally, materials with low emissivity have high conductivity.
There's so much more to say about radiant barriers, but let me wrap up this article and give you a couple of resources where you can read more about how they work, how to install them, how much they might save, and why you probably don't want to install one in Pennsylvania. The first is the Florida Solar Energy Center (FSEC). They have a bit of radiant heat gain in attics down there and know a thing or two about this topic. Here's a good Question and Answer Primer that's got a lot of good info. Oak Ridge National Laboratory, which does a lot of great building science research, has several good pages about radiant barriers, too.
I'll come back to this topic and write more another time, but for now, let's not forget what my friend Mike Barcik says is one of the best things about radiant barriers – People like shiny stuff!