Questions on Building a Passive House in a Humid Climate
It's hard enough to control humidity in humid climate homes when they're just built to code these days. The air conditioner traditionally has handled the dehumidification, but increasing requirements for insulation and air tightness affect the sensible load more than the latent. Then, when you go all the way to superinsulated houses like Passive House, you've got almost no sensible load. But you also have limits on energy use to get the certification.
Superinsulation and Passive House came out of cold climates. The Saskatchewan House in the 1970s, for example. Humidity is a concern there, but for a different reason. It's condensation in winter from indoor humidity that's the problem. With Passive House in hot-humid or mixed-humid climates, it's indoor and outdoor humidity that can bite you.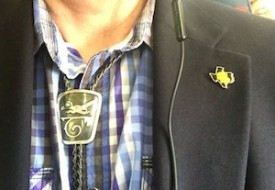 Today the inaugural Humid Climate Conference is happening in Austin, Texas. I've got my bolo tie and Texas lapel pin and am ready to be the moderator for a panel of experts. They are Dr. Joe Lstiburek, Katrin Klingenberg, and Robert Bean.
The topic:  Achieving Passive House Performance in a Humid Climate.
Maybe I'll see you there. If not, you can still contribute. I've put together a list of starter questions, but you can send me any that you think would be appropriate. Here are the ones I came up with:
What do you see as the biggest challenges with superinsulated building enclosures in mixed-humid and hot-humid climates?
How do we cool and dehumidify a Passive House or other superinsulated house in a mixed-humid or hot-humid climate without blowing the energy budget?
How important is it to hit the Passive House airtightness threshold of 0.6 ACH50 or 0.05 cfm50/square foot of building enclosure?
What are the biggest challenges with mechanical systems in humid climate Passive House projects?
Can mini-splits handle all the cooling and dehumidification or will we always need supplemental dehumidification?
Can a split system dehumidifier do all the cooling and dehumidification?
 What would you ask?
Related Articles
It's Called an Air Conditioner — Not an Air Cooler! 
The Mystery of the Ventilating Dehumidifier
The Tale of the New Mexico Dehumidifier
NOTE: Comments are moderated. Your comment will not appear below until approved.
Subscribe to the Energy Vanguard Blog
The Latest from the Energy Vanguard Blog