The Best Way to Cool Your Attic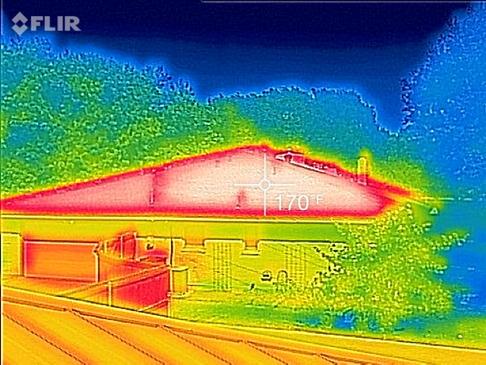 The most contentious issue I've written about since I started blogging isn't bad Manual Js. Nor is it endorsing government intervention by raising efficiency standards or improving energy codes. Incredibly, it's not even whether or not naked people need building science. Nope. The topic that really gets readers hyperventilating is powered attic ventilators (PAVs). Some people swear it's the best way to keep their attic cool and reduce air conditioning costs. Apparently they haven't seen the research about what works better than PAVs without the drawbacks.
Do you really need to cool your attic?
First off, let's limit the discussion in this section to homes with unconditioned attics. Conditioned attics are great, but I want to focus on all the homes out there that have the insulation and air barrier at the ceiling, not the roofline.
What about new homes? If you're designing and building a new home, keeping an unconditioned attic cooler (in summer) is pretty much irrelevant. Just make sure the ceiling is airtight and fully insulated, and the temperature in the attic doesn't matter much. Whether it's 110° F or 130° F, there's not much difference in the amount of heat flowing from the attic to the living space below.
Oh, you also have to make sure not to do something stupid, like putting your air handler and ducts up in the attic. When you're designing and building a new home, these are choices you can and should make. If you don't, worrying about how best to keep the attic cool is a bandaid on a self-inflicted wound.
In existing homes, the question is important. (Again, I'm assuming that you're not considering a sealed attic.) Lowering the temperature of an attic that contains ducts can reduce your air conditioning costs. If the home doesn't have ducts, there still may be reasons a homeowner would want to reduce the attic temperature. A lot of people like to store stuff up there, for example. I once had a homeowner who complained of the rubber handles on a wheelchair melting because it was so hot in the attic.
OK, let's look at one more scenario: non-air-conditioned homes. Sometimes people say they want to install a PAV to cool the house because they don't have AC. In that case, what they really need is a whole-house fan, not a powered attic ventilator. And they'd still want to have the ceiling air-sealed and fully insulated to minimize heat transfer from the attic to the house. As with new homes, those without air conditioning shouldn't need to worry about keeping the attic cooler.
So, sometimes people do have good reasons for wanting to keep an attic cool. What are the options? Powered attic ventilators seem to be the one a lot of people want. It's relatively inexpensive. It's quick to install. And it does lower attic temperatures. But I know of two other methods that both are better than PAVs. One is a radiant barrier. The other is a reflective roof. And one of those is better than the other. (Of course, there's a fourth option: You could install a ductless mini-split air conditioner in the attic, but that's the stuff of April Fool's Day jokes.)
The research on reflective roofs
There's been some good work done on how the type of roofing affects the attic temperatures and cooling loads in the house. The Florida Solar Energy Center (FSEC) has done quite a bit of work in this area and even built a test building called the Flexible Roof Facility to study different types of roof and attic assemblies. They've also done research on a number of real homes in Florida.
One of the earliest studies they did was to look at the difference between black shingles and white shingles. The first graph below shows the results, and you can see that it's about what you might expect. White shingles reflect more of the incident solar radiation and stay cooler. They don't show the attic temperatures here, but if the shingles are cooler, the attic is cooler. (You can read more about this in FSEC's literature review of attic ventilation (pdf). The graph is from page 30.)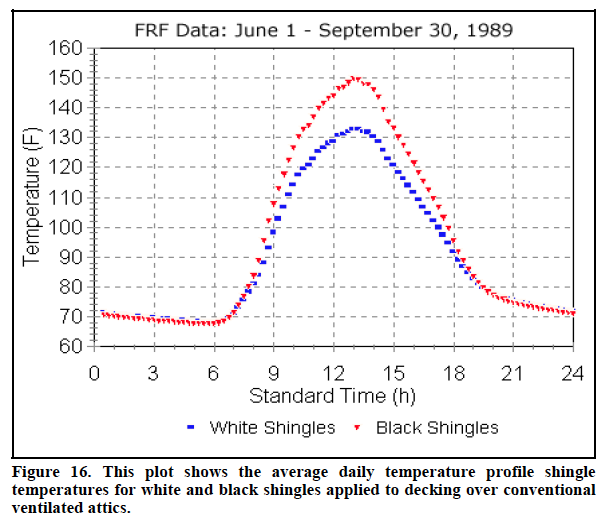 In another study, they changed the color of a home's tile roofing from dark grey to white. (See photo below.)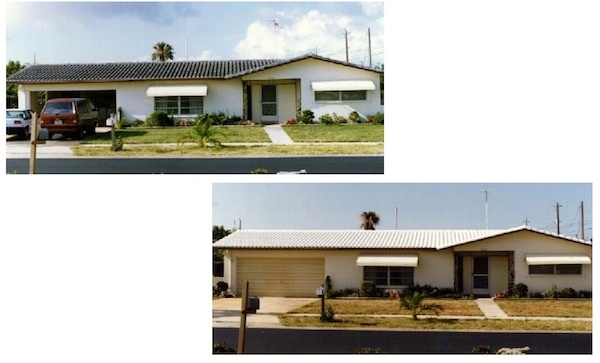 Here they did measure the attic temperatures, and you can see them in the next graph. The white roof lowered the attic temperature by about 20° F. (These images came from a presentation Danny Parker gave (pdf) on FSEC's cool roof research.)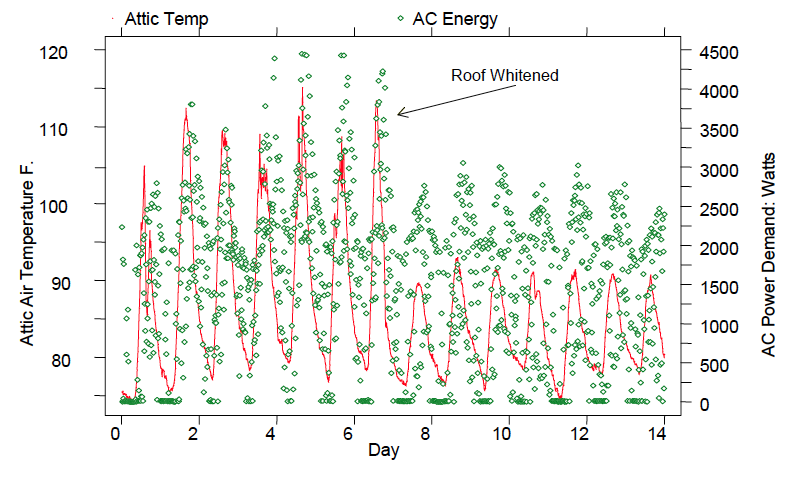 The third graph shows attic temperatures from the middle of the attic for several different types of roofing as well as a sealed attic. In this case, the most reflective roofing material (ivory IR selective metal tile) is 23.4° F cooler than attic covered with dark shingles. (Read more about this in Danny Parker's 2004 Home Energy magazine article, Improving Attic Thermal Performance (pdf).)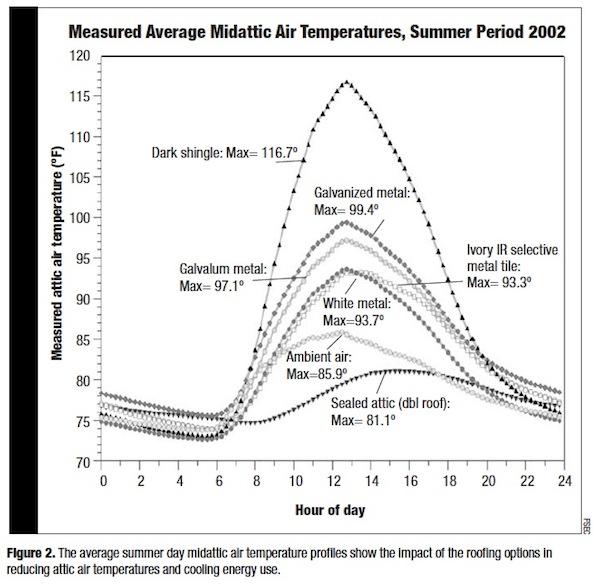 But it's not just FSEC that's been studying what's going on with roofs and attics, of course. Jeff Gordon gave a great presentation on attic venting (pdf) at the 2011 Affordable Comfort conference and included some data they've taken at the Buildings Research Council lab in Illinois. They found that dark shingles are 27% hotter than white shingles.
My friend Cameron Taylor has done a less formal study on his own home in Fort Worth, Texas. The design temperature there is 98° F, and they've been experiencing quite a few days where it gets above 100° F in recent years. He replaced his roof with a reflective metal roof (shown below) and wrote this to me in an email:
My experience with my own reflective roof is going on three years, now. Each summer has been consistent with air temperatures in attic tracking below outdoor ambient until mid afternoon, where it then tracks with outdoor ambient.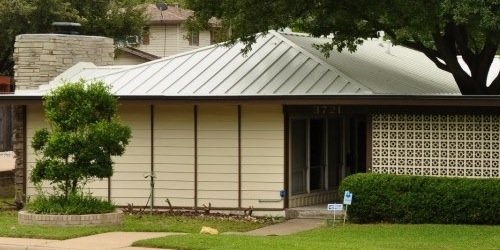 Why reflective roofs beat PAVs and radiant barriers
As you might expect, it's not hard to show that reflective materials keep things cooler. When solar radiation hits a surface, three things can happen. It can be reflected; it can be absorbed; or it can be transmitted. The part of the solar spectrum that heats things up doesn't get transmitted through roofs, so the incident solar radiation is either reflected or absorbed there. The more of it you can reflect, the less gets absorbed. Reflective roofing attacks the problem right there where it starts.
Once the solar radiation is absorbed, some of the heat still gets ejected to the outside but much of it conducts downward through the roofing materials and roof deck. There it radiates down into the attic, heating up the insulation, the framing, the ductwork, and the boxes of Christmas tree ornaments. A radiant barrier can help by reducing the amount of that heat that radiates downward. But still, the heat is already in the roof. Radiant barriers are fine, but why not just stop the heat on the side of the roof where it first enters?
Powered attic ventilators are the worst way to try to keep your attic cool. They've been well-discussed here and other places, but briefly they're not cost-effective, don't deal with the problem where it starts, are using convection to solve a radiant heat problem, and can even be dangerous by backdrafting combustion appliances and putting carbon monoxide in the home.
Reflective roofs are the winner, first because they deal with the problem where it begins. If we're talking about existing homes, they beat radiant barriers because it's not something extra. You gotta have a roof. Changing out a roof before it's due to be changed would rarely be cost-effective, but if you need a new roof, choosing something reflective is the way to go. Still, don't forget this doesn't absolve you from fully air-sealing and insulating the ceiling and getting the ducts into conditioned space or sealing and insulating the heck out of them.
Afterword: A note about climate zones
I didn't explicitly state it above, but I'm addressing mainly those in hot or mixed climates, not cold climates. If you're in climate zone 5 or higher, reflective roofs can cause moisture problems if your ceiling isn't airtight. The roof deck will stay colder in winter, so any moisture that gets into it is likely to stick around and cause problems. You can do a reflective roof in a cold climate, but I wouldn't do it on an existing home unless I were certain I could make the ceiling airtight.
Related Articles
The #1 Reason Power Attic Ventilators Don't Help
How NOT to Retrofit a Furnace in a Spray Foam Insulated Attic
What's That Ice Chest Doing in This Attic Duct System?
Case Closed: Get Those Air Conditioning Ducts out of the Attic
Image credits:  1st & last images from Cameron Taylor, all others from FSEC.
NOTE: Comments are moderated. Your comment will not appear below until approved.