The Energy Nerd's Tour of Green Homes in Georgia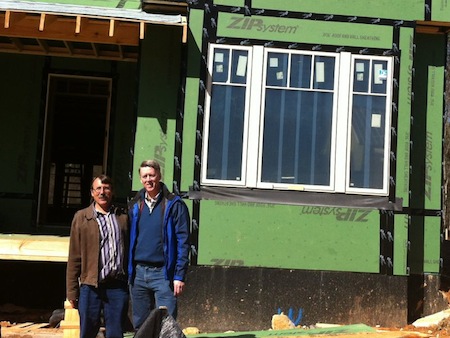 Martin Holladay, the Energy Nerd of Green Building Advisor, is in Atlanta this week to speak at the Greenprints conference put on by Southface Energy Institute. He asked if I could take him to see some homes in Georgia so he could get a feel for the state of construction and green building in our area, and I happily agreed. He showed up at the Energy Vanguard world headquarters yesterday morning, and off we went, along with his companion, Dr. Karyn Patno.
Serenbe, possibly the greenest community in Georgia
Our first, and main, stop was the Serenbe community. It might be the greenest community in Georgia, so of course I had to show him what was going on there. This 1000 acre development in a rural area southwest of Atlanta isn't your typical urban sprawl. The Chattahoochee Hill Country area has a plan to protect the 65,000 acres from overdevelopment through the process of using 'Transfer of Development Rights,' which allows only a portion of the land to be developed but all landowners to profit from the concentrated development.
The community itself has a New Urbanism feel to it. Even though it's in a rural area, the houses are built at a higher density than you'd expect. They also are close to the street and have front porches. Then there are the small commercial centers, three of them, that allow people to shop, eat, and mingle. Also, all the homes in Serenbe are required to attain certification in the EarthCraft House green building program. It's a pretty cool place.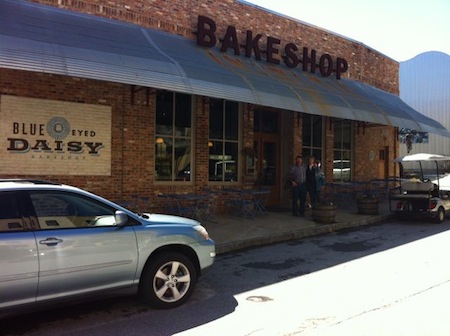 The homes of Serenbe
Zooming in on the houses themselves now, we got more than we bargained for because the first house under construction that we came to is being built out of autoclaved aerated concrete (AAC). I've seen the material and heard about homes built this way, but this is the first time I've actually seen one.
It's much lighter than regular concrete because of the aluminum powder that reacts with calcium hydroxide, producing hydrogen bubbles that give the material its light weight and thermal resistance. According to a report from UC Davis (pdf), AAC has many advantages and few disadvantages. They say it's cost-competitive with wood framed structures, has good thermal efficiency (R-14.4 for 10″ block plus thermal mass), and reduces waste. An article at Building Green, with a comment from Robert Riversong, gives a more balanced view of the material. Still, it seems like it's worth checking out.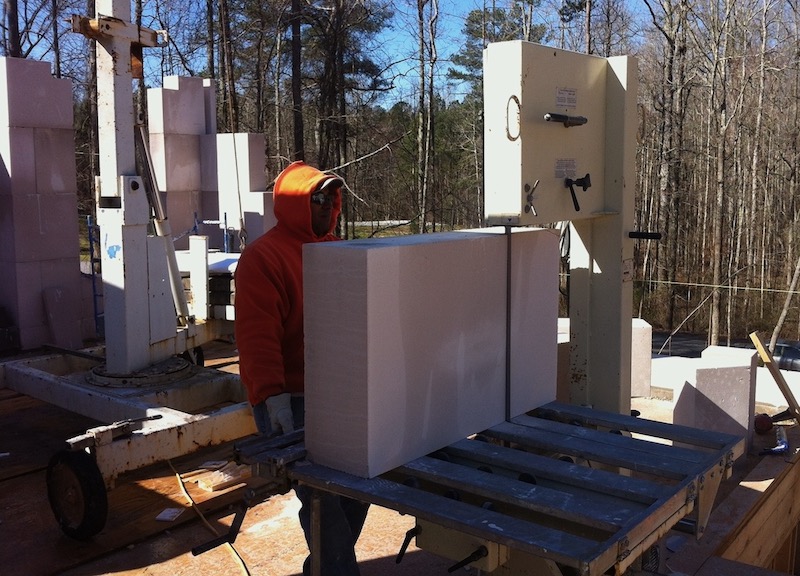 The big chunk you see above can probably be picked up by one worker and, yes, it really is being cut with a band saw.
The next house we visited is being built by some friends of mine. It's the one behind me and Martin in the photo of at the top of this article. They're using Huber's Zip Wall sheathing, 2×6 walls for more insulation, spray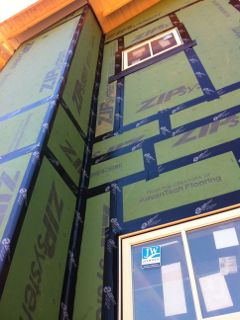 foam insulation (not installed yet), windows with Solar Heat Gain Coefficients as low as 0.16, and more. Energy Vanguard did the HVAC design on the house, so I'll be going back and checking it out when they get to that point in the construction. I couldn't talk them into mini-split heat pumps, but they're going with high efficiency furnaces and air conditioners, well-designed ducts, and a ventilating dehumidifier.
Next we took a look at a small house called the Nest 4. The AAC house is going to be about 5000 square feet. The Nest 4, in contrast, looks like it's only 1200 or so. By its size alone, it's already greener than many other homes because small homes generally have less environmental impact, especially if they're required to be EarthCraft certified. The perplexing thing about this little house, though, was that they installed a ground-source heat pump. I know that GSHPs can be very efficient, but I'd never put one in a tiny house like this; it's overkill. Mini-splits would have been ideal here.
Overall, the homes we saw at Serenbe are a cut above your standard fare. They're certifiied in at least one green building program (EarthCraft House), and they're designed well. Yeah, we saw the Grade III fiberglass batts in a framed floor, poor water management details, and other building enclosure problems. Compared to the two homes you're about to read about below, however, the Serenbe homes are pretty dang green.
From the looks of the place, I'd say some of the best residential architects in the Atlanta area are designing them. The architectural guidelines also don't limit the community to one small set of styles. You see everything from townhomes to craftsman to modern at Serenbe. I like variety, and it works well here.
The Atlanta White House and a multimillion dollar ductopus home
After leaving Serenbe, we headed back to Atlanta, but our tour wasn't done yet. Not far from my office is a house that I thought Martin might really like to see. As you can see from the photo below, it bears a strong resemblance to another house, the White House in Washington, DC. In fact, it's called the Atlanta White House and is a replica of the one at 1600 Pennsylvania Avenue at one-third the size. (If you ever want to see it, make your way to the NE part of the city. It's on Briarcliff near Lakeside High School.)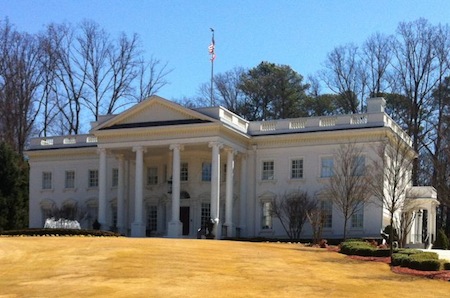 I thought we'd just stop in front and take a quick look at the Atlanta White House, but fortune was smiling on us yesterday. Very close to this 16,500 square foot McMansion was a 14,000 square foot McMansion, built by the same home builder. It's for sale and we just happened to show up during their open house hours. Yeah!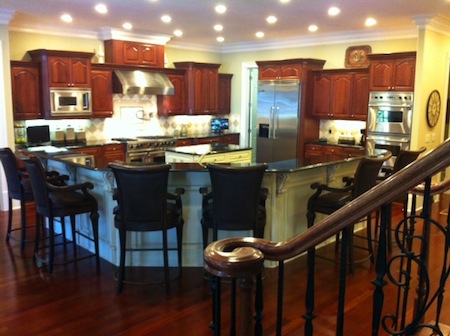 If you're into conspicuous consumption and want to live in Atlanta, this could be the place for you. It was built for $3.4 million, one of the real estate agents said, but is listed at a mere $2.49 million. What a deal! As you can see from the kitchen above, they spent a lot of money on finishes. Nearly every room had some kind of fancy ceiling: coffered, domed, tray… It had an indoor jacuzzi and sauna, exercise room, and full home theater that can seat a dozen people in big comfy chairs (shown below, with me and Martin in the front row).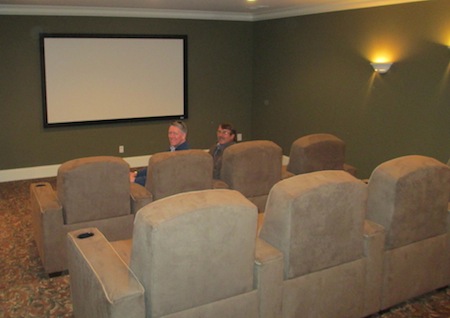 After we left the theater, we hit the real jackpot. We discovered two mechanical rooms in the basement and the ductopus below is from the first one. The other had a ductopus, too, but not quite as impressive as this one. And yes, that's 6 mil poly on the basement walls. They put it on the attic-side of kneewalls in the two bonus rooms, too.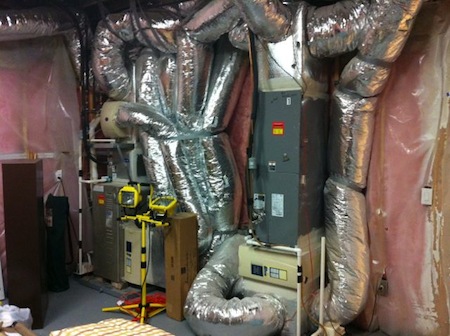 Did I mention that they're asking $2.49 million for this house? But hey, they got fancy media air cleaners!
At the end of the day…
I never use the hackneyed phrase, "at the end of the day," so instead I'll wrap up by saying that Martin and I had a great time looking at houses yesterday and took in quite a wide range, from small to huge, from green to black. Martin will certainly write about his experience of it, too, so check out Musings of an Energy Nerd to get his take on some future Friday. If you're going to Greenprints today, you may even get to hear him say something about it there in his talk on global warming.
Allison A. Bailes III, PhD is a speaker, writer, building science consultant, and the founder of Energy Vanguard in Decatur, Georgia. He has a doctorate in physics and writes the Energy Vanguard Blog. He is also writing a book on building science. You can follow him on Twitter at @EnergyVanguard.
Related Articles
Release the Kraken! — The Ductopus Is Bad for Air Conditioning
Does a Geothermal Heat Pump Count as a Renewable Energy Source?
Duct-Free Zone – The Advantages of Mini-Split Heat Pumps
Why Do Million Dollar Homes Get Cheapo HVAC Systems?
Photo credits: The two photos of me and Martin were taken by Dr. Karyn Patno. I took the others.

Comments are closed.