The Unintended Consequences of High-MERV Filters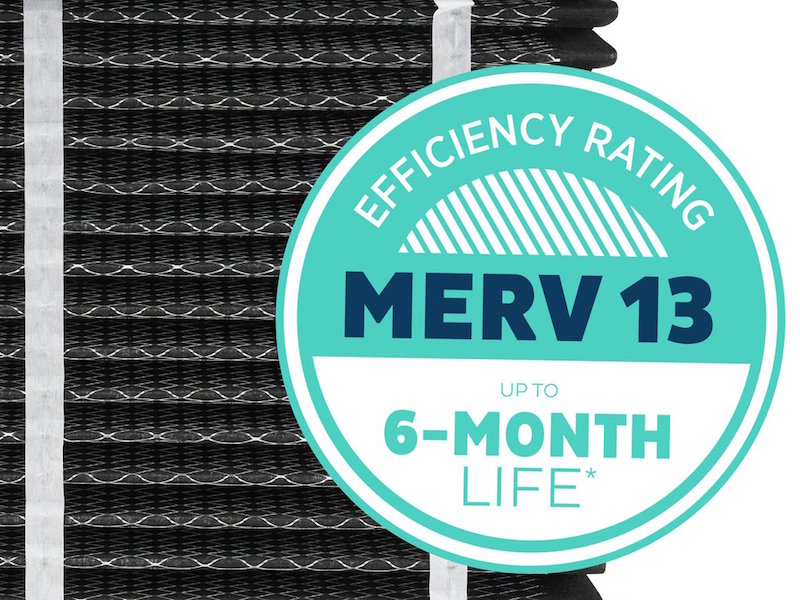 What is a hair's breadth?  A strand of the finest human hair is about 20 micrometers (also called microns) in diameter.  Take a piece and slice it in half.  Then take one of those halves and slice it in half again…and then one more time.  Now you've got a sliver of hair that's 2.5 microns wide.  Officially, 2.5 microns is 0.0000025 m, or 2.5 µm.  If you must, that would be about 0.0001 inch.  Whatever units you use, though, it's a really small size.
Fine particulate matter and filters
That also happens to be the size of particulate matter that causes a lot of indoor air quality problems.  Last month I wrote that fine particulate matter is the really bad stuff.  Fine particulate matter is also called PM2.5 because it's the same size as that superfine hair sliced in half three times.  It's 2.5 µm or smaller.
The size is important because really small things can get into places that bigger things can't.  Like deep into your lung tissue, where it can find its way into the bloodstream.  And that was the point of my article on which indoor air pollutants are of most concern.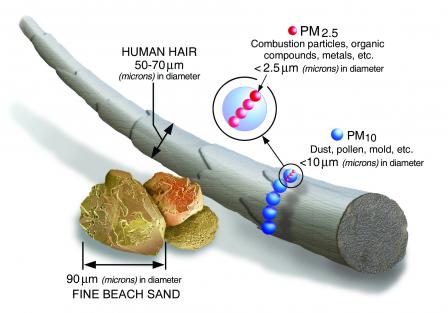 But you're in luck.  As it turns out, the PM2.5 particles can be filtered out of the air with the right type of filter.  After my article on indoor air pollutants, I wrote about filters and even included a nice chart from my friend John Semmelhack.  It shows the percent of different size particles trapped by filters with different MERV ratings.  The chart shows that to remove at least 85% of the PM2.5 from the airstream, you have to use a MERV-13 filter.*  Of course, you should read that whole article because I also talked about a lot of reasons why you may not be getting the filtration you think you're getting.  You may know this already if you're monitoring your indoor air quality.  (And if you're not, the Awair Element* is one of best, and most affordable, IAQ monitors for homes.*)
Today, though, we're going to home in on just this one issue of upgrading to a filter with a higher MERV rating, a filter that can remove more of the small stuff.  First, we'll take a quick look at what MERV is and then some of the potential problems with using high-MERV filters in your heating and air conditioning system.
What is a MERV?
MERV stands for Minimum Efficiency Reporting Value.  It's an acronym created by ASHRAE to provide a scale showing the effectiveness of filters at removing particles of different sizes.  The range of sizes in the MERV scale is 0.3 µm to 10 µm, subdivided into smaller ranges.
For example, to achieve MERV-13,* a filter has to catch 90% of particles in the 3-10 µm range, 85% of particles in the 1-3 µm range (where PM2.5 is), and 50% of particles in the range 0.3-1 µm range (the really, really small stuff).
In general, filters with higher MERV ratings catch higher percentages of particles as well as smaller particles.  And MERV-13* is pretty much where you want to be.
What could go wrong?
When you put a filter in the airstream, the air has to go through it.  (Unless you have bypass, but you're reading this so I'm guessing you already know to use a good filter cabinet and install the filter in it properly.)  Going through the filter material, the air encounters resistance.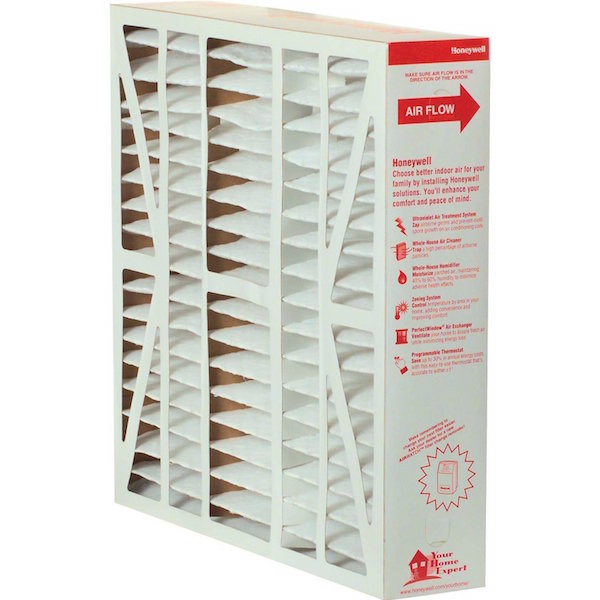 How much resistance depends on the type of filter material and the amount of area.  The standard fiberglass filter doesn't resist the air flow much, at least not when the filter is clean.  As the filter loads up with the stuff it catches, the resistance increases.
If you want to remove more stuff from the air, you can use a filter with a different material.  The pores in these filters are much smaller, allowing the filter to catch more pollutants from the airstream but also adding more resistance.  The higher MERV filters have higher resistance.
When you add more resistance, you can get a bigger pressure drop across the filter.  And that's where the problems begin.  The blower in the furnace or air handler is rated for a certain amount of pressure drop.  If you use a lot of it up just to get the air through the filter, there's not much left to move the air through the rest of the system.
When the pressure in the duct system goes up, it's possible that the blower will use more energy.  Paradoxically, that happens with the more efficient blower motors (ECMs), and not so much with the less efficient PSC motors.  (OK, OK.  Here's what those two things stand for:  ECM = electronically commutated motor;  PSC = permanent split capacitor.)
And that brings up the next problem:  reduced air flow.  If your system is rated for a total pressure drop of 0.5 inches of water column (i.w.c.) and you use up half of it just at the filter, you're not likely to get the amount of air flow the system was designed to deliver.
One consequence of low air flow is reduced comfort.  In the hottest and coldest weather, your system may not be able to deliver enough heating or cooling to the house.  Or it may just be one or two rooms that get uncomfortable.
Another consequence of low air flow is that the air conditioner coil may get too cold and even freeze up.  That starts a vicious cycle of lower and lower air flow and a colder and colder coil until the coil is just a block of ice.  Then the refrigerant doesn't evaporate and goes back to the compressor in the liquid state, which can damage the compressor.
Same thing can happen with a furnace.  Low air flow means the furnace heat exchanger gets hotter.  It could even crack.  If that happens, your duct system can become a carbon monoxide distribution system.  You'll sleep well…but you may not wake up.
But there is a positive consequence that comes with low air flow, too.  In a humid climate, the air conditioner will dehumidify better.  That's only a benefit as long as the air flow isn't so low that it turns the condensate to ice.
To summarize, a high-MERV filter can:
Add resistance to the air flow
Increase the pressure in the duct system
Increase the energy use of the system
Reduce the air flow
Cause comfort problems
Freeze the air conditioner coil
Damage the compressor
Crack the heat exchanger
Put carbon monoxide in your home
Dehumidify better
These are things that can happen, but what really does happen?  And how do you avoid those pitfalls if you do use a high-MERV filter?  We'll answer those questions in the next two articles with a look at the research and at what works.
Next article:
Do High-MERV Filters Always Reduce Air Flow?
Buy the Awair Element on Amazon*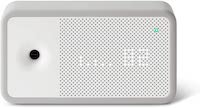 The Awair Element indoor air quality monitor is one of the best tools for keeping an eye on how good—or bad—your IAQ really is and whether or not your filters are keeping the PM2.5 levels low enough.  I have two of these monitors in my house.

Related Articles
7 Reasons Your Filter Isn't Improving Your Indoor Air Quality
Which Indoor Air Pollutants Matter Most?
What Happens to Air Flow in Ducts When Size Changes?
* This is an Amazon Associate link. You pay the same price you would pay normally, but Energy Vanguard makes a small commission if you buy after using the link.