5 Good Ways & 1 Bad Way to Get Your Ducts Inside Conditioned Space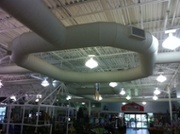 I'm a big advocate of getting ducts inside the building enclosure. In cooling climates, getting ducts out of an unconditioned attic can save you 15% on your electricity bills. It can reduce the size of air conditioner you need by 25%. If it's not in such a harsh environment, your air conditioner will last longer, too. But how do you do it?
First, I'll show you 5 acceptable ways to do it. Below is a diagram from the paper by Dave Roberts and Jon Winkler of the National Renewable Energy Lab (NREL) that I wrote about a while back. (That's also the paper that the above statistics come from.)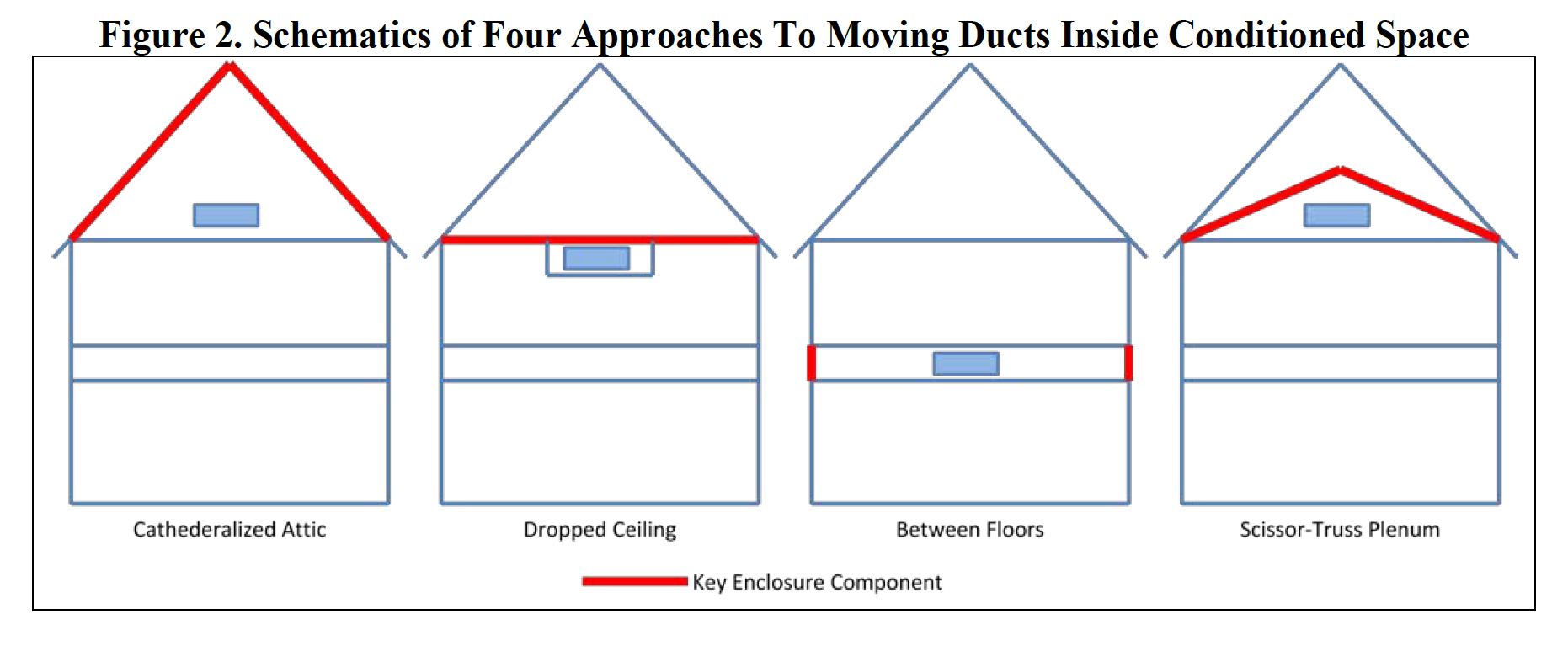 In the first approach, you move the building enclosure to the roofline so the attic becomes conditioned space. The second one shows a lowered ceiling or soffit in the house, and that keeps the ducts below the attic. The third shows ducts between conditioned floors in a multi-story house. The fourth shows them in the attic, sort of, but below the building enclosure with some help from a special type of truss.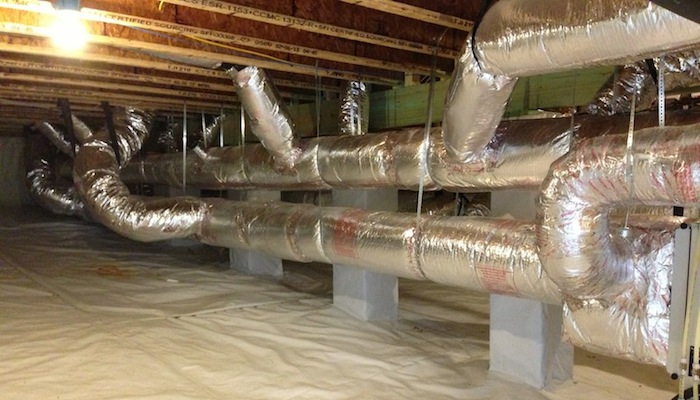 Another method, which isn't shown in that paper from NREL, is to put the ducts in a conditioned crawl space, as shown above. This was a house that I visited in Nashville recently.
I've just shown you the bare minimum here. The devil is indeed in the details, though, and you're in luck. The Earth Advantage Institute out in the Northwest (US) has put together a great resource for designers, builders, trade contractors, or anyone trying to figure out exactly how to get your ducts inside the conditioned space. They have a website called Ducts Inside, and it's packed with great information: implementation strategies, a training manual, case studies, and more. Check it out!
Finally, let's get to that one bad way to get ducts inside that I promised you. The photo below, from HVAC hacks and other screwups, shows it in all its glory.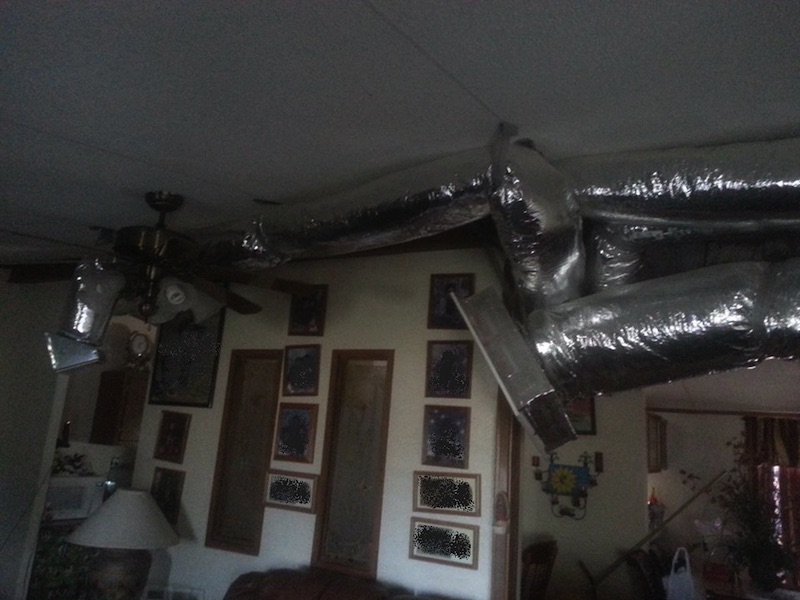 Wow! Uh…that isn't really what we mean when we say to put the ducts inside. Yes, they're definitely in conditioned space, but I have a hard time trying to figure out how someone decided to do this.
The truth is that there are many ways to get your ducts inside the conditioned space. As with anything, though, it can be done by a hack or it can be done by a pro. Don't be a hack.
Addendum: A word on new homes vs. existing homes
Getting the ducts into conditioned space is much easier when you can do it in the design phase of a new home. Once the house is built and the ducts are installed, your options are greatly reduced. If the ducts are in an unconditioned attic, you can put spray foam insulation on the roof deck. If the ducts are in an unconditioned crawl space, you can encapsulate. As Don Peek says in the comments below, it may be more cost-effective in existing homes to seal and insulate the ducts as well as you can.
Allison A. Bailes III, PhD is a speaker, writer, building science consultant, and the founder of Energy Vanguard in Decatur, Georgia. He has a doctorate in physics and writes the Energy Vanguard Blog. He also has written a book on building science. You can follow him on Twitter at @EnergyVanguard.
Related Articles
Case Closed: Get Those Air Conditioning Ducts out of the Attic
Beautiful Duct System in a Beautiful Crawl Space! Was I Dreaming?
Snakes in an Attic — The Ductopus's Cousin Strangles Bath Fans
Comments are closed.