A Net Zero Energy Home in a Beautiful Green Community
I spoke at Serenbe,† a beautiful green community southwest of Atlanta, this weekend and got a chance to visit a net zero energy home while there. Built by Luis Imery, one of the home energy raters we're a HERS provider for, the home has garnered quite a bit of recognition. In fact, they recently picked up a pretty big award from Southface.
Before I get to that award, though, let me tell you a bit about the house. Net zero can be defined in different ways, and it also doesn't have to mean the house itself is anything special. As Treehugger's Lloyd Alter wrote sarcastically, "In Net Zero, you want to generate enough power on site to heat, cool and light your house; it could be a draughty barn, but if you put enough green gizmos on the roof to generate enough green energy to feed it, who cares?"
This house is not a draughty barn with lots of green gizmos. Luis paid attention to the details—and got them right. If you know your building science 101, you know that a high performance home has to do a good job of controlling the flows of heat, air, and moisture. In this home, they do that with Huber's Zip R-Wall sheathing, Benjamin Obdyke's rain screen materials, spray foam insulation, LG mini-split heat pumps, a Zehnder energy recovery ventilator, and more.
Luis is a smart home builder and put it all together in this great house. The house is airtight (less than 1 ACH50), has all the ductwork inside the building enclosure, insulated well (especially for climate zone 3), and has a mechanical ventilation system that distributes the air throughout the house (photo below).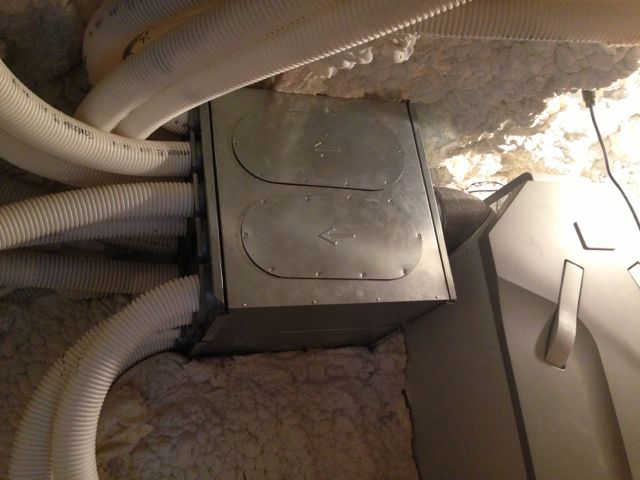 You may recall that Building Science Corporation has a new ventilation standard out because ASHRAE's standard (62.2) doesn't give credit to to systems that distribute the air throughout the house. As you can see in the photo above, the Zehnder ERV has multiple ducts distributing air throughout the house, so the occupants will have fresh air everywhere.
The HERS Index for the home is -2. The reference point is 100, which means the home would just meet the 2004 energy code. ENERGY STAR V3 has a variable HERS Index target, which is usually in the 70s. This home, at -2, means that it's modeled to produce more energy onsite than it uses during the course of a year. The 9 kilowatt photovoltaic system on the south-facing roof supplies the site-generated electricity.
There's a lot more to the house than I'm fitting into this short article. The Proud Green Home website has an extensive list of design specifications.
The certifications they've picked up include ENERGY STAR Version 3, EarthCraft House Platinum, EPA Indoor AirPlus, and EPA WaterSense. It's also the first Proud Green Home demonstration home. (PGH is a media company that promotes efficient and sustainable homes.)
The big award that Luis Imery picked up for the house was the EarthCraft House Project of the Year. Congratulations, Luis! Well done.
Allison Bailes of Atlanta, Georgia, is a speaker, writer, building science consultant, and the founder of Energy Vanguard. He has a PhD in physics and writes the Energy Vanguard Blog. He is also writing a book on building science. You can follow him on Twitter at @EnergyVanguard.
Related Articles
A Really Cool Net Zero Energy Home in the North Carolina Mountains
A 20 Year Old Energy Efficient House Goes to Net Zero in Florida
A Net Zero Energy Home in Rural Tennessee
Photo of front elevation of home from Serenbe real estate listings page.
Footnote
† Serenbe is the first place I took Martin Holladay earlier this year when he came to Atlanta. You can read about it in my article, The Energy Nerd's Tour of Green Homes in Georgia. Alex Wilson also wrote about it because he's been speaking in the same series at Serenbe, Bosch's Green Living Seminars. His two articles are at Green Building Advisor: Energy-Saving Features of the Serenbe Community and Serenbe: a Green Town in the Making.